I've been on Martha's Vineyard all week at a writing retreat. Yesterday I took a break and ventured to Vineyard Haven to do a little sightseeing. Of course, I didn't really get much farther than the bookstore: Bunch of Grapes. I have never been to the Vineyard before, but I remember so well hearing about the devastating fire on July 4, 2008 that forced the bookstore to close. They relocated across the street in an old livery stable, and the store is just lovely.
I love bookstores with character. Bunch of Grapes is welcoming and full of the old livery beams that were used for horse stalls that add height to the space and give it a unique feel. The store was bustling with staffers that morning. I asked Karen, who seemed to be in charge that day, why so many staffers were working and she said, "They're training." It seems that the summer crew has gone and there was a new crop of booksellers learning about the store – it was one person's second day! – and getting ready for the fourth-quarter rush. They were a very nice bunch, but with the exception of Karen, none had worked at the store longer than a month. I must say, for folks in training, these staffers were all busy and really seemed to know what they were doing. This speaks to a very well-run store with a great training program.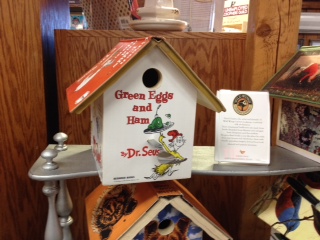 Bunch of Grapes sells some unique items. The one that really caught my eye were the book bird houses. They were simple and elegant and made out of old books. I asked Karen about them and she said they sell really well, and I can see why. Some were of children's books, and some were made out of adult books. I love the note next to them: Don't pick up by the perch.
When I visit other stores, I always look at how they display books and sidelines. I must say, Bunch of Grapes has a very clean, uncluttered feel and everything is very nicely displayed. They pack a lot in their space without it feeling crammed. Their kids' section was lovely and inviting.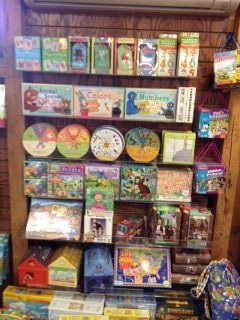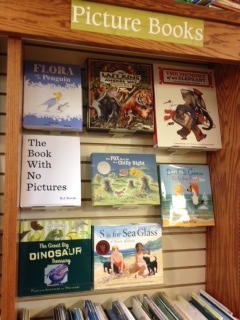 I love the sideline case. The puzzles look so good together and it's smart of them to have their own place.  I also really enjoy seeing what books other stores feature. Their picture books display has some of my favorites and some I wasn't familiar with. Lastly, I covet their display table in the front with adult books. It's large enough to really feature a fair number of titles, and it's really just an antique table, and the arrangement of the books really works.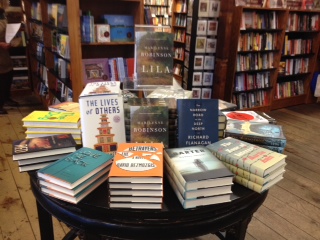 Such a simple and effective way to highlight almost 20  titles. And the stacks of books are just the right height, not too many to feel overwhelming and not too few so customers wouldn't feel comfortable taking one off the stack. I love traveling and going to other stores, but my favorite part of traveling is returning to my store and seeing it with fresh eyes.