Owning a children's bookstore means that there can be a lot of firsts for young customers. There is something wonderful about being the place where milestones are achieved. All too often we don't stop and notice what astounding things kids are doing because, well, they're not our children. But at the bookstore, in a small space, often with customers we know, there is a wonderful opportunity to see what happens when something "clicks" with a kid.
Usually the first milestone is walking. There is nothing more fun than being at the store when a little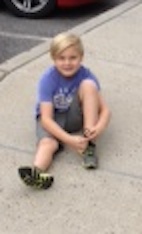 one figures out that he can put one foot in front of the other and get from over here to over there. Parents stand by nervously or excitedly, depending on the baby's wobbliness, as they watch their child walk over to one of the bookseller's outstretched hands that have a book in them. I do love that kids will often walk over to the person who's holding a book. What better way to reinforce that reading is fun? Of course first smiles are always great to a part of. I'm a fan of making little ones laugh.
There is something amazing about being present when a child becomes a fluent reader. This usually happens when a kid is picking out a book, usually a chapter book, but sometimes a picture book, and the light clicks on and suddenly reading just makes sense and the words flow freely and the struggle is gone, replaced by ease of reading and comprehension. This has happened time and time again in  our 18 years of business. Every once in a while this can happen with a  very young child, sometimes no older than three, who walks by books and starts reading all the titles. When this happens we all just sort of stand around stunned while a smiling parent realizes that somewhere along the line their little toddler has taught herself to read.
Other milestones that can happen at the store include a myriad of things. Potty training success happens a lot, although this one can be a little more fraught, as there are whoopsies, but that's why we have mops (it's actually funny, but every bookstore bathroom also seems to double as the utility closet) in the bathroom. Every milestone deserves a celebration. Paying for a book and working on manners happen every day. I can always feel a parent's bursting pride when their two-year-old not only says "thank you" but makes eye contact while doing so.
Saturday, the milestone happened with my visiting cousin's six-year-old son. Justin is a sweet boy who can read quite well, but couldn't yet figure out how to tie his shoes. The entire family was visiting and all were busy looking at the store which they hadn't seen yet. Justin was left to his own devices and he found a book on tying his shoes (which sadly was purchased by another child before I could jot down the title). He sat there quietly and then figured it out. We were leaving for lunch and we found him on the floor just tying and retying his shoes. His mom was beaming, his grandparents were choking up, and I was wondering what the fuss was about. "It's the first time he's done that." I was told by my other cousin. Ah, that explained the joy and why we found him on the ground the rest of the trip, tying and untying his shoes.