I got home from Book Expo Saturday night and have had some time to think about the show. I am left with several conclusions: indies seem to be doing better, the trade show seemed smaller this year, children's authors and illustrators know how to have fun. And there is still much to do.
I gauge my sense of bookstore health by talking with friends and colleagues. Usually, if business is bad or people are mad it's the only thing we talk about at parties and at the breakfasts. This year, folks seemed happy. The long winter was finally over, and to spite the horrid weather in the Northeast, most booksellers were optimistic about the rest of the year. There was little grousing, except about Amazon and its tactics with Hachette. Bookseller friends remained cheery throughout the show. All the breakfast speakers were surprisingly good, though the actual breakfasts were found to be lacking, protein mostly.
Savvy booksellers paced themselves on the number of galleys they took. Mostly there was talk about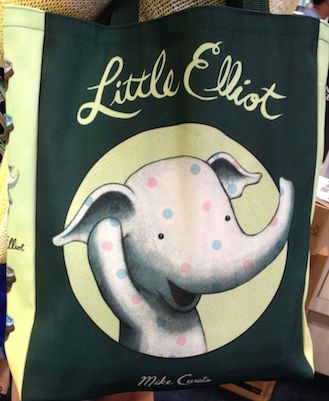 how to get a particular tote bag. I missed my chance, but for some reason many people asked me about it, as if I had a magical power to make them appear at the Macmillan booth. So cute, but alas there seemed to be a limited number that were given out Thursday and then gone. This was actually a really smart move on the publisher's part. Everyone, and I mean everyone, wanted this bag. And it just gets you ready for the book, which is equally good.
The show floor seemed small to me this year. There were many rows with carpeted areas that had no booths. It does seem to me that the show is getting smaller every year. I spoke with some publishers who had heard about BookCon expanding to two days and they were already thinking about how to afford that extra day. While I don't know the number of attendees at this year's BookCon I do worry a tiny bit about letting the public in to see all the fall books. Not that they shouldn't get as excited as we are, but I want to capture those sales for indies and not have them pre-order with Amazon. So, my thought for next year is to give them a discount code for IndieBound so they can pre-order and save 10-20% on the books.
Children's authors are a generally really fun bunch to hang out with. The auction on Wednesday night had them putting on a talent show. The show was good, but the acoustics worked against them in the cavernous River Pavilion of the Javits Center. Unless you were seated right in front, it was nearly impossible to hear any of the hilarity that was coming from the stage. Shannon Hale wore a brown polyester pant-and-shirt combo that her mother made in the 70s – that alone should have won a prize for most flammable outfit. Jarrett Krosoczka choreographed the rousing finale set to the theme of Footloose. It all ended with the audience joining in the dancing. Much money was raised for ABFFE and we all had a great time. I loved the range of authors and illustrators who willingly took a risk and performed for the joy of it.
I mentioned the Amazon-Hachette dustup in Friday's blog and this still looms large for booksellers. We do need to be beating a drum more loudly about this one. Amazon's bully tactics with Hachette, slowing the delivery of their books and making it difficult to buy some e-books again suggest that perhaps Amazon has been given, or more accurately to my mind, taken too much power in the industry. It seems like we've all stood around and watched them try to monopolize their business as bookseller, publisher and distributor. Rather than the constant urging of shopping local, perhaps it's time we tried to stand up to this behemoth to start changing things.