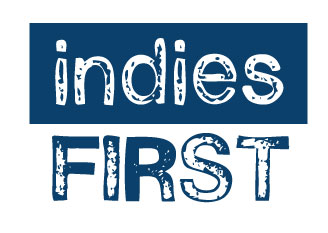 I have a friend whose first middle-grade novel is coming out. I'm thrilled for him and cannot wait to sell the book when it comes later this year. He recently sent out an email blast announcing the book's release and included only a link to Amazon. I responded to the email and mentioned linking to IndieBound and he immediately did. But this brings up what I struggle with as an independent bookstore owner: why is Amazon often thought of first? and why do I have to have this "indies first" conversation with so many authors?
That people think of Amazon as the place to go for books is galling, but also a concrete reality in 2014. I totally understand that because of their near total domination of the online book world authors  would think they're the best place to link to. Here's the thing: Amazon will list your book, they'll have all the reviews (legit and not so legit) and some other book suggestion. It's fast and the site is beautifully run. They will sell your book, ship it to all your friends and family, and the book might just delivered on a Sunday, but that's it. And we all know, that most books, not written by household names, need more help than that to sell.
I know I talk about this a lot, but every time the chance for education presents itself, I'll take it: booksellers can do more to sell your book than Amazon. There, I've said it. And you know what, it's true. Here's the thing, if indies like your book we will talk about it. A lot. When Because of Winn-Dixie came out, no one had heard of Kate DiCamillo. Candlewick did a great chapter teaser mailing and indies fell in love with Winn-Dixie and we couldn't wait to put in the hands of kids, parents, grandparent, and librarians, etc. Booksellers like to talk about books. Conversation sells books. One person's excitement about a book is usually more than enough to have someone buy it.
Indies launched Harry Potter as well. Of course no one remembers that, but we did. We read the galley of the first book and put it in the hands of readers. We held release parties for each subsequent book. Readers didn't have to wait for the mail to get delivered, they showed up at midnight and mingled with other avid fans in line. Kids and their parents talked about the books while they waited for the magic hour that heralded the actual release.
Independent bookstores love having events for authors we love. There is nothing more fun than having an event that introduces one of our favorite writers/illustrators to our customers. Again, it's the real, honest human connection that makes the difference. So, it does matter where you link your books, because your links are the ways for your friends, fans, etc., to get your books, and that sends a message. If you only link to Amazon you're sending a message that you're not interested in bookstore support. And believe me, bookstores notice this. When bookstore owners are offered authors/illustrators for visits, we go to their websites to see who they link to. If there isn't an Indie Bound link or a local bookstore link, stores sometimes say no to events.
Here's the takeaway: link to the places that actually help sell your books. In the kids' world, more often than not, it's going to be the indies. I'm not saying don't link to Amazon, although that would make my day, but link to your local independent store and to Indie Bound. (On a side note, this always brings up the frustration of why didn't the ABA rebrand IndieBound with a name that would alphabetically come before Amazon and Barnes and Noble.)
By linking to indies, you're acknowledging that we figure in the sales chain. By not doing that, you're going to raise the ire of every independent bookstore that happens to look at your site, and an angry bookseller doesn't sell your books. Put these links on your email signatures and your website and make booksellers across the land happy.