There are lots of strategies parents use to get their kids to read. Some have timers, some promise treats or toys, but yesterday I heard a new one. A mom came in with her two kids — a boy who was 11, and a girl who was about 8. These kids were nice, polite and seemed very well versed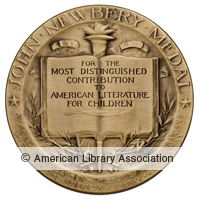 in books, especially the Newbery Award winners.
It turns out the mom paid the kids $5 for every Newbery medal book they read in the past year. These kids have been reading up a storm and collecting a small fortune at the same time. I asked if the $5 only applied to the medal winners, or did Honor books count as well. "Now, they'll get $5 for book with a shiny sticker," the mom said.  So, these kids can read an honor book, a National Book award winner, or finalist and when they're oler, the Printz award winners.
I'm not really sure how I feel about kids getting money to read. This is a slippery slope that might wind up being counter-productive. I can see a little bribe here or there turning into kids not reading anything unless they get some cold, hard cash. Let's face it, some people just don't like to read, and why is that okay for adults, but not kids?  The flip side of this argument is, these two kids have read some pretty amazing books.