One of the great things about owning a bookstore in a small town is you get to know people well. Often you see them during their worst moments. This can be hard on a bookseller, but I feel like it's our job to really help our customers through their hard times.
Yesterday, one of my favorite customers brought her grown daughter to the bookstore for the first time. Deb, hadn't shopped here before because she's only newly back to the area. Sadly, she's back for aggressive cancer treatment. I was in the back office when I heard her ask for a pure escape read. I sensed, somehow, that she wasn't as forthcoming about the kind of book she wanted because she was shopping with her mom. Several staffers offered great suggestions, and Deb passed on them. I popped out of the office and handed her Bared to You, a tamer and better written Fifty Shades of Grey.
She smiled at me and said, "You nailed it." I felt good about that and asked her about her cancer and her treatment. The relief was palpable in being able to discuss her illness with someone who wasn't scared for her or upset. We circled back around to books and I suggested next time she might like funny essays, perhaps something from David Sedaris. I also mentioned that she should let me know if the book wasn't the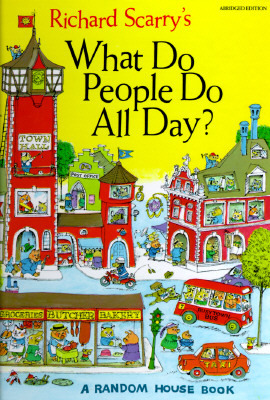 right one. I don't take someone not liking a recommended book personally. I just like to know so I can rethink for the next time.
When kids are sick it's more difficult to find books right away. It hits me harder when I hear kids are sick and I so want to get the perfect book to make their illness go by a little a faster that I tend to overwhelm myself with titles. But I've found that the books that comforted me as a kid will make the younger generation feel just as good.
For young ones I always suggest a Richard Scarry book. There is something lovely about all the details in the books. What Do People Do All Day? was the book that I pored over as a kid, sick or not. Where was Lowly Worm? What was the hardhat-wearing pig doing on this page? I loved looking for these comforting characters. I also like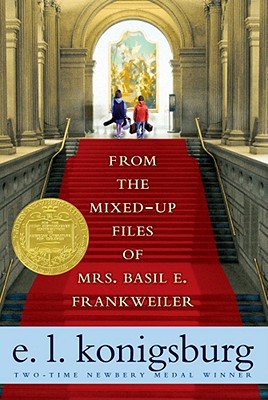 wordless books for sick kids because they can get lost in the pictures and make their own story.
Middle readers love From the Mixed-Up Files of Mrs. Basil Frankweiler. The thought of two siblings running amok in the Metropolitan Museum of Art tends to appeal to just about anyone, sick or not. The mystery is not too hard to follow and the book is just plain fun. The Harry Potter series is a comfort book for many children because they are so familiar with the characters and the setting. Sick kids, and adults, like books they don't have to pay attention to when they're not feeling well. Rereading is something I actually love to do when I'm under the weather.
The other great thing to recommend to anyone who isn't feeling well, is audio books. It's the next best thing to having someone in the family read aloud to you. And let's face it, as nice as parents might be, they're probably not as good at narrating a story, say as Jim Dale or Phillip Pullman.
So, what are some of your favorite comfort books?