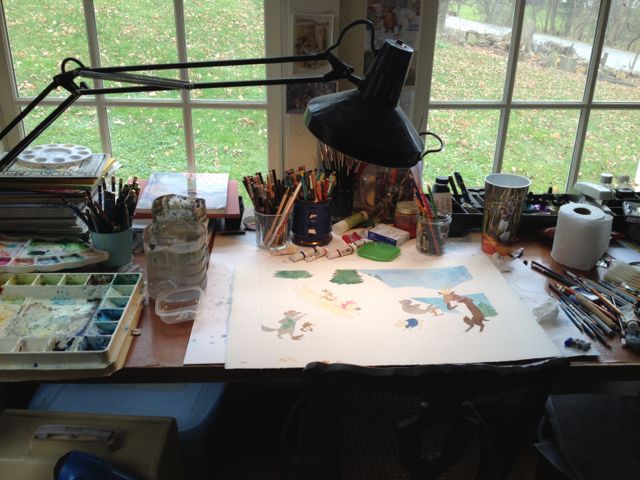 Before the holidays, I had a chance to have tea with my friend, children's book illustrator Liza Woodruff. I love visiting with Liza. Not only does she always have THE funniest misadventures to share, but she's a great cook and her house is lovely: bright, colorful, cheery and restful, all at once. And she's got some adorable pets: dogs, guinea pigs, and chickens.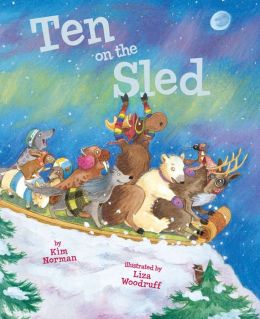 This time when I came over, Liza was working on spreads for a picture book, a companion to her 2010 title, Ten on the Sled, a rhyming picture book written by Kim Norman and published by Sterling. Ten on the Sled has been a big hit at the Flying Pig, not just because Liza has a local following, but because it is an excellent read-aloud romp with lots of fun details to notice in the art. It's a fun take on the well-known song, "Ten in the Bed," a counting book, or really, in this case, a counting-down tale where, one by one, all ten animals in a sled tumble out in various ways on their way downhill. "There were TEN on the sled / and the caribou said, / 'Slip over! Slide over!' / So they all slid over, / and Seal spilled out. / There were NINE on the sled…."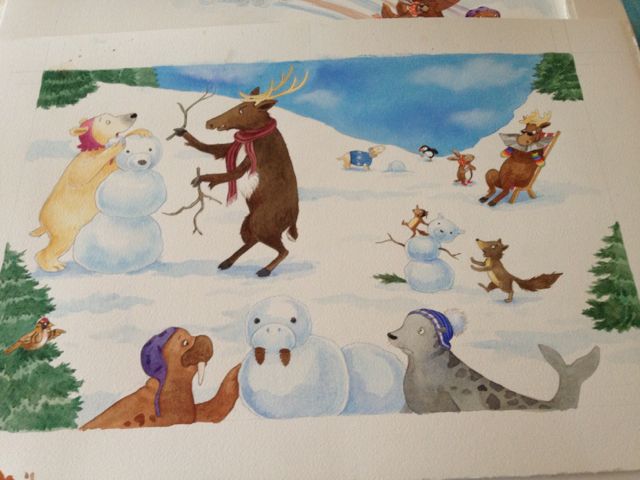 The new book is called, If It's Snowy and You Know It, Clap Your Paws! I got a sneak peek at the text and it's just as much fun to read aloud as the first. This one is a twist, of course, on the perennial little-kid favorite song, "If You're Happy and You Know It, Clap Your Hands." Kim Norman is really, really good at reworking these popular tunes in fresh ways, and Liza's art is the perfect tonal complement.
Seeing the art in progress was a huge treat. I love the little watercolor worlds Liza creates in her books, especially her winter worlds. They are cozy and inviting, happy places. Her animals have individual, quirky personalities complete with anxieties and passions. They are hilarious. If you look closely at the animals in Ten on the Sled, whole mini-stories unfold in the art. (The polar bear and the caribou, for example, have a sweet little innocent love story. Cracks me up.) To my mind, Liza and fellow Vermont illustrator Sarah Dillard (Perfectly Arugula) have this unusual ability to take less-often-explored personality traits (for example, over-enthusiasm, or perfectionism) and making them funny and lovable.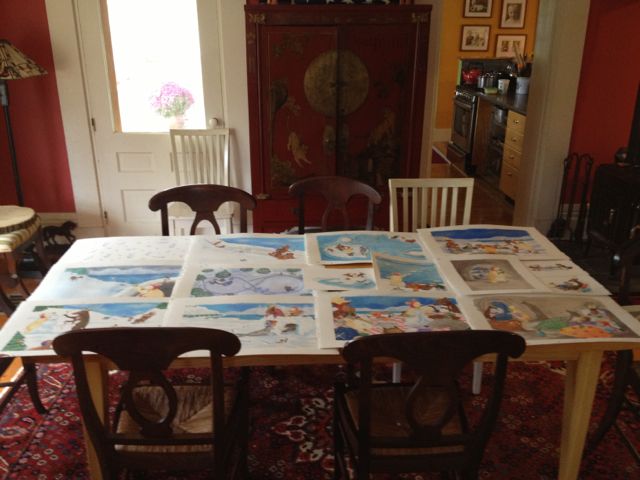 I love talking with children's illustrators about their work. I love how they think and visualize and problem-solve. Seeing someone's artistic process spread out in sketches and finished paintings reminds me that every single line on the page is a conscious decision an artist has to make against a blank page. Of course that's obvious, but it's easy to forget when looking at paintings bursting with life and vibrancy. Writers also face the blank page — but, perhaps because I don't have that artistic facility and ability, an artist's blank page seems emptier, more daunting. I greatly admire and envy (in the purest possible way) an artist's ability to envision something and actually render it on the page. To me, it is actual magic in addition to hard work, practice, skill, and even a little genius.