Hello from snowy Vermont! Josie and I had our first completely relaxing day in months, and it felt wonderfully decadent to have a leisurely brunch, hang out with the dogs, and do nothing more strenuous than make cookie dough and write thank-you notes. Ahhhh.
It's not often my family can completely surprise me with a book-related gift I've never seen before, but my sister outdid herself this year by finding a Booksi, which is an iPhone charger made from a book. The one she chose for me was Houghton's handsome green-and-blue hardcover of The Hobbit with J.R.R. Tolkien's original cover art and design — the exact version our mom read to us when we were young. This was such a fantastic present! It will sit on my bedside table, acting as charger and stand for my phone so unobtrusively you wouldn't even realize it isn't a book unless you caught sight of the slim white USB cord exiting the pages.

My sister discovered it in the
Rich Neeley Designs shop
on Etsy.com. That website is such a great source of book-related arts and crafts!
The other booky gift was a happy flying pig painting made for me by a student from my last picture-book-writing workshop. I was so touched by the thoughtfulness of this painting and its fun details: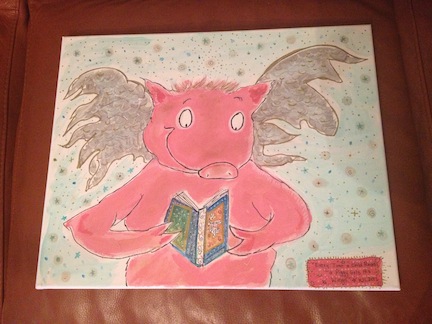 The book the pig is reading?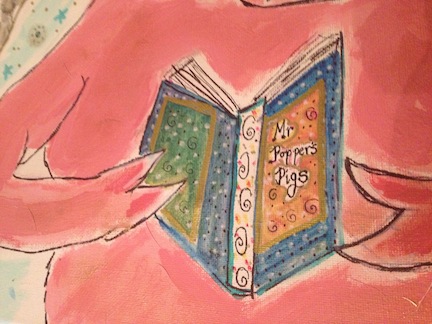 And the little tag at the bottom reads: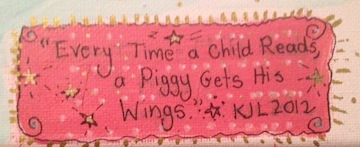 Thanks, Kristen Littlefield, for the painting, and thanks, Tiff, for the Booksi!
And now to settle in with some of the books I wrapped for myself (since few dare to give booksellers actual books)….
What books and book-related gifts were you delighted to find under your tree or at your Chanukah celebration?