Our bestselling stocking stuffer and funny little Chanukah gift is a pen shaped like a parrot that allows people to record a little message. We first discovered this item a few years ago at Kenny Brechner's bookstore in Maine, DDG Booksellers. We ordered a couple of boxes from PlayVisions, sold out, had to re-order, and sold out again. Each year we've upped our initial order to match the total of pens sold the year before, and each year, we still have to order more before the holidays. We were a little late getting our order in this year, and the pens just arrived today. Josie put them out this afternoon, and by closing time, she'd already sold 14 parrots.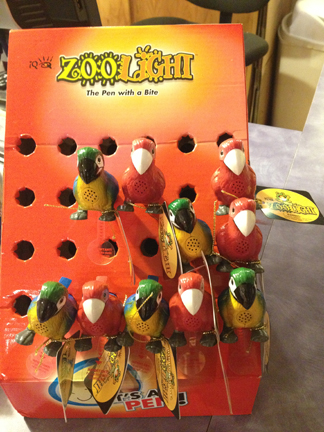 While Josie is the undisputed queen of the parrot pens, it must be said that these things do happen to be among the easiest — or at least most fun — handsells on the planet. The pens are nicely made, brightly colored, and have a function (the pen part) as well as a fun extra (the recorder). We keep them by the counter so we can demonstrate how to record the little message. Every staff member has her own default demo recording: Josie croons the first words to "Happy Holidays;" I chirp, "I'm a great stocking stuffer!" in a voice meant to be a human imitating a parrot imitating a human.
We invite customers to try one out, and people are fairly evenly divided–adults and children alike–between grabbing the pen like a microphone and becoming their own instant lounge act, or clamming up like someone with terminal shyness facing a crowded stadium. What's most adorable is seeing the littler kids hold the recording button down and just stare at the pen, not saying anything; then they are surprised that the parrot is silent when they press Play. (Don't worry; we give them recording lessons.) Less adorable are the occasional curse words that middle-school kids occasionally amuse themselves by recording. This only happens about once a week, if that, but still, we have to remember to check the demo parrot on really busy days to make sure some lovely grandparent or tender three-year-old doesn't hear "Rudolph SUCKS!" or some similarly 'hilarious' message.
The parrot pens have also provided one of our strangest anecdotes in the history of the Flying Pig. A longtime customer, Carrie, brought in a woman she knew from Boston. "This is my friend, Anna," she said, introducing her. "She's got six grandchildren." I showed her where to find books for various ages, and then left to help other folks. Carrie and her friend browsed for a while and then wandered to the counter to look for stocking stuffers. "Have you seen these parrot pens?" I asked, plucking the demo parrot out of the display. "You can record a little message to your grandchildren." I held down the tiny recording button, but instead of launching into my usual "I'm the best stocking stuffer!" line, I paused, and then found myself saying, "I love you, Colton." Now, I had never uttered the name Colton out loud before, but there it was. We chatted a few more moments, and then the Boston friend casually said, "I have a grandson named Colton, but he's too young for the pen." Our jaws dropped. I asked if maybe they had been talking about the children by name in the store's other sections as they browsed, thinking I'd subliminally absorbed the name, but they said they hadn't mentioned any of the children individually. I submit to you, people, that Colton may have been too young for the pen, but that if there were ever a sign from beyond that someone was meant to have that pen, this was it.
If Josie had been the one behind the counter, the woman would totally have bought it. I may need to start crooning, "Happy Holidays" as my parrot mantra, and wearing a Santa hat.