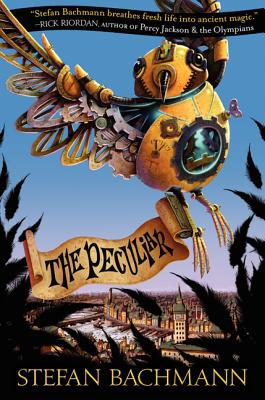 I admit it. I avoided reading The Peculiar for far too long. Its author, Stefan Bachmann, started writing the book at 16, and as we know, sometimes books written by teenagers stand on their own, and sometimes they owe too much to their predecessors (nota bene: this is true for books by adults, too). This particular ARC had back-cover copy by the publisher, Greenwillow, praising it as an "extraordinary debut" and likening the author to, among others, Neil Gaiman. I was, I ADMIT IT, skeptical; what teenage writer could live up to that praise? Well, it turns out, Stefan Bachmann can.
Most of the book is set in foggy, dank, industrial cities, parallel worlds to old London and Bath, whose sooty skies belch smoke and host mechanical clockwork carrier sparrows, whose Parliament is run by an uneasy mix of smug, oblivious upper-class humans and semi-exiled, sinister fay gentlemen (yes, old-fashioned gender roles prevail), and whose streets are 'cleaned' by automata who sweep away mud in front of them but leave puddles of oil behind. Changeling children, half faery, half human, live poor lives in cluttered tenement neighborhoods and must hide, endangered from all sides. It's a visceral, inky, perilous world Bachmann creates, both strange and familiar. Its tone is spine-tinglingly dark and the suspense chilling, building with relentless momentum. Bachmann isn't just good at setting; he weaves a strong story and creates memorable characters in simple, definite strokes. I won't go into the plot, except to say that there is one, and it's a good one, and even though I liked the story best before the two main characters finally meet, and even though the book leaves off on a cliffhanger, I was still IN by the end.
As for the youth of the author? Does not matter. Clearly, this young man is one of those rare birds born to write (like, yes, Neil Gaiman). He already knows things about craft you can't teach. From the first sentence, his storytelling authority is without question. His sense of rhythm and cadence are impeccable. And there is nothing ordinary about a single line; without being precious or pleased with itself, his language is full of sparks, fluid, leavened—yet it seems effortless. And that, my friends, is the mark of someone who knows what he is doing.
Want some examples? I knew you would.
"Nonsuch House looked like a ship—a great stone, nightmarish ship, run aground in the mire of London at the north end of Blackfriars Bridge. Its jagged roofs were the sails, its lichened chimneys the masts, and the smoke that curled up from their mouths looked like so many tattered flags, sliding in the wind."
"What had seemed to be proper liver-paste sandwiches tasted remarkably like cold autumn wind. The tea smelled of ladybeetles, and the lemon tart was bitter in a not-at-all lemony way."
"'Sir?' he said.
The word fell like a furry ball to the floor."
"Arthur Jelliby was a very nice young man, which was perhaps the reason why he had never made much of a politician. … So while the other officials were fairly bursting their silken waistcoats with ambition, plotting the downfall of their rivals over oyster dinners, or at the very least informing themselves on affairs of state, Mr. Jelliby was far more interested in spending long afternoons at his club in Mayfair, buying chocolates for his pretty wife, or simply sleeping until noon."
"The great black steam engine sped across the countryside, dragging its fumes in a plume behind it, and leaving only a watercolor blur of greens and grays painted on Mr. Jelliby's window."
Does that sound like a semi-ripe teenaged novelist to you? Me, neither.
I'll recommend The Peculiar to readers who liked I, Coriander by Sally Gardner, The Haunting of Alaizabel Cray by Chris Wooding, The Folkkeeper (one of my favorite all-time books) by Franny Billingsley, The Amulet of Samarkand by Jonathan Stroud and (heaven help them) The Strange Case of Jonathan Strange and Mr. Norrell (which frustrated me through 22 CDs'-worth of unabridged audiobook waiting for something, anything to happen, but whose depiction of faeries and the land of faery were remarkable).
I am so glad I finally picked up The Peculiar, and so delighted it lived up to the hype.