I walked into work the other morning and immediately knew that something bad had happened. I looked at Kelly, our staffer of five years, and she was in tears. I've never once seen Kelly cry, so I began to think that maybe one of her children was sick or injured. I walked up to the register and she just started sobbing.
"Are you okay?" I asked as we hugged through her tears. "No. This book is so sad." The book she was referring to was Leslea Newman's latest: October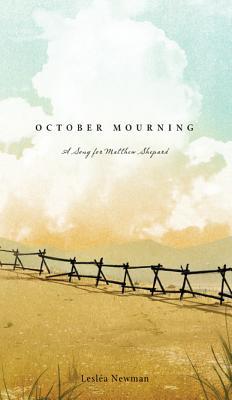 Mourning: A Song for Matthew Shepard. Kelly didn't really know about Matthew Shepard's story until she started reading some of the 68 poems from different points of view from the tragedy. I felt so bad for her because she was realizing just how unbelievably cruel and needless a hate crime is. She has two young sons and she said she was thinking about Matthew's mom, and just couldn't understand why anyone would hurt another person like that.
I have read the book and it is admittedly, extremely sad, but if it can move a staffer to tears throughout the day just by recalling a poem or two, that's a mighty powerful book which clearly has a very large audience.
The morning continued with Kelly telling me about the book and soon we were both in tears. Now the phone rings. Kelly pulls herself together faster and answers the phone. Then I hear her clarify what the customer is calling about. "Are you looking for book about germs or more about boogers?"
And it was barely 10:15.