It's that time of year again. That time when I complain about how we're always rushing the seasons in retail. It is September 25th, three full months before Christmas, and yet I am getting carton upon carton of holiday books.
I just barely have a Halloween display up and running and now I've got a back shelf devoted to Christmas and Hanukkah books. I try to be a retail purist, and resist the urge to set a Christmas display much before Thanksgiving. And every year, my staff outvotes me and we set up the books much earlier. The only reason we do that is because so many people are buying their holiday books earlier and earlier.
I've noticed, too, that more people in September have bought a book saying it's a holiday present than I can ever remember in the past. It's always curious who these highly organized people are. They obviously plan ahead, and they are smartly spreading the financial burden of the holiday season through several months. But I will never understand these people.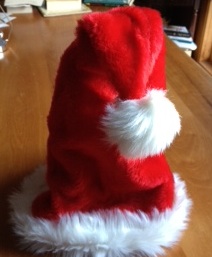 When I was a kid the Christmas display went up the day after Thanksgiving and that was just fine for everyone. We enjoyed the season we were in.Halloween didn't share the aisle with Thanksgiving and Christmas. I liked that. There was a real honesty in that to me. No one would have thought that having Christmas books up in September was a good idea. Why now do I feel like not having a section of Christmas books is actually hurting my business? I will remain steadfast, for now, and always know where my holiday books and decorations are, but I am loathe to put them until the beginning of November.
And no matter how much I might want to, I will not begin wearing my Santa hat until the day after Thanksgiving.