My store is in Vermont, in a small yet bustling village. Vermont by its very nature is thought of a rugged state full of great nature moments. There's even a black bear roaming around my neighborhood. But Shelburne Village has not been a hotbed of wild animal activity because it's too densely populated with people.
The bookstore shares a large trash dumpster with two restaurants and a dozen apartments. In the summer, trips to the dumpster can include fending off crows that are strong enough to actually carry a bag of trash out of the dumpster to squirrels who literally pop through the hole they've chewed in the lid when opened. Once a baby raccoon fell in the dumpster and a very smart young man put a long 2×4 in the bin and less than two minutes the little one scampered out and was reunited with his mother. I sort of expect the rodent-types now at the dumpster, but  yesterday there was something that made me laugh.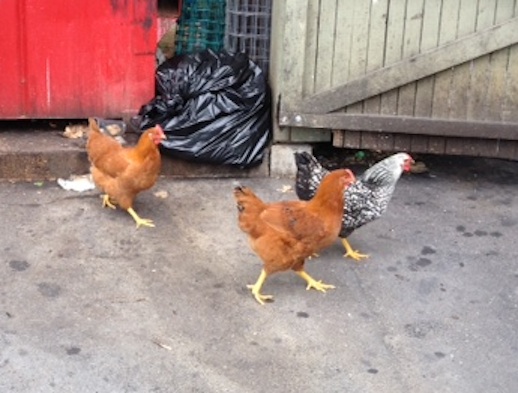 Free-range chickens were pecking away at the base of the trash area. I never assumed that there was a flock of free-range chickens living in the village. And it never occurred to me that I'd see a small flock of someone's chickens at the bookstore dumpster.  I tried to get as close as I could to take the photo and the chickens regarded me ruefully. They turned and headed home, scratching the pavement as they went through three stores' parking lots to get back to wherever they came from.
Now that we've discovered chickens at the trash, more staffers are volunteering to take the garbage out.