It's finally happened. The staff is fighting over swag. An all-out war for a Hobbit bag. Katie McGarry, my new Houghton Mifflin Harcourt rep, has no idea what bringing me a lovely Hobbit bag of galleys has done to my normally calm staff.
I kept the bag, because, well, I took the meeting.  To my mind, this lovely bag should remain with me. But not everyone sees it that way. PJ, our college student staffer, who seldom asks for anything,  saw the bag and asked, "What are the chances I can have that Hobbit bag?" I told her that one was mine, but I'd see if I could get her one.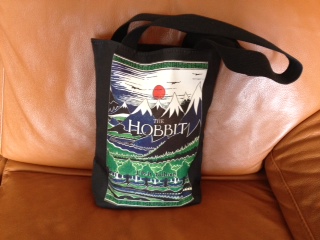 Then, my partner, Elizabeth, an avid bag collector (to a fault) assumed that the cute bag would be hers, even though this bag was already in my car. I don't normally covet bags. But there is something about this bag that I love; its lovely Hobbit cover from the original book and its thick cotton straps that are long enough to go over your shoulder make this old-fashioned bag a keepsake. I just love this bag, but now I'm scared it will go missing. PJ would never steal my bag, but I can't say what Elizabeth would do.
So, I have to wait for the fall trade show to get two new bags. In the meantime I will protect my bag and hope that others will behave as Bilbo Baggins would and leave the bag to its rightful owner.