Every day, booksellers go out on a limb and recommend books. Often we never hear back about the success, or failure of those recommendations. The other day, I was cleaning out a massive pile of mail and came across a postcard that a customer sent recently.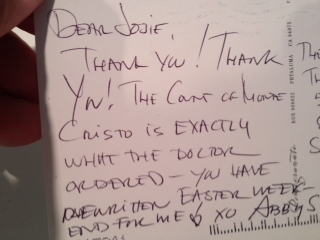 She came in a few days before Easter seeking a book that would "distract me from my in-laws for the whole weekend." I knew this customer well enough that I felt comfortable suggesting the 1,312 page classic Count of Monte Cristo. She looked askance and I could almost hear her thinking: are you crazy? I told her about the store and she reluctantly left with the book. I told her that if she gave it a chance, she'd be riveted.
The postcard was addressed: To the Books Goddesses of the Flying Pig. And it's clear she loved it. This card now adorns my fridge door to remind me that there is a real joy in connecting someone with a book they'd never had read or thought of for themselves. And to save a whole weekend for someone is always going to be a gift.
That she was moved enough to write me is my gift.