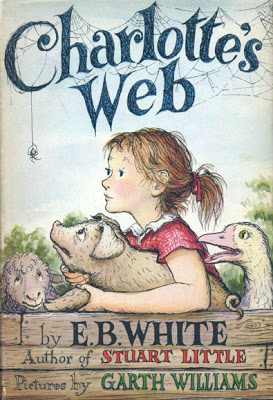 Before it closes after April 21, anyone with an excuse to get to the fabulous Eric Carle Museum of Picture Book Art in Amherst, Massachusetts, should nab the chance to see  Some Book!  Some Art!:  Selected Drawings by Garth Williams for Charlotte's Web, which celebrates the book's 60th anniversary and what would have been Garth Williams' 100thbirthday. One particularly sweet note: the website mentions that the exhibit showcases, among other pieces, "The Carle's very first art acquisition—the drawing of Lurvy tossing a bucket of water on Wilbur [p. 128]." Aww!
I haven't had the opportunity to see the exhibit yet, and since Charlotte's Web is my all-time favorite children's novel (if I were forced to choose just one), I will be going! Hope to see you there.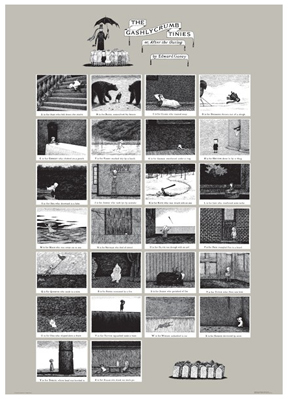 Perhaps the sorrow over the closing of this exhibition can be partially assuaged by ogling original artwork and manuscripts at The Gorey House's tribute to the 50thanniversary of an Edward Gorey trilogy called The Vinegar Works: Three Volumes of Moral Instruction. The trilogy includes one of Gorey's most famous works, The Gashlycrumb Tinies. (I had a poster of this alphabet of ghastly ends of unfortunate waifs on my college dorm walls — "A is for Amy who fell down the stairs / B is for Basil assaulted by bears," and so on. I had thicker skin back then and thought it was hilarious.) The other two books in the trilogy are The Insect God and The West Wing. I'm a huge fan of Gorey's distinctive, elegant, wickedly sly style and have always wanted to visit the Gorey House in Yarmouth Port, Massachusetts. Now I have an excuse! The Vinegar Works exhibit will run from April 18 to sometime in December, so there's time!
In case you're looking for more children's book-related outings, the Children's Book Council has a nice ongoing Calendar of Events. I'd love to see this expand even more and be a clearinghouse for activities across the country! Ideally, there would be subsections: say, one for art and manuscript exhibitions, one for panel and scholarly discussions and lectures open to the public, and one for readings and signings.
And here's a heads-up for next month: bookmark this link to keep an eye on a chance to own some brilliant children's book art! One of the best events in children's-book land is the Association of Booksellers for Children's annual silent auction featuring original art—sketches and finished paintings and sometimes sculptural art—by children's book illustrators who generously donate work in a fundraising benefit for ABFFE, the American Booksellers Foundation for Free Expression, which is an organization dedicated to protecting free speech and fighting censorship. Published children's book illustrators may donate art up until April 29, and the auction will have a live component at BookExpo America on May 29 at the Javits Center in New York City, as well as an online component here.