On my way home from Key West, I had a lengthy layover at the Charlotte Airport. As I'm wont to do, I scoped out the books that were available. Most small airport shops don't have any children's books. This airport had a small but interesting selection of six.
The first thing that struck me about the kids' books was they were directly under one of the scariest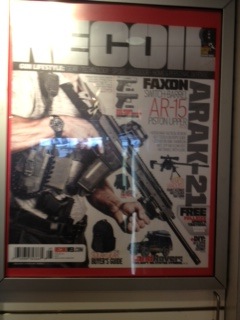 magazine posters I've ever seen. An ad for some sort of automatic weapons. Because really, shouldn't every small child look for a comforting board book under the gun poster? And, not just a little handgun, but a semi-automatic rifle?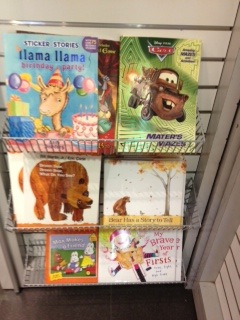 Once I got past the horror of the guns, I looked down at the kids' selection and while it was only six books, they were six good books. The top row had activity books: A Llama Llama:Birthday Party Sticker Stories, which doesn't require precision of coloring that can be hard to do on the plane, and Disney Cars Mazes Book. Both are delightfully appropriate for little flyers.
The second shelf was for bears. The oversized board book Brown Bear, Brown Bear, What Do You See? Is a great addition to any child's traveling collection, though somewhat hard to pack. Then the real surprise was Bear Has a Story to Tell. I love this book, I was just shocked and happy to see it at the airport.
The last shelf had the message book. Max Makes Friends — what better book for a young child to read before or during a journey? Let's all make friends during airline travel and maybe it would feel so arduous. The final book really speaks to all the bad flyers out there: My Brave Year of Firsts. 
I think that pretty much says it all.