Our Souped-Up Story Hour last week was with Tracey Campbell Pearson. She read from her latest book, Guinea Pigs Add Up. For this gathering we pulled out all the stops. Not only did we have Tracey, a Vermont delight, but we actually had a real, live guinea pig.
One of the great things about our staff is what they bring to the store from outside work. We have a bookseller who has a young son in a room with a classroom guinea pig. Kelly brought in Oreo before the event to get her acclimated to the bookstore.

We've never had a guinea pig before and boy, was it fun. Forty kids came in from the local school and they settled on the floor, neatly arranging themselves on their own coats. I'm always amazed at how many kids can fit in the store. They just pack down so much smaller than adults.
Tracey was great with kids, who all had to share what kind of animals they had at home. The kids were all very eager to find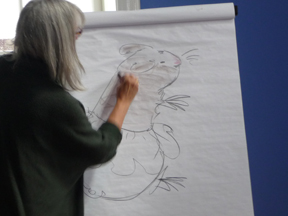 out what was in the cage, but Oreo stayed in her little house until it was time to make her big debut. Tracey drew a wonderful guinea pig with wings, who had special patterns on her skirt. Tracey spoke about how much she loved to draw patterns in her art. The kids all chimed in with their favorite patterns: dots, stars, etc. It was great fun to watch Tracey create this flying guinea pig out of nothing but lines of a colored pencil.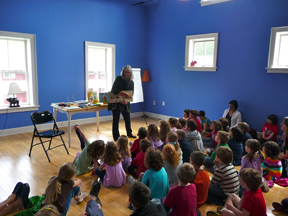 Tracey read the book and then Oreo made her debut. Kelly put a towel in her arms (Oreo's preferred pad) and brought Oreo over for each child to see and pat. They were all very well behaved and Oreo was a champ. Tracey, a real pro at school events, had a four-foot guinea pig cut-out that kids could have their pictures as the face of a guinea pig. There were squeals of delight when the teachers took their pictures as the guinea pig.
Tracey is an author/illustrator who so clearly loves her work that it's contagious. When she talks about creating stories and creating pictures, the kids, and adults, were leaning forward, listening intently and watching her draw. Tracey's ease with events makes kids relax right away. Her organization for events is outstanding. She comes armed with dummies for the kids to look at, fun projects for them to take home include some really great coloring sheets, and her sense of fun.
Tracey is another shining example of the richness of Vermont's children's authors. The children left, clutching their coloring sheets and holding their walking partners, burbling about meeting an author and seeing her draw. All in all, it was a great way to spend a story hour.