Every day it seems like I'm reading more and more doom and gloom articles that are heralding the death knell for the independent retailer. The battle against the chains, the online vendors, book fair companies, etc., continues — the list is long and constantly changing. One thing hasn't changed is the power of working with others to strengthen local businesses.
The beauty of a good partnership is the real feeling that you're not in it alone. Someone is there to help with the planning and executing of an event, and that is a lovely feeling. Yesterday morning we had our first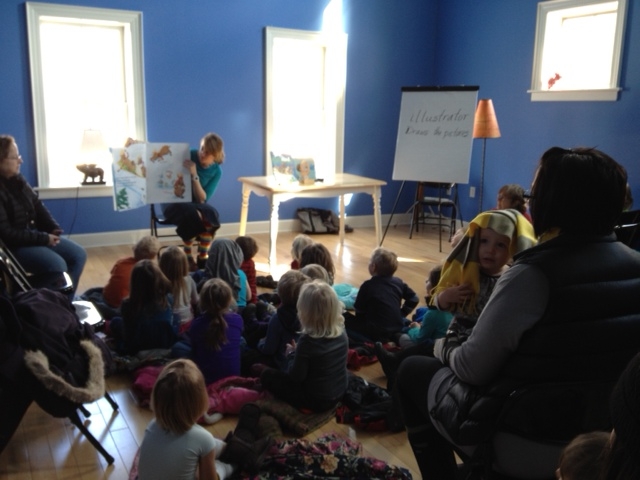 author enhanced story hour. Liza Woodruff, a great local illustrator, came in and read her book, Ten on the Sled. Normally our Wednesday morning story hour draws anywhere from two to eight kids. But this event saw more than 30 people! How did we get so many folks to come to an event at 11 a.m. on a weekday? We worked with a local preschool that was within walking distance. We knew about this preschool because one of our staffers sent her kids there. So, again it was all about reaching to folks we already know and love and hope they feel the same about us.
At 10:45, I was just back from throwing out the trash when 18 little kids came up the deck to the store. This story hour was a fun adventure for them. It's not every day they get to walk around town and see an author. Honestly, is there anything cuter than a pack of little kids in snow jackets, hats and gloves holding hands and traipsing into the store? I think not. The kids had a great time watching Liza draw and equally important, Liza had a ball. So this was a great event for all. Did we sell a heap of books? Not so much, but this event was more about getting the preschool used to coming to us for midday events. Perhaps next time we'll send home an order form, but I really wanted to stress the fun of the event without anyone getting the feeling that we were hard-selling them about the event.
Part of the success of this event was Liza helping to promoting it on her Facebook page. She has a lot of friends and several folks came to the event because they saw it mentioned in her Facebook feed. The store mentioned the event on our feed and I really feel like everything worked well together.
As the year progresses we have more and more partnership possibilities awaiting us. These excite me because of the potential of cross-marketing with other businesses and creating a demand for our bookstore and whatever the other business sells. It's funny, but I always assume that all the folks in my town have been to my store, and that's just not true. Every day someone comes in and confesses that it's their first time here, and that delights me, mostly because they've actually come in, but also because something, usually our being out in the community, has gotten them to pop by.
My motto for this year is to say yes to working with more folks, because the more people we can partner with, the better business will be for everyone involved.