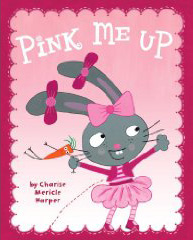 Many moons ago, Sandy Lemon, one of the local teachers I have the great pleasure of working with, introduced me to CricketSam, her husband's blog about life as a stay-at-home dad caring for their twin girls, who in a few months will be starting (gasp!) kindergarten. I have since become a frequent reader of Stephan's very entertaining blog and a big fan of both Stephan's humor and his daughters' antics. Thinking you all might become the same and realizing it's rare that we post the perspectives of actual kids on this blog, I asked Stephan if he and the girls might want to review a book or two for ShelfTalker. They jumped at the chance and walked out of my office with a pile of F&G's for forthcoming picture books. What follows is their review of Pink Me Up by Charise Mericle Harper (Random House, February 2010). Along the lines of "Clap if you believe in fairies," please comment below if you would like to see the Lemon family make more such contributions!
And now, heeeeeere's Stephan!
******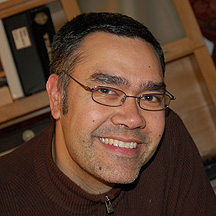 My name is Stephan Lemon. I am a writer, fervent reader, and, more importantly, a stay-at-home dad to twin 4-year-old girls Cricket and Samantha. My girls and I are honored to be reviewing children's books that will be available in the coming weeks and months. After years of reading the same books over and over and over and over again (parents, can I get an Gahhhhh!), getting some fresh advance-copy action is just about the best thing in the history of ever. Plus, Cricket and Sam are perfect for this task. Just two months shy of their 5th birthdays, they are experts at rendering judgment on a wide range of topics and have an opinion on everything.
The emasculation I experience on a near daily basis from our girls and our two cats – another set of twin girls – leaves me a broken and bitter shell of a man. Happily, my wife, Sandy, is a saint of a woman who acts as a counterweight and gives balance to my life (He shoots! He scores! Marital points!), and fortunately I have the ability to mine the forces acting upon me for comedy gold I can then put to use for my family blog, my fledgling design business and the book I've been threatening to write – a book with a title so wondrously cool that I cannot share it for fear that it fall into the hands of another broken and bitter shell of a man before I can publish. (Maybe someday I'll have a measureable level of content that will rival the wondrously cool title.)
I know what you're thinking right now. It's either Wow, this guy's life is REALLY exciting! or I'm actually not getting this time back, am I? But it's not about us. It's about the kids and the books. I'm just impressed you've followed me this far! Let's keep going.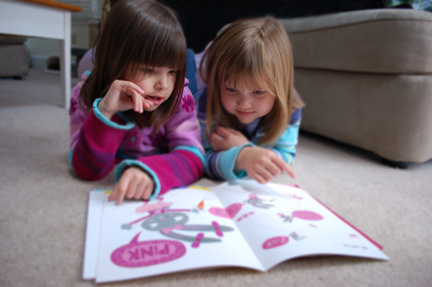 The first book to get the CricketSam treatment is Pink Me Up by Charise Mericle Harper. The girls were drawn to this book from the beginning, choosing it, based purely on the cover, from a lineup of 8 other new books.
The opening page of the story reads "Today is a special Mama-and-me day. Today is the day of the PINK GIRLS PINK-NIC."
Oh boy, this is where the "Daddy Dilemma" kicks in, as I'm left reading a book, delightful as it may be, that by all appearances should be read by a mother to a daughter. But fortunately 4-year-olds don't care about such things, and I really don't mind either since this allows me to walk hand-in-hand with my feminine side and, truth be told, the feminine me is SO much nicer than the regular me.
Returning to the story, our pink-obsessed main bunny (who curiously goes unnamed, to the dismay of my girls) has her hopes of a wonderful day at the pink picnic dashed when her mother falls ill with – egads! – Pink Spots! (Who knew pink could be so debilitating?) This leads to a moment the girls know all too well, as our heroine falls, crying, to the floor. So familiar are my daughters with this type of scene that in fact they finished reading the final sentence on the page for me… "Today. Is. The. Worst. Day," I began… then "EVER!" they chimed, as I ran my finger over the word.
It is at this point where Pink Me Up takes a turn for the Awesome! as we find out who will escort our pinkster to the picnic. None other than… DADDY! (Wait. What? Daddy? Really? I know, even my girls were surprised.) "It's a PINK girl party!" our young bunny exclaims. "Boys are NOT pink!"
I ask Sam and Cricket what they think is going to happen next. They agree that Daddy is not worthy and the story will end in despair, which is TOTALLY not the right answer. When prompted again, they deduce that maybe Daddy will find pink clothes and be able to accompany his daughter to the picnic.
After the bunny successfully "pinks up" her dad with a combination of stickers, markers and tape (those pink-striped pants are SO slimming) she holds his hand on the way to the picnic because "he is not used to being pink." To me, this line best demonstrates the psyche of the 4-year-old, as my girls are accustomed to treating me as a helpless automaton that requires constant attention for even the smallest of tasks. But hey, pink-striped pants!
Cheerily, everyone at the picnic LOVES the pink dad, leading to many other dads getting "pinkified" at future events. Our pinkster, flush with confidence, dreams of a world in which – GOOD LORD – everything is pink.
I selfishly liked this book because Daddy saves the day but appreciate that the main character overcomes adversity and is part of the solution, which is a good message for the kids.
The girls liked that the stuffed carrot is always smiling. Unbelievable.
Final assessment? Three thumbs up for Pink Me Up.