Yesterday we celebrated our 15th anniversary, and what a day it was. The party ran from 12-4 and a grand time was had by all.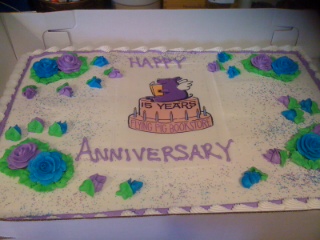 We had cake, not just a cake, but a stunning one.  The great logo of a pig reading on a cake was designed by illustrator Kevan Atteberry and was  a HUGE hit with all. Luckily, there was exactly one piece left, and as the person who worked alone yesterday, I felt no guilt enjoying it.
The store was actually so busy that I wasn't able to take many photos. Elizabeth and I were quite busy saying hi to the many folks who came in just to wish us well. I was very moved by this outpouring of love for the store. I think folks, now more than ever, have really come to view us as a wonderful part of their community. The fragility of independent bookstores is not lost on our customers and they seem ever more grateful and appreciative that we are here.
Our staff, all five of them were working together in the afternoon, and that was just as much as the cake and the party.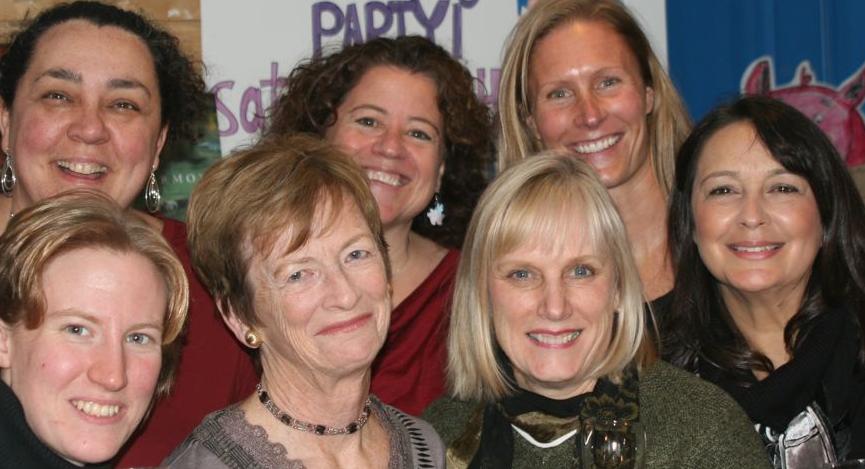 I was reminded anew how much I love working with these people. Yes, we're all a little crazy, but somehow it just works. And as we gear up for the holidays, a day where we all had fun is a great thing.
The party was slamming busy. Lots of folks taking advantage of our one-day holiday sale. We were wrapping (which is not easy to do with a massive cake on the back counter), we were recommending, we were having Prosecco at two in the afternoon (a tradition I can totally get behind) and laughing.
I stood with Elizabeth in the back room during all the festivities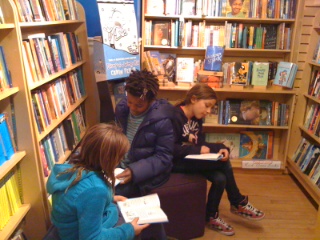 and took it all in. Fifteen years is a long time and it's been great fun to build the store with her. Here's hoping we have a great holiday season and another fifteen years.
I think this picture sums up why we do this.  Three best friends all reading the same book amid the hubbub. They didn't care about the cake, they cared about the Wimpy Kid book and they took a moment to enjoy it.
It's thousands of moments like that make this job a delight.