This past Saturday we welcomed Vermont legend Katherine Paterson and her esteemed husband, John, for a lively event about their ne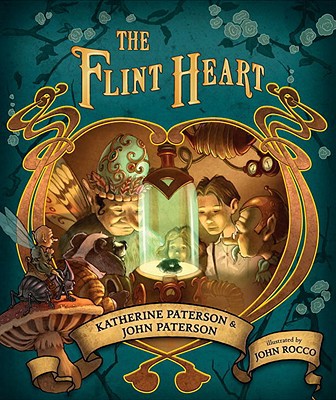 w book, The Flint Heart, their adaptation of Eden Phillpotts's fantasy story from 1910. The Patersons were thrilled to be talking about their latest collaboration. They loved the story right away and together they edited it.
One of the questions that Katherine anticipated and included in her part of the presentation was, "What was it like to writing with your husband?" Katherine paused and said,"It's a lot more fun writing with him than wallpapering with him." This comment drew chortles from the crowd.
John explained how Margaret Mahy was instrumental in their writing the book. She choose The Flint Heart as a book that should be treasured for the next hundred years, when John posed that question to her. The Patersons then investigated the original work and together they made it the easy-flowing, great read-aloud that is. One thing John said was the original had chapter upon chapter of fairy listings and a detailed description of the flora and fauna, which he excised from the text to make it flow better. Katherine then worked to make sure the whole story hung together.
After their presentation we were all in for a glorious treat. Katherine read a chapter to us. We've had lots of folks read their works before, but never with such conviction, joi de vivre and grand fun. The audience was rapt. Kids leaned cozily against parents, adults just tipped forward in their seats. Really, it was a memory in the making.
Katherine spoke about her other new book — honestly, how many authors go on tour for two books simultaneously — Brother Sun, Sister Moon: Saint Francis of Assisi's Canticle of the Creatures, which was just named one of the top 10 illustrated books of the year by the New York Times. Katherine told a fascinating story about this book and a big chain store, which she gave me permission to retell here (I'll always love her a little more for this).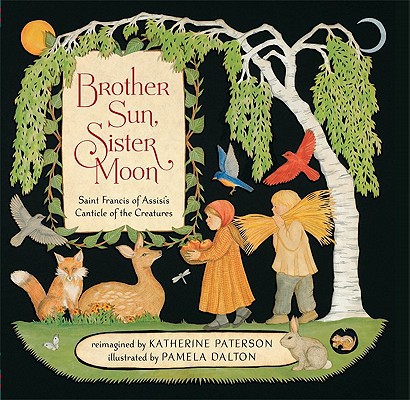 It seems the buyer "thought the art was too sophisticated" so they passed on the book entirely. Really? Does a buyer ever just pass on anything written by Katherine Paterson? So, since the release date of June, the book has not been in any of the chain's stores. Until Thursday. Apparently, being chosen as a New York Times Best Illustrated gets you a direct line to the store shelves. Katherine thought the whole thing was amusing, especially now since they've ordered hundreds.
Katherine let me take a moment and explain to the attendees what this scenario points out. Chain stores are not bad. What's bad is one person is making decisions for hundreds of stores. So one buyer, as Katherine tells it, didn't like the book, so no one who shopped at a that chain would be able to buy it because of that one person's opinion. That's a really powerful set-up.
The independents have more eyes looking at things and are not making decisions for the entire country, therefore they can take more chances on books. Each indie knows its market and can decide for itself whether or not to carry a book. The real problem arises when chain stores are essentially controlling editorial content: change the title, change the cover, put more photographs of real kids on every YA novel, etc. Anyway, Katherine was gracious about me and my soapbox and all but one of our copies of Brother Sun, Sister Moon sold at the event.
As customers browsed among all Katherine's books, I was struck not only by the breadth of her writing, but the reaction people have when they regard her titles. Moms were touching Bridge to Terabithia  and then their hearts, as if relieving the book again. A young man of 10 or so had a stack of five books; they ranged from a picture book to a chapter book, a middle grade novel and a young adult novel. His mom made him focus on one book, and he choose the one that he had been clutching the hardest, The Flint Heart. And then the mom made a quick secret list of what he'd been holding and thrust it at me to set aside. All in all, a good day.