It's been out for just a few days and already there has been a lot of discussion at my store about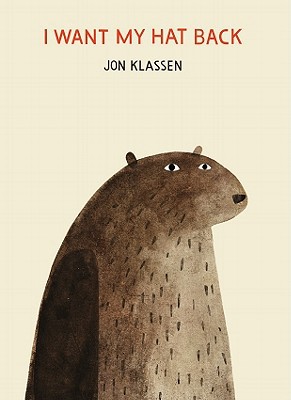 Jon Klassen's book, I Want My Hat Back. I need to go on record as saying I LOVE this book.
The plot is simple: a bear has lost his hat and asks a series of animals if they've seen it. Rabbit, who is actually wearing the hat, says that he hasn't seen the hat.  In the end, the bear realizes the rabbit has his hat. In one spread the rabbit is there, and in the next, there is evidence of a scuffle, but no rabbit. But bear is wearing is hat.
There have been customers who love the book until these last few pages when the Bear seemingly eats the rabbit. Personally, I think it's funny. One has to take it on faith that the author is not advocating death for taking a hat in the real world. But I think too many people expect all picture books to be necessarily cheery and full of the ubiquitous tidy endings where all is forgiven and the animals hold paws and play checkers.
What this book does is bring to light the feelings a child might have about someone stealing, and then lying about stealing, a treasured hat. It is not an advice manual. Kids have real emotions, and sometimes they're dark and scary. But this book is tongue in cheek. And the way the Bear dispenses with the Rabbit is dealt with in exactly the same way the Rabbit lies about taking the hat. The cleverness of this book lies in its pure simplicity and dialog.
Admittedly, it's not every day that the protagonist of a children's book actually kills another character with no repercussions, at all. There are books where the protagonist does bad things and then learns from his or her actions, but in this book the rabbit is gone and bear gets his hat back and is happy. I think this book can inspire some pretty amazing discussions in classrooms  and homes of kids of varying ages about lying, consequences and what's right and wrong and also you could have a real debate as to whether or not the bear actually ate the rabbit. Also, it's never too early to teach kids about black humor.