It's hard to believe that we've had our bookstore for fifteen years. That babies who were barely toddling when we opened our doors are now driving their younger siblings to The Flying Pig. It's incomprehensible to Josie and me that we went from idea to opening day in just ten weeks that fall of 1996. Ten weeks! Were we crazy? (Quite possibly yes, but that's a blog post for another day.)
So when we were talking about how to celebrate the store's 15th, Josie came up with "Ten Weeks of Fifteen." The plan was to stud the calendar with events for the ten weeks leading up to our official anniversary on November 23. It's been a giddy process, gathering these events. Lots of old friends in the mix, as well as new. And, really, because of the way timing has worked out, it's really thirteen weeks of events, but I don't think anyone's going to mind.
We've been so excited to get started with the party, and on August 30, we kicked off the festivities with the hilarious Judy Schachner and her irrepressible creation, Skippyjon Jones.
I almost called this post, "Plan B," because on the day of the Skippyjon event, everything started to go flooey. The reasons for the slight chaos were good: RSVPs for the event well surpassed our Flying Pig Loft's 85-person comfortable capacity, so we decided to shift the venue to the Shelburne Town Hall, which seats 200. This meant phone calls to all of the customers who'd RSVP'd (we were at 103 reservations and counting) to let them know about the change. The store was jam-packed with regular customers, which is terrific, but made it tough on staff, since we'd removed from the floor three booksellers who were now needed to pack, move, and set up all of the event books offsite. We also needed someone to make a couple of signboards indicating the change. And in the midst of this, we learned that the teen who was going to appear as Skippyjon Jones was claustrophobic and wasn't going to be able to don the six-foot plush costume after all. Hellllpp!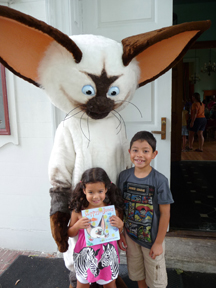 Some quick emergency calling led to the heroic intervention of one of our fabulous customers, Mary Catherine, and her lovely daughter, Caroline, who became our new Skippyjon Jones. Whew! Our lone staffer left at the bookstore was also heroic in her efficient customer triage. And Town Hall was the perfect place to relocate what turned out to be about 180 kids and adults pouring in to see our special guests. We had Skippyjon on the top step up to Town Hall, greeting children as they came in. You should have seen the expressions on their faces as they rounded the corner from the parking lot and caught a glimpse of the tall white fuzzy beast-kitty! It's a great costume; looks just like Skippito, and even the most trepidatious tiny tots managed to overcome any overwhelm and at least pet Skippy's paw. We took loads of photos, asking the adults in each group if it would be all right for us to post the pics to our store's Facebook page for them to access and download later. They all accepted the offer happily.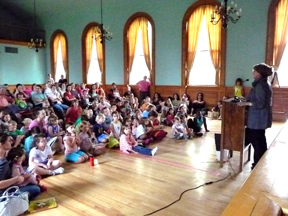 After a photo with Skippy, folks streamed into the Hall, where we'd loaded tables with books. There was a happy buzz, and Judy was already there, signing pre-solds, and managed to sign several books for fans before the event started, a huge time-saver taking some of the burden off the back end. People were thrilled that SKIPPYJON'S CREATOR was right there like a regular normal human person, and they could talk to her! I'm always charmed by that shy awe. We forget sometimes how magical it is for people to meet authors, especially those whose work has become part of the fabric of their families. It was so clear how much Judy's books meant to the people who came to meet her.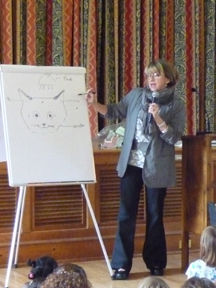 If you've never heard Judy Schachner in person, you really want to make it to one of her events! She is a stitch, a character, a stand-up comedian. She surprises even herself with the things that pop out. She is just SO funny. She draws a picture of one of her cats, whose brain is "the size of a dried frozen pea" because—her theory—he's spent too much time sleeping with his head in between a favorite lampshade and its lit light bulb. She mentions loving Peeps so much she wants some included with her ashes. She mentions Skippy fondly and ponders having her paleontologist daughter exhume Skippy and reconstruct him, "like a dinosaur." (There was absolutely no kid trauma with this remark, in case you're alarmed. The littler ones didn't understand it, and the older ones were fascinated.) She also tells kids that "crazy pets do crazy things to make you a writer." She gets serious for a moment when she says that, adding, "I want you to be writers, too. Your stories are important! All of your stories are important." And the children seem to sit up a little straighter when she says it. I love it when speakers encourage kids to write, and connect this magical thing they do to what children already know how to do: tell their stories.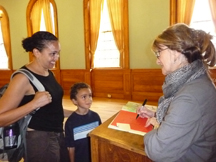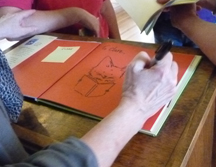 After Judy spoke for a bit, and read her new book,
Skippyjon Jones: Class Action
, she signed books up at the podium (Judy actually prefers to sign standing up wherever possible), chatting with the kids and parents and teachers, and drawing amusing illustrations in their books. I was acting as Judy's "flapper" (opening the books to the signing page) and, um, time management specialist, so I got to hear what people said as they had their books autographed. "You saved our family," one person told her, describing a hellacious car ride during which the reading of Skippyjon books managed to soothe the breasts of the four younger rebels in the backseats. A daycare teacher said that Judy's books were her "go-to stories," the sure-fire hits she turns to again and again. "You are my hero," said another teacher, but I didn't get to hear exactly why, as I was called away to distribute more Post-Its for people to spell their children's names. Such is the life of a bookseller at an event.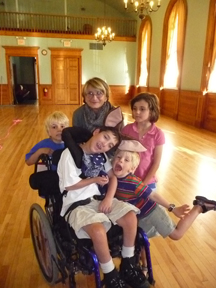 There was a happy buzz as people left, saying goodbye to Skippyjon on the way out and clutching their books. On the way out, so many people came up to us and said things like, "Thank you so much for bringing events like this to the community," and "That was amazing!" We were feeling the indie bookstore love, and it was a perfect event to kick off the celebration of a bookstore that is, like Skippy and his creator, a little offbeat, pretty funny, and always looking for a new adventure.