It was everything you'd hope for from the home of an artist like
Tomie dePaola
: a bright, clean, beautiful, whimsical space, chock-full of colorful artwork and icons and
tchotchke
. A home populated with meaningful items yet somehow uncluttered, utterly restful to the eye. The group of bookish folks who had gathered there for brunch took in the artful home and the magnificent lawn and landscaping, and murmured to one another, "I think we're living wrong." We threatened to set up permanent camp—and that was even before we'd tasted the scrumptious brunch.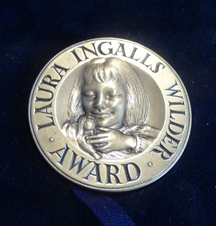 We were in New Hampshire to celebrate the latest feather in the talented Tomie's multiply bedecked cap: the
Laura Ingalls Wilder Award
, which, in the words of the sponsoring American Library Association, "honors an author or illustrator whose books, published in the United States, have made, over a period of years, a substantial and lasting contribution to literature for children." Only 18 children's book authors and illustrators have won this prestigious lifetime achievement medal since its inception in 1954. (If you're doing the math, you'll quickly realize this is not an annual award. Initially, it was given out every five years, then every three. Currently, every two years, a new recipient joins the lofty fold.)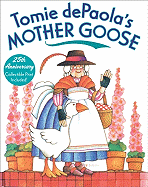 Tomie's
200+ books
certainly have made an inarguably substantial and lasting contribution to literature for children, from the endearing and enduring
Tomie dePaola's Mother Goose
to the iconic Caldecott Honor recipient
Strega Nona
to the charming Newbery Honor book
26 Fairmount Avenue
. Tomie dePaola's legacy is so rich and well appreciated that one of the Laura Ingalls Wilder committee members present confided to me, "We were shocked he hadn't already won this award!" One of the most pleasing aspects of the brunch, in fact, was the sheer delight radiated by the award committee members at having chosen such a worthy recipient.
I've never been to a book function quite like this one — it had the intimacy of a small gathering for close friends and family, yet had big book-bash flair. The guest list included booksellers, librarians, art gallery owners, local community members whose work brings them in contact with Tomie (for instance, a woman from a nearby theatre which serves as a venue for some of Tomie's book events), a Concord journalist.
It was a wonderful gathering on a perfect, sunny New England summer day. As you might imagine from the joy and heart and warmth and beauty found in Tomie's books, those elements ruled the brunch itself. We were abundantly fed, easily and graciously hosted. There were even four special cocktails created for the occasion (The Wilder Champagne Cocktail, for example, consisted of Proseco and Wild Blueberry, Raspberry, and Blackberry Puree) . Honestly, Martha Stewart could have taken lessons from the perfection of this occasion. Not a detail was left un-thought of; I have a hunch much of the credit here goes to Tomie's impeccably organized assistant, Bob Hechtel.
Frankly, the only thing missing was a peacock sweeping its tail grandly along the lawn. For all I know, there was one, sleeping up in a
Strega Nona
tree….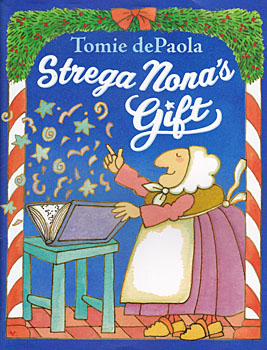 Oh! And I am delighted to have learned that a new Strega Nona title will be coming out this October:
Strega Nona's Gift
. Josie does most of the picture book buying for the store, so she had a chance to see this with our rep, but it was news to me.
Please feel free to chime in with your own congratulations to Tomie dePaola or any thoughts on books of his that have meant something special to you and yours.
I will leave you with a few more images from last weekend. (I took 129 photos in all; needless to say, I have had to restrain myself here.)