I only wish cleaning the bookstore office were quite as exciting as my title implies. But despite the lack of actual shenanigans, my recent compulsive cleaning endeavor — from about 3:00 to 11:30 pm on Monday— did yield forgotten and found treasures.
Bookstores receive a lot of boxes. A LOT OF BOXES. If you're ever moving house and need to pack up your library, forget the supermarket; it's a bookstore you want. We do tend to re-purpose those boxes ourselves, too, for storage. In our backroom, we had accumulated nine big boxes of ARCs — nine! — over the past few months, and it was high time to go through them. When I did, I found so many galleys I've been wanting to read! Kekla Magoon's
Camo Girl
, for example, as well as
Bigger Than a Bread Box
by Laurel Snyder, and
Dead End in Norvelt
by Jack Gantos. I searched in vain for Erin Morgenstern's
The Night Circus
; ditto Lev Grossman's
The Magician King
. I may not have found everything I was interested in, but my haul was impressive: after separating out the ARCs I figured my staff would want to go through again, and making a couple of giveaway boxes, I loaded four cartons of MG and YA ARCs into my car to join the stacks at home. Score!
Going through so many ARCs all at once had an unexpected and interesting benefit: it allowed me to see some fall cover design and topic trends (fodder for upcoming blog posts). It will also allow me to put together a post (like the one I did last season) featuring great first lines from upcoming books. Win!
I unearthed some refills for our
Drinn cell phone holder
display, in a color we haven't had before (white). I found the second rotating display to hold six more styles of these popular
3D motion bookmarks
we carry. Wahoo! I've been wondering where that went. I found a Lucite endcap book holder I've been wanting for the cookbook section. Came across a local author's dropped-off review copy; now I can read it and return that phone call about how many we'd like for the store. Found a mangled book I've meant to call the publisher about replacing. Still can't figure out how it got like this (see photo, right) without an actual
mangle
. Theories? It's embarrassing to admit, but these small discoveries are intensely satisfying — little ticks off the endless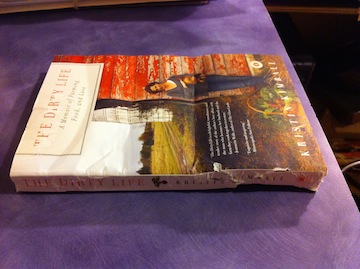 mental checklist of "Where's that thing I put in that place that time?"
Under a stock table were two boxes Josie and I sent home from BEA. About time we opened them and revisited the treasures within: signed art, signed ARCs, a couple of great posters, some tasty promo items for raffles and prizes, and, erm, four business cards from publishing people I need to get in touch with. (It will be so much easier now….)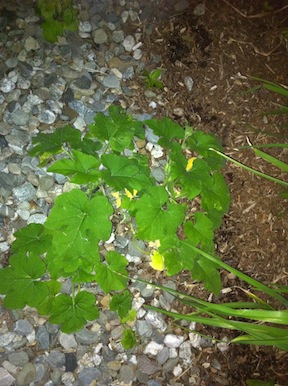 Perhaps my favorite discovery of the cleaning project was actually outside the store. "Remember that Halloween pumpkin that fell off the deck and then got buried by snow?" Josie said, pulling my arm and leading me to the edge of the bookstore porch. She pointed down to the little bed of gravel and dirt bordering the flower bed, where a sweet green burst of leaves shaded three yellow blossoms. "We're growing pumpkins," she said. And for some inexplicable reason, that accident of happenstance and nature made me very, very happy.
What have you lost, and what have you found, in your back rooms?