It's not every day that we have an author event and that author not only lives down the road from us, but is also a good friend. Liza Woodruff treated us to her new book, Ten on the Sled, which she illustrated, this past Saturday. The book is a lively toboggan ride down a mountain with ten arctic animal friends.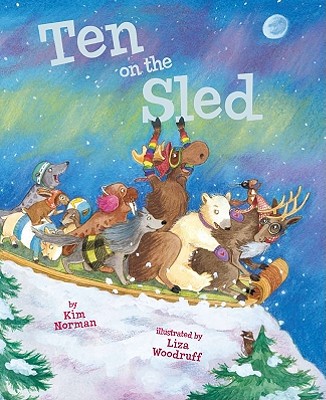 Adventure and hilarity ensues when animal by animal keep falling off the toboggan and into a snowball that's racing the sled down the mountain. As each animal falls out, the book becomes a counting book. The rhyme is great, the book is a wonderful read-, the art is lovely.
It's always fascinating for me when illustrators come to the store. Their process is such a mystery to me that I can't help but be in awe of the work that's involved in illustrating a picture book. She explained her process. First she gets the manuscript and then she starts with character sketches. Liza gave each animal a back story: the rabbit gets motion sick (although rabbit's greenish tinge was nixed in the editorial process), the polar bear has a crush on the caribou, the fox is a safety nut, and the squirrel tries really hard to break up the polar bear and the caribou. These things manifest themselves in every spread, and add to the richness of the book as well as the laugh-out-loud fun.
Liza said she goes usually goes through three rounds of edits with the publisher from start to finish. From early sketches to gorgeous finished watercolors her work makes me smile and the amount of work that goes into everything still kind of wows me.
Liza plans a great event.  First off she baked these really cool looking polar bear cupcakes which were on theme and delicious. She also planned a great activity for the kids — making holiday cards. Quite simply they just had colored paper and made really cute cards they could give to someone for the holidays. Having a craft activity for a picture book makes such good sense because the target audience is too young to really sit through a longer event without having something to do, and it's great for them to have something to take home.
Liza signed a ton of stock and it's been a fun weekend of selling it. We'll continue to sell all the books throughout the winter. And the length of a Vermont winter makes Ten on the Sled timely six more months, so that's a win-win for all of us.