My missive is a bit scattered and hiccupy this week, dear colleagues, for I'm rather overwhelmed with the state of the world, and I fear that in the words of young Walt in John Irving's The World According to Garp, "the under toad is winning."
On the eve of the first anniversary of the murder of George Floyd, I look around my little bookstore and see shelves of face-out covers of Black Lives Matter titles. I see picture books and middle grade titles and YA novels featuring BIPOC characters, and analysis of our sales in the last year shows much higher numbers of those featured books than in years past, and my staff can tell anecdotes of customers of all backgrounds looking to diversify the shelves of their young readers. We are trying to do the work of antiracism in the small ways that we can, and we are trying to be present for those who lead us. And yet, last month, more than 300 parents in our community attended a school board meeting to protest the hiring of a DEI officer by the district. I have written and erased at least five different sentences to conclude this paragraph, and there's simply nothing I can produce to say that's helpful or wise. There is so much more to do.
Mother's Day, an anticipated bright spot in the spring bookselling season, brought its usual boost in sales of cards, cute little board books, and gift wrapped novels purchased by spouses who intended to tuck gift certificates from the spa in our shopping center just under our tulle bows on the packages. Lots of heartfelt hand-drawn cards from kids topped those packages too – gifted to moms who put their professional careers on hold this year and became educators, caregivers, and technology consultants to learn-from-home kids and work-from-home husbands. They are exhausted. They text us late at night, wanting workbooks on fractions, and birthday gifts delivered for the "neighbor kid next door – he's 5 – likes purple and garbage trucks" and this week they are mounting celebrations for the end of the school year "so soon! they just got back on the bus!" and wondering how to fill the days this summer.
Those, of course, are just the moms I know. The moms who can afford to shop in my store, and who have laptops and smartphones to text and message. Lack of internet connectivity and the digital divide is the critical barrier to education, medical care, employment and commerce – in short, we are isolating many parents in our state from the very supports they need to raise their families. While it seems completely contrary for a bricks-and-mortar bookseller to fuss about access to screens after spending the bulk of her bookselling career trying to wean kids and parents from their seductive call, I now worry that we have left so many families and children on internet islands in our country, with limited ability to reach us and the newly re-emerging world at large because of lack of infrastructure and devices. While we booksellers and publishers fret about monetizing virtual events and increasing views on our silly social media posts, how do we support those young people for whom the pandemic has been a mask on their entire world? Our education crisis is one of both access and accountability, and I struggle with finding our role in solving these challenges to literacy.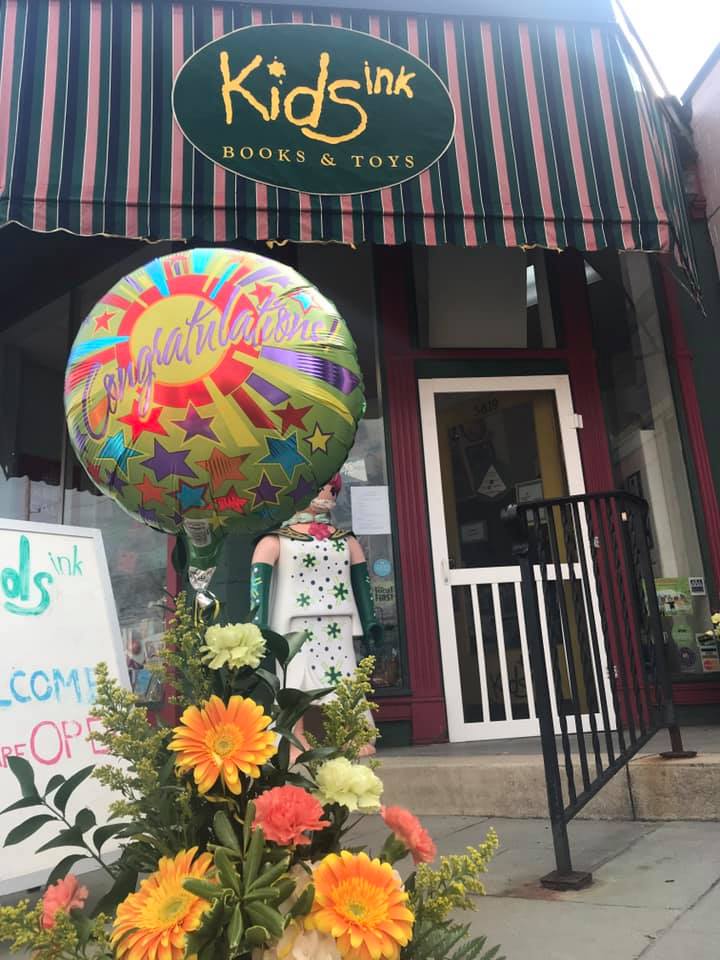 In a kinder, more practical take on the never-ending responsibility of parenting, my Indianapolis colleague Shirley Mullin, owner of the legendary Kids Ink Children's Bookstore (which celebrated its 35th anniversary in May – a remarkable accomplishment) hosted a diaper drive in its front window last week, benefitting the Indiana Diaper Bank. On Kids Ink's Facebook page, a link to the organization's website led me to this very stark reality:
Feed your family… or diaper your child. Could you choose? Every day, thousands of parents across the Hoosier state must ask themselves that question…. We know that diapers are only the beginning of what our struggling families need – the need for comprehensive social services that address a range of issues from food and diapers to medical and mental health.
We speak daily about the value of reading aloud, of making books available to kids, of sharing literacy as the tool to changing lives – but first, perhaps we need to change some diapers. (Kudos to Shirley and her staff on this great project.)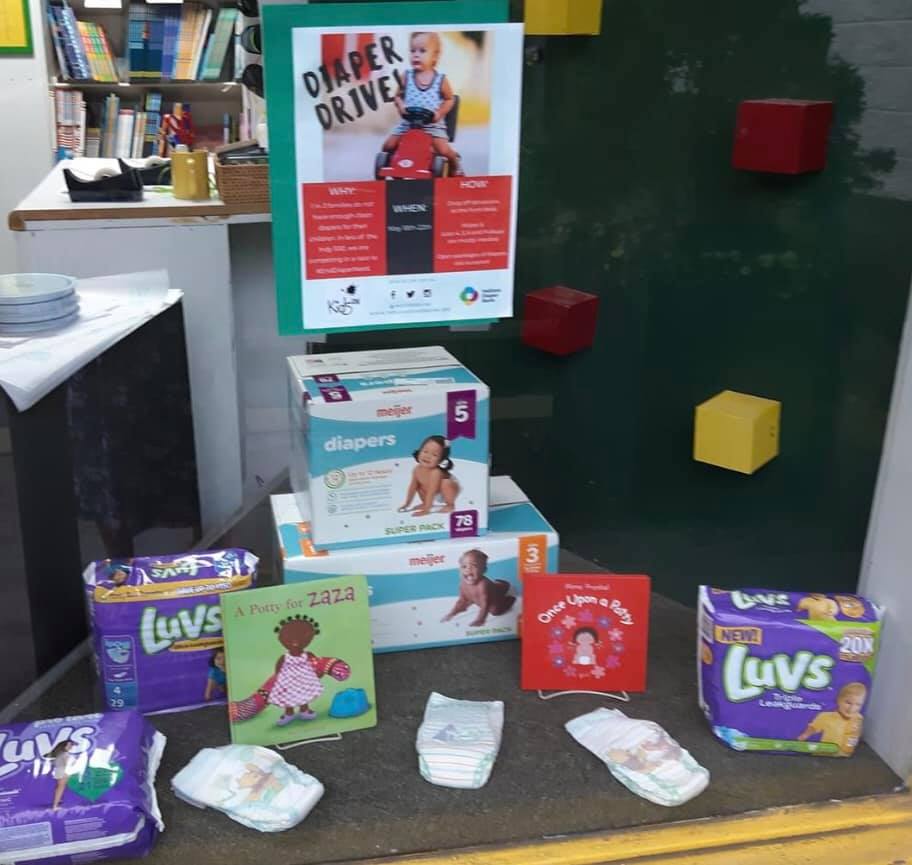 A call from my landlord this week to see if I might be interested in a second space was, I admit, greeted with a minute or two of delightful fantasy and a doodle of an imagined doorway (I have always wanted a "kids door," like the charming entry at Camp) until I asked what had been previously in the space. "Oh, you know, it was a local. None of our independent retail leases are renewing, and the chains – other than the dental groups – are all cutting back. We can make sure this is a good deal for you." As I drive through the county to make doorstep deliveries, I see empty strip centers, missing anchor tenants, and darkened windows on Main Streets in both Indianapolis and surrounding towns. We may be stronger as booksellers (and we're certainly leaner and more tech savvy) than we were a year ago, but we are survivors in a very different land. Just as at the beginning of the Shop Local movement, booksellers are called again to rally the indies and be beacons of local economies. Speaking as just one bookseller, we are tired, too.
So I'm bending a bit this week with the weight of worrying about kids I know and kids I don't, work that's left to do to meet their needs, and hearts we can only win by kindness and hard work – and I'm weary and worn from a year of feeling so much, and facing so many tasks ahead. Thanks for sitting in the sand with me – watch out for the under toad.