As promised in last week's Springing Back to the Blog and the Bookstore, I'm sharing my laundry list of business adaptations at 4 Kids Books & Toys for the perilous last year, in hopes that some of it might still be useful to your business, and that you'll be prompted to share your best storefront retail brainstorms with the rest of us. While I can't avoid referencing some of the reasons that we made these changes during the pandemic era in today's post, I hereby pledge to avoid all of the tired, overused, often triggering buzzwords that I have mentally added to the dustbin, those cringeworthy Covid-era terms like "before-times," "unprecedented," and "challenging" as well as the shudder-inducing "new normal," "agile," and the absolute verb workhorse of the five-years-of-2020: "pivot." Be gone, all of you. Let's look ahead at the 3rd quarter of 2021, turn our faces toward the sunshine, and remember and the things we've done that were smart.
We converted the shop phone from a landline to a mobile device, allowing for ease of customer texting (complete with pictures of suggested gift purchases and wrapping choices), and the ability to carry the store phone offsite on the days and times we are closed. We kept the same service provider, and used an extra iphone from my kitchen drawer (see: four kids, lots of upgrades and discarded models), and have had no increase in the monthly bill.
We shortened our store hours after the holidays, and will keep this new schedule (except for 4th quarter, when I reserve the right to change my mind for additional elvishness). For our entire history, we have been a 7-days-per-week, "open early and close late" kind of store. I always encouraged other children's stores to extend their hours to acknowledge the needs of working parents, kids' long school days with a myriad of after-school activities, and to cater to the early morning drop-offs and after-dinner browsers. Adding home delivery, increased shipping, and a lot more store cleaning time curtailed those available hours, however, and we realized that even with shorter open times, the "over the transom" sales did not diminish. New shopping options and services met (and exceeded) former monthly sales goals, and we were able to more effectively use our time in the store when we are open to the public by putting more staff directly on the sales floor.
We are actually open all the time, wherever they need us to be. None of the extra services like free home delivery, curbside pickup, online shopping, FaceTime, and text concierge services, and sales on social media channels (see #4) will ever go away. These are all additional ways to meet our customers in the available points of contact in their lives, and exactly the kind of personal service that we always thought we were delivering in-store. Now, however, that physical limitation of shopping only in our actual space seems quaintly carriage trade, and somewhat tone deaf to the unrelenting schedules of working parents.
We have permanent off-site staff responsibilities and tasks, and will keep some people at home long term. As part of delegating many bookstore operational administrative functions during the months when only two of us could be in the store, we re-examined what actually gets done when and by whom, and discovered that a lot of the things that were tackled from the shop floor, perched over the POS system between story times and customers, could be more efficiently done remotely by a staffer who is not subject to interruption. We are not a large staff, and typically only have two people on the floor, but having a dedicated remote bookseller to tackle backlist orders, prepare purchase orders for receiving, follow up on damages and special orders, and field website queries and customer needs has been a huge boost for our productivity and bottom line. Offsite management of social media, newsletters, and other marketing campaigns allows another staffer with young children to work entirely from home. Our turnover this year, which could have been acute, is nonexistent, and we have even been able to add staff (and payroll cost) comfortably.
We sell on social media. Oof – this one is just so obvious, and I must have written it down a half dozen times at educational sessions at various conferences, but it took a hard nudge (and some real terror about survival) to prompt actual launching of an integrated system. (This is not unlike my historic response to laundry, come to think of it.) We currently use CommentSold on both Facebook and Instagram and have dabbled with other social media sales platforms to take advantage of free trials and limited introductory offers. Does it work? Yes. It seems obvious that a customer should be able to hop from your post to your website, but they sometimes don't. Often the link to buy from a post results in a sale, but more often customers simply pop the item into their cart, and then use the messaging prompt to ask us a question like "Would this book be good for my 3rd grader, and do you have other suggestions?" which becomes a bookseller moment for any staffer who is monitoring the media channel in real time.
We eliminated our story-time space. Obviously, we couldn't have events in the store for the last 12 months, and following CDC guidelines for the foreseeable future means that those daily story, craft, music, and playtimes will not return this year. Instead, I confronted the daily sadness and physical ache for contact with actual children – this is the most painful part of the last year for me – by simply spreading out our store and rearranging everything. Initially, this created a safer in-store shopping experience with more physical distance for customers, but it's also allowed us to bring in new fixtures, spread out our merchandise to better present it, and allowed our very cluttered visual space to relax a bit. We're calmer. We have more room to put things. Face-outs are an option with each new shipment, and customers can browse more easily. We will, sometime soon, introduce some outside events for summer*, but this new arrangement will stay long after our days get cooler this fall, I believe.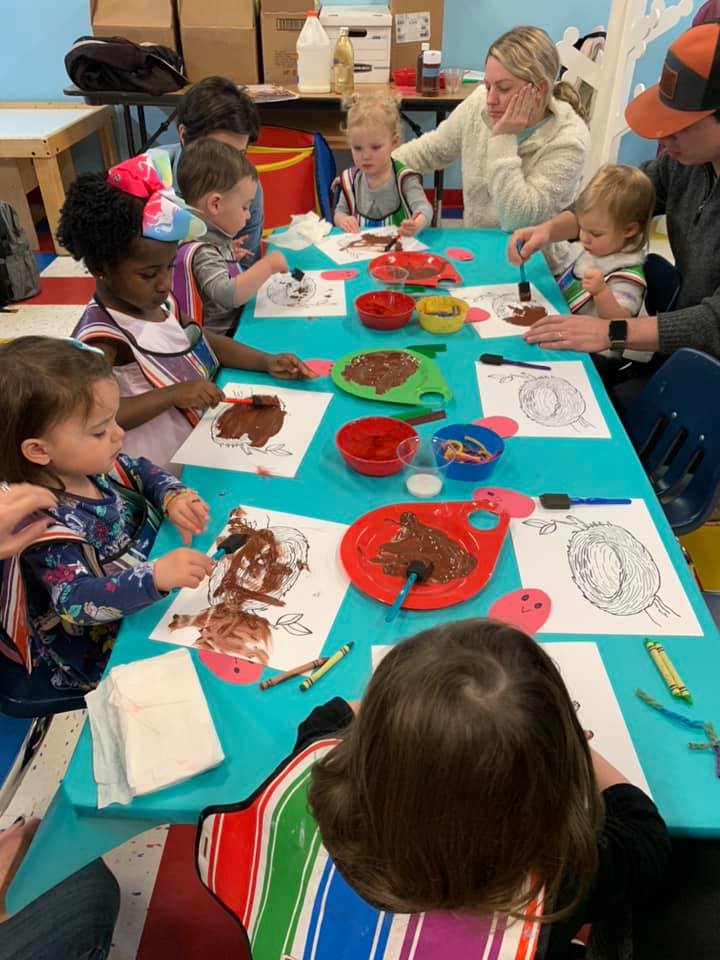 We painted the walls and installed new lighting. When I was a child, my mother would wait for my dad to be gone on a series of business trips before tackling any home remodeling projects. He found the clutter and change unsettling, and she liked to take creative decorating schemes through several trial periods (the year of the red accent walls and flocked wallpaper is particularly vivid in my memory) before she was finally satisfied. We used our shortened hours and weeks of closure at the shop to do some overdue sprucing up, and the fresh walls, new colors, and better lighting have all felt both welcoming to customers and energizing to staff.
We shortened our floor shifts for staff. I have written before about our online staff scheduling system, and our ability to put assignments on the site for staff to "claim" during hours when they are not scheduled on the floor if they want additional work hours, and we continue to love that option. (Really, I love it because once the master schedule is complete, all subsequent changes are in the hands of the staff, and I'm not making calls to get a shift covered for someone else.) But we've learned that shorter floor shifts are more effective and acknowledge the physical challenges that come with wearing a mask, speaking loudly, and maintaining distance. Those "open-to-close" shifts are largely gone, and we funnel part-time shifts with less overlap and more frequency.
We have multiple staff communication channels, and cross-training is key. In the early days of limited store operations, concerns about losing key staff members (and their specialized knowledge) to illness or extended absence made us re-examine every process and task, regardless of job title. Our "giant notebook of how to do stuff" that lives in the drawer under the register became less of a reference document and more of a system to train every staff member to handle any task. GroupMe and Google replaced Post-it notes and five-minute conversations at shift changes, and a living, breathing set of spreadsheets tracked every order status from publishers, customer request or research inquiry, delivery and shipping status on every pending sale, and notes on all school accounts. All of that data is updated in real time by each staffer involved, and anyone can jump in, even this distracted shopkeeper circling back to close the POS system remotely at 10 p.m.
And that "distracted shopkeeper" descriptor of my own management style is a good segue into my final "big idea" of 2020: I take one day off per week. Not a day to catch up on invoices or Edelweiss markups or the never-ending email deluge that is like a jet stream of proof that everyone working remotely is doing something. Nope, just a day for groceries and laundry and reading and walking the dogs. (Who am I kidding? We have bulldogs. They walk to the fridge for treats.) Just a day to catch my breath, and not once feel the need to piv…… errrrr…. I mean "reinvent" retail bookselling for another month.
What great ideas did you have last year?