We are redefining our lives day by day. When the first cases of the virus hit and began to spread, and some services started to become unavailable, all of us indie booksellers were ready to saddle up and stay open for the public. Our store was slamming busy with customers coming in for stacks of books to keep themselves and their families entertained and educated for the next couple of weeks (the then-current estimate) of social isolation.
In fact, we were way more busy than the usual March slow time of year, when New England booksellers anxiously watch their cash flow. We were alight with purpose and liveliness, and we took the now-normal steps to sanitize and constantly clean our own surfaces and cheerfully but firmly began to require customers on entering the store to wash their hands in our restroom.
(We've always had a touchless faucet and hand-towel dispenser, but quick-thinking Josie, still and always a stalwart store friend, ordered us a touchless hand soap dispenser, along with a whole tub of mini Purell bottles, and staffer Sandy—a former nurse—bought a big box of sanitizing wipes, so we were well prepared.)
Then the idea of acting as a firebreak for the spread of the illness arose. Author Laurie Halse Anderson shared this graphic that had started circulating on Instagram: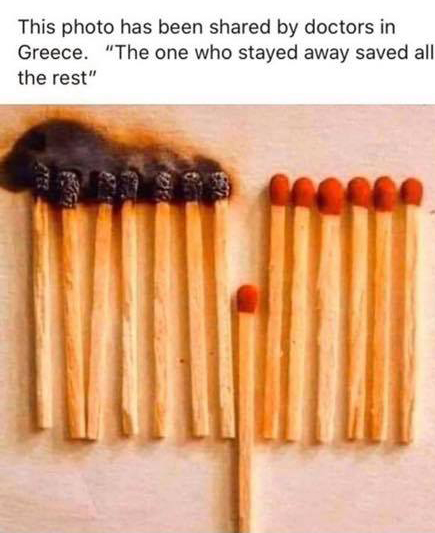 And it began to seem that, even though our customers needed us, craving the familiar, safe, cozy world of their local little bookstore, and we needed their kind faces and their small-business support, it would be irresponsible to stay open in the usual ways.
A few days ago, we started offering curbside service, free local delivery and USPS media mail shipping, and our usual online orders, and made the extremely difficult decision to suspend in-store browsing for the time being.
My colleague Heather came up with the idea for a video we could post to let our customers know what we're doing. We set up at one of the side windows, she started playing Bonnie Raitt's "Come to My Window" and she filmed a goofy quick thing of me. Then my friend Sue Schmidt tinkered with it to add our text, art by our staffer and children's book illustrator Liza Woodruff.
We are worried for small businesses, for our beloved stores and restaurants, wondering how they and we will survive this lapse in business. Buying gift certificates, using delivery and curbside service for restaurants and other small stores, all of that will help. And kindness—we need kindness!
The new services everyone is offering take more staff time, processing time, and delivery time, but for smaller purchases. Every bookseller knows from experience that what makes for a good day at the store is the serendipity of in-person browsing. A customer comes in for one book and finds two or three or five more they want to read, gathering recommendations from our shelf talkers and staff and chatting with other customers about great books. By contrast, online and phone orders tend to be specific, single-book searches.
In the new normal, we and other booksellers are figuring out ways to give our customers the experience of shopping at the store from the comfort of their homes. Some are making book-recommendation videos (we will be doing this), and sharing links to authors who are providing read-aloud storytimes for kids (ditto). Last week, author Kate Messner created an amazing web page filled with resources for families. Some, like Kenny Brechner at DDG Booksellers in Maine, are creating mystery book bundles, a hugely fun idea.
I, for one, have been thinking a lot about authors whose books are coming out now, especially those debut authors who have waited their whole lives to have a book published, and now can't go on tour and find their excitement swallowed in the fear and uncertainty of these days. I want to find ways to celebrate all those March and April releases and help support those authors (there's something in the works here at PW; stay tuned). Also: local author and pal, Stephen Kiernan, whose new novel, Universe of Two, comes out in May, just alerted me to a Facebook page dedicated to showcasing new releases, called A Mighty Blaze.
Making all of these decisions and changes—to our businesses, websites, social media, staffing, etc.—takes an enormous amount of time and energy. You are in the same boat. Everything is in flux, everything is day by day.
So it's the small pleasures, the nature walks, the puppies and kittens and pets in our lives, the people we love, that get us through uncertainty and worry. And books, books are incredibly calming. Unlike TV and movies, which right now are rife with scenes of public crowds, travel, restaurants, dancing, all of which can make us even more aware of what we can't do, there's something about reading those things in a book that is fundamentally different.
And now I'd better get back to work. Take good, good care of yourselves, read great books, and make yourselves the firebreak that keeps this outbreak to a minimum level of roar. See you on the other side, friends!