When the funny, powerhouse author of the Judy Moody and Stink series, Megan McDonald, came to town to celebrate her new book,
Judy Moody and the Book Quiz Whiz
, she was on the road, she had a fever, and she still enthralled hundreds of children — as well as one of our toughest adult customers (more on that later). It takes a true professional, a natural entertainer, and a gracious human to pull that off.
It helped that Megan's traveling companion, her calm and tour-seasoned husband Richard, was on hand. Their easy, fun rapport with each other and those around them made even the more workmanlike aspects of a tour, like the lengthy school order book-signing process, enjoyable. (Note to publicists: I think all major tour planning should include in the budget an author's most trusted and favorite person to come along for the trip—perhaps instead of media escorts, who are occasionally a little chatty for introverted authors needing downtime. If those traveling companions are as nice and as helpful as Richard, they are well worth the investment! I'm not surprised that Candlewick Press, our host publisher for the event, was on the ball.)
Megan's school visit had been arranged for months, and those moving parts were well in hand: order forms made up and sent home to families weeks in advance, orders processed (with the usual array of missing sales tax, missing teacher names, confusing autographing instructions, questionable math, and misunderstandings of how rounding up works), books tagged and set aside, classrooms prepped for the visit by our wonderful local school librarian, Kari Ahern, and our Shelburne grades 1-4 teachers.
Even though Megan's fever was ramping up, she was a consummate professional. The kids loved hearing about her childhood adventures that led to the Judy Moody and Stink stories, and the book quiz was fantastic.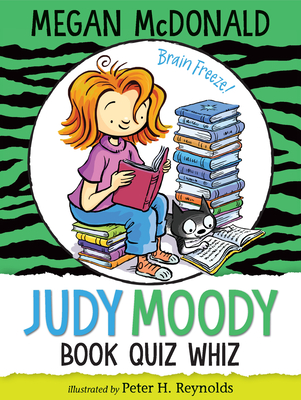 If you haven't read the newest Judy Moody yet, it's a book lover's dream! In it, the kids in Judy's class are preparing for a major book quiz contest against a rival school. Megan McDonald seeds in references to and titles of dozens and dozens of amazing books, both contemporary and longtime favorites. When I was reading it, I started keeping a list of all of the fabulous books mentioned, and then quickly realized that surely some savvy Candlewick editor had already thought of that. Sure enough, in the back of the book is not only a handy alphabetical index of every title mentioned — what a springboard to those books for young readers! — but a chapter-by-chapter list of every book mentioned, so kids can go to the chapter they're reading to see which books were just referenced in case they missed a clue.
After a little post-school-visit rest at the hotel, Megan came back to the Flying Pig to sign all of the school orders before our afternoon event. Speaking of which, we'd had some finessing to perform with the store event promo. Our usual venue for a major author with a huge fan base like Megan McDonald is Shelburne Town Hall, which can seat about 250, but back when we were planning the event, Town Hall was under construction and renovation (and had been for over a year), and though they planned to re-open sometime in the fall, they weren't taking reservations until at least October. That was too close for comfort; if the renovation wasn't complete in time and we'd taken reservations for 100+ people, we would be sorely out of luck (which is what SOL means, right?). So we needed to host Megan inside the bookstore, which fits about 45 max if we squish in and crowd the aisles. With that limited a space, we had to promote enough but not TOO much, which was a comical juggling act. Fortunately, it worked. We had a full house without cranky claustrophobia.
One of our regular customers brought his two children to the event. They are eager readers, and while he's a caring and involved Dad, he's not really into kid stuff, so I was surprised to see him standing at the back of the event area through the whole presentation instead of off in the adult books. Later, Megan McD told me that a man had come up to her and said, "I didn't expect to enjoy this AT ALL, but I LOVED it! You were TERRIFIC!" I'm not 100% sure he needed to say the first part, but knowing who the speaker was, it was high praise indeed.
We also had a woman come up to thank us after the event. "We've never been here before," she said, "but this is now our new bookstore." It turned out she is from a neighborhood a couple of towns away. She went on, "This was such a lovely event, and this is such a lovely store. Everything was just lovely!" She couldn't have known how taking the time to share her appreciation warms the very souls of booksellers, especially after a busy event day.
Megan's visit was a total delight, and I hope her readers' enthusiasm offset her being a little under the weather. As for us, our shelves are stocked with an array of autographed copies (which are already starting to run low after the post-event run on titles) of most of the 65+ (!) books Megan has written to make kids laugh.
We loved that her warm and generous and funny nature matches the warm and generous and funny spirit of her books (which also boast warm and generous and funny drawings by the, yes, warm and generous and funny Peter Reynolds). There's a lot of heart and laughter in these books. It's such a joy when books are hugely kid-appealing and manage to avoid snarky sarcasm and mean-spiritedness, while still feeling very real and true to kid life. That's a brilliant balance to strike. I think Ramona Quimby would be impressed. I also think that she and Judy and Stink and Henry and Beezus and Dory Fantasmagory and Fudge would be friends. That's a neighborhood I want to live in!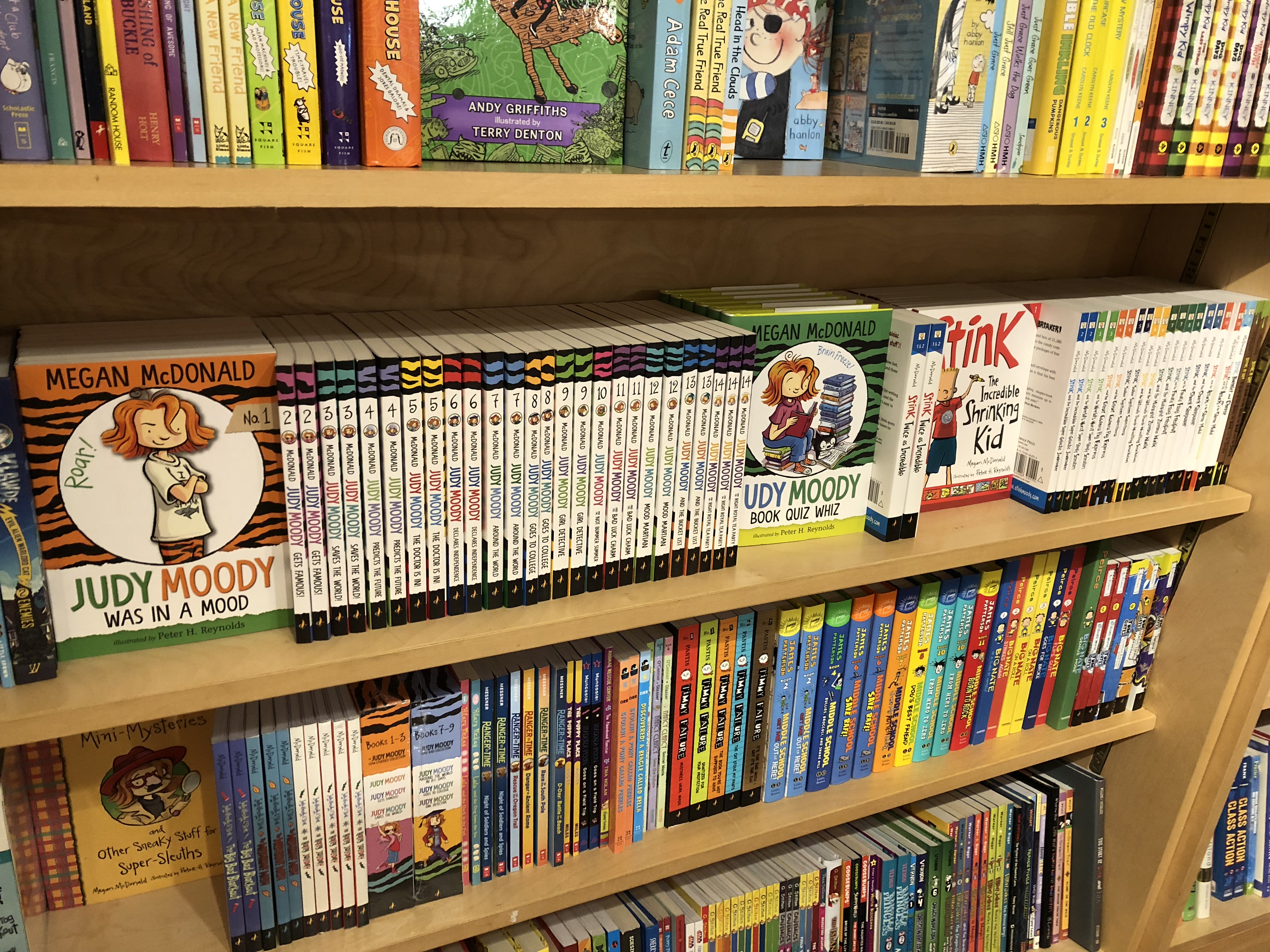 Next week, Johnny Boo creator James Kochalka!