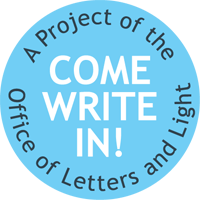 Want a great way to bring writers — a.k.a. readers, a.k.a. insatiable bookavores — into your bookstore? Host write-ins all November long by partnering with the world's best writingpalooza, NaNoWriMo. There are materials for participating bookstores, including a window cling, a press release, several web badges and links for your store websites, even a list of suggested books for a display.
For the non-obsessive writers among you, NaNoWriMo stands for National Novel Writing Month, a period of 30 days formerly known as "November" that involves frenzied nonstop fiction formulating with a total goal of 50,000 words by the 30th. The focus is on quantity, not quality. Producing 50,000 words in 30 days pretty much guarantees that your inner editor had better shut up, or you'll never get there. What a liberating idea! You don't need to be good; you just need to sit down and write.

This novel challenge (
dreamed up
by NaNoWriMo founder and freelance writer
Chris Baty
) began in 1999 with 21 writers, and has grown over the years from a personal project to an international phenomenon numbering, in 2009, 119,301 adult participants and more than 35,000 kids and teens in 1,200 classrooms. A few years ago, NaNoWriMo started a wildly popular international Youth Writing Project; 3,000 school and library groups are participating this year.The YWP (read a terrific article about it
here
) has its own
very appealing website
and resources for teachers.
As the "Come Write In" press release says, "NaNoWriMo
is the largest writing contest in the world, with participants in nearly 450 cities and towns around the globe. In 2009, over 160,000 people took part in the free challenge. And while the event emphasizes fun and creative exploration over publication, more than 30 NaNoWriMo novelists have had their NaNo-novels published, including Sara Gruen, whose #1 New York Times bestseller,
Water for Elephants,
began as a NaNoWriMo novel." Wouldn't it be great to know that part of that book was born in your store? Children's book and YA writers who have produced published NaNo novels include Amelia Atwater Rhodes (
Persistence of Memory
), S.A. Bodeen (
The Compound
), Jessica Burkhart's first Canterwood Crest title (
Take the Reins
), Sarah Dooley's (
Livvie Owen Lived Here
), Ann Gonzalez (
Running for My Life
) and Denise Jaden (
Losing Faith
). (One disappointing note, though: NaNoWriMo, which values indie bookstores, uses links to Amazon instead of
Indiebound
in its
media kit
.)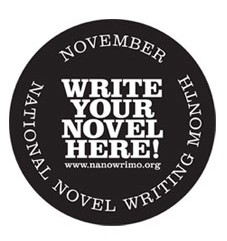 Bookstores can get involved by hosting write-ins — daytime or evening writing sessions where participants can bring their laptops, preferably drink gallons of coffee, and write their little hearts out in fellowship with their writing comrades. Since participants pretty much put their lives on hold for a whole month, these get-togethers break the solitude of NaNoWriMo and reassure writers that, even if they are totally insane to embark on this writing journey, they are not alone.
They also have the
coolest
merch in their fundraising shop. There's a new
poster
each year, new designs for
tote bags
and
t-shirts
and
mugs
, and — my favorite of all —
merit badges
. Real ones, like the kind your older sister had all over her Girl Scout sash. These aren't for starting fires and doing community service, though; they're for things like Caffeine Abuse, Word-Count Padding, Random Ending, and Victory.
This year also marks the organization's first
Great NaNoWriMo Book Drive
, which enlists the help of people from all over the country to collect used books, send them to be sold at an independent online bookstore, which donates the proceeds to the organization and literacy efforts. The
book drive guide
says it best: "To run this book drive, we have partnered with
Better World Books
, a socially conscious online book store that has diverted 33 million books from landfills and raised more than $8 million for its nonprofit literacy partners by selling used and new books online. Better World Books provides the online book drive portal, sends free supplies, transports the books, and offers guidance for book drive coordinators." Bookstores might consider starting a book drive in their regions this year or next.
If you have lots of picture-book writers in your area, invite them to participate in their own version of NaNoWriMo. Writer Tara Lazar spun off the NaNoWriMo idea into
Picture Book Idea Month
, which charges writers with the challenge of, well, of what the title says: coming up with a picture book idea every day.
Are YOU participating in NaNoWriMo, as a bookstore or as a writer — or both? Let us know, and we'll cheer you on!