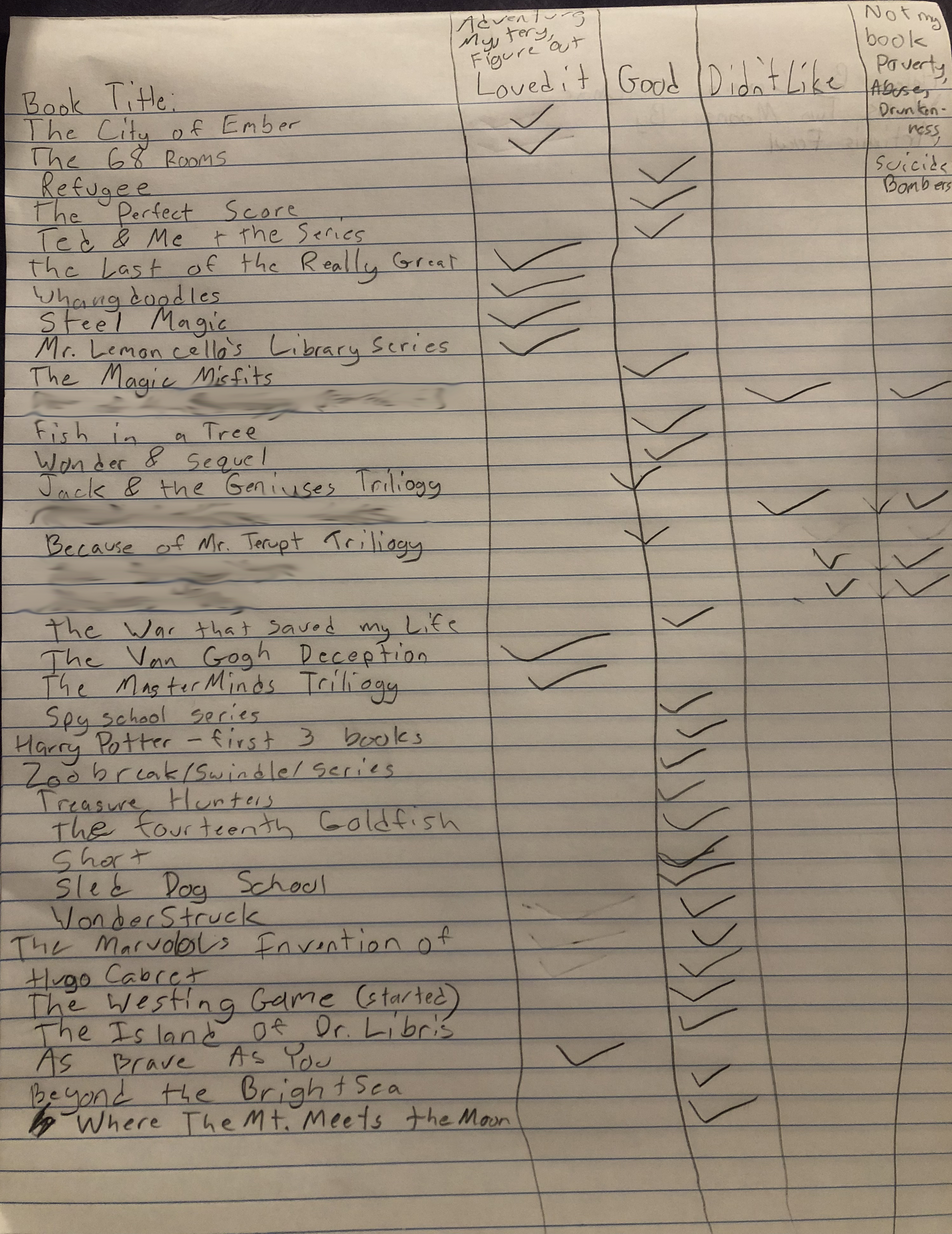 Every summer, we get the call. "Hello, this is May Tuttle. Will Elizabeth be in on Saturday?" They're asking for me because we have a longstanding book relationship. The Tuttles (not their real name) are one of our favorite summer families, a couple whose daughter is a voracious young reader. They come in once or twice a summer to stock up; for years now, I've been helping her discover stacks of new books to take home and devour.
It's one of my favorite sights of the year: this fresh-faced, lively, beautiful kid hops into the store and rushes up to the counter with a big "I'm here! And you're here!" grin on her face. No matter how busy or stressful the day has been, it's just turned into a great one. We head into the middle grade section to start exploring.
(For this post, I asked our young friend to create her own alias. As big a sports fan as she is a reader, she chose "Slugger," which I love, because she may look delicate, but she's also fierce!)
Slugger is about to start sixth grade, and she's already read dozens of my personal favorite MG books. The Venn diagram overlap of what she and I both love is large, but not identical. Sometimes, books I adore, she doesn't care for, so it's always helpful to have a conversation about what she's read and loved—and not loved—lately.
This year, she's hugging a white legal pad. The top sheet has a chart that charms me to my core: it's a "Loved it, Good, Didn't Like" list of her recent reads. I love that she has some books that straddle the "Loved it / Good" divide (a Very Good designation), and that she has sought some common denominators for what unites her favorites ("Adventure, Mystery, Figure Out") and her least favorites ("Not my book – Poverty, Abuse, Drunkenness, Suicide Bombers"). I love that she notes where she started, but didn't finish, a book. I love that, when a book's title takes up two lines, she checks both lines to be sure the book gets its designation. It also makes me want to make a chart of all my recent reads!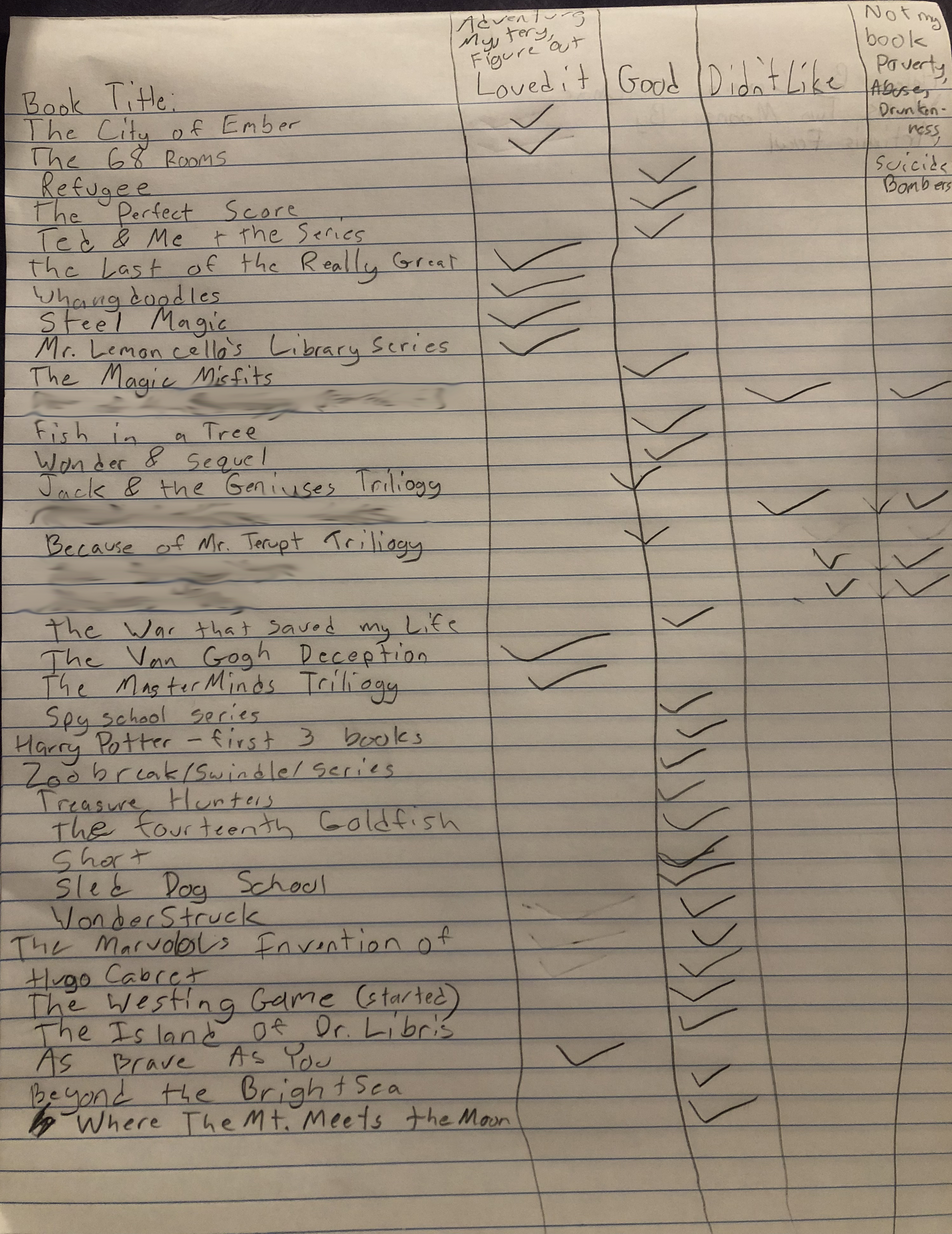 This kind of list—from a child passionate about books and honest about her likes—is gold for a bookseller or librarian hoping to help guide a child to books she will love, and to help her stretch past her usual comfort zones. It's fun to see some of the less-well-known and/or all-time favorite books I've recommended to Slugger crop up in the "Loved it" column (like Andre Norton's fabulous Steel Magic, Jason Reynolds' under-read and brilliant As Brave As You, and perennial MG love, Julie Andrews Edwards' The Last of the Really Great Whangdoodles). And it's also helpful to see some of the books I would put on the far left of the Loved It column, with exclamation points (The Westing Game, which was one of my own childhood favorites, The War That Saved My Life, Where the Mountain Meets the Moon) not make the very top of Slugger's list. No two readers are alike, no matter how much they love books.
I've blurred the Didn't Like books. No need to hurt the feelings of those authors whose books Slugger, at age 10, is not quite ready to encounter. A passionate reader, she will continue to discover new loves and expand her own boundaries. And I hope to be there, summer after summer, to help her do that.
Happy Sixth Grade, Slugger! May you read at least 40 new books this year, and may most of them end up in your Loved it column. Thanks so much for letting me share your fabulous reading record. Can't wait to see you next year!