The sunshine is reflecting off the front windows of the shop, we don't shiver from the gust that sneaks behind the register when the door opens and closes, and there are little plush bunnies peeking from the corner of every shelf. Spring has arrived in Indiana, and the store is literally hopping with kids and parents, nannies and new grandparents. Some are here "officially" to pick up travel toys, activity books and new reading material for the 14 – 20 hour drive south for Spring Break next week (there is much spirited debate among moms at story time over the wisdom of driving overnight versus leaving at the crack of dawn… it's the same distance, but ages and napping ability of the children greatly influences this decision), and some are here just to finally, finally get out of the house with little ones who have coughed, sniffled and sneezed their way through February and early March.

Most slip little Easter basket items across the counter to be quickly hidden in shopping bags, out of sight of inquisitive little eyes and ears. Grandparents, those organized shoppers with multiple packages to ship before Peter Cottontail arrives, are first in the door at opening time, with lists and baskets in hand, carefully making sure that each child's goodies are even in number, reading through each page of carefully selected picture books, and exclaiming delightedly over wooden push puppets and jump ropes, kites and books with the "real" Peter.

Our morning events are crowded with preschoolers who were awakened early by chirping birds, and have long since finished the pajamas-and-cereal-on-the-couch stage of their day. Jackets and hats are left in the car (or maybe at home, and definitely at school) and we suddenly realize just how TALL each of our little friends has grown, as wrists and ankles and sometimes knees peek out from winter clothes that seem to have shrunk a bit. Toddler brothers and sisters who spent the winter being carried in and out of the shop bundled in quilted baby sacks zipped carefully around carriers are now standing up by the train table, one hand clutching the edge for balance and the other waving an engine in the air like a plane, just terribly pleased with themselves and the world.
Everyone seems to have more energy, more patience, and more "spring" in their step. Our UPS driver is sporting his uniform shorts, even if there is still frost on the windshield of his truck when he starts his route on early mornings in March. After school, kids are beginning to ride their bikes over from the next neighborhood, feeling giddy in their newfound freedom and the later daylight, and we're seeing the telltale clumps of dried mud on the floor kicked off from post-practice soccer and softball cleats. Parents are a little more tolerant of messes, including paint on noses and ears, and puddle-splashed pants from the parking lot  as they sigh that "just being OUTSIDE is a blessing."
For as much as we love the Thanksgiving-through-Valentine's-Day season of salted sidewalks and hot chocolate, and long snowy winters with plenty of time to read under blanket forts and in front of the fireplace, it is SPRING that serves as the talisman of children's bookstores. Spring, with its promise of sunshine sneezes and butterfly houses, teasing hints of a long carefree summer ahead, and green new beginnings in every corner, is all about children. It's the season of new stories poking their way out into the sunlight, new friends to be made in both the sunshine and the puddles, and everything in the world starting again, just like every childhood morning. Spring is when grown-ups remember to delight in just being, and when kids look at their parents and surely think, "See, I told you so. We will be just fine."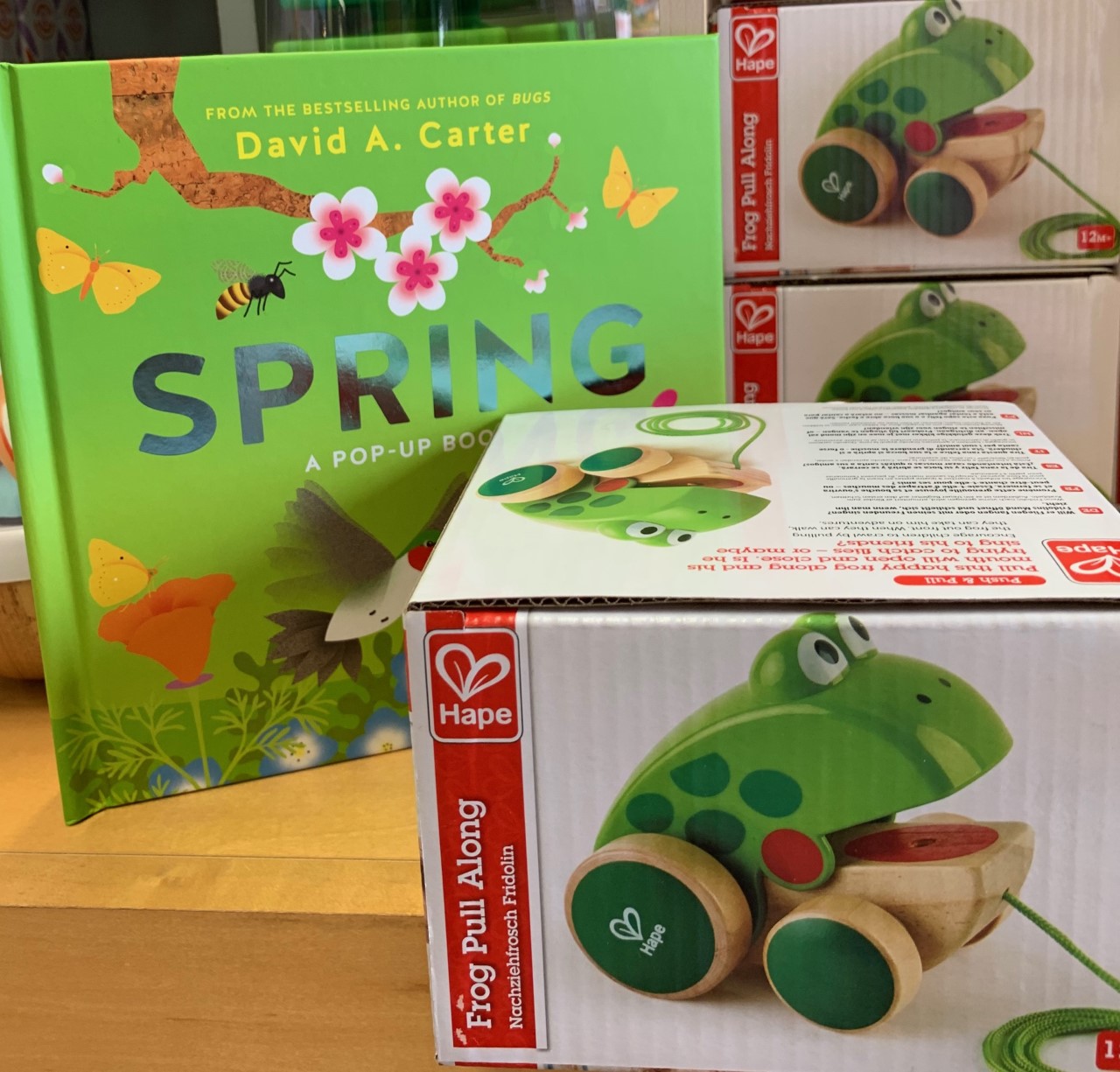 PS: My title comes from the rhyme:
"Spring has sprung, the grass is riz,
I wonder where the boidies is
The boid is on the wing,
But that's absoid
From what I hoid
The wing is on the boid!"
Sometimes called the Brooklyn National Anthem (perhaps because of the accent it requires?), it has been around since at least the 1940's, and was a favorite annual  breakfast joke for my Dad on March 21st. . If you know the actual story of the poem, I'd love to hear it.