I'm sure this isn't what our publishers partners want to hear, but I'll admit that once December rolls around I don't get into a lot of the mail that comes my way. We don't have the room for any more signage or unplanned displays, and since the bulk of boxes that arrive in December contain samples from the summer lists, it's not terribly time sensitive. But now that we're into the new year, I dug into the boxes and piled up all the f&gs I could find into an all-you-can-read picture book free-for-all for our kids' specialist team meeting today.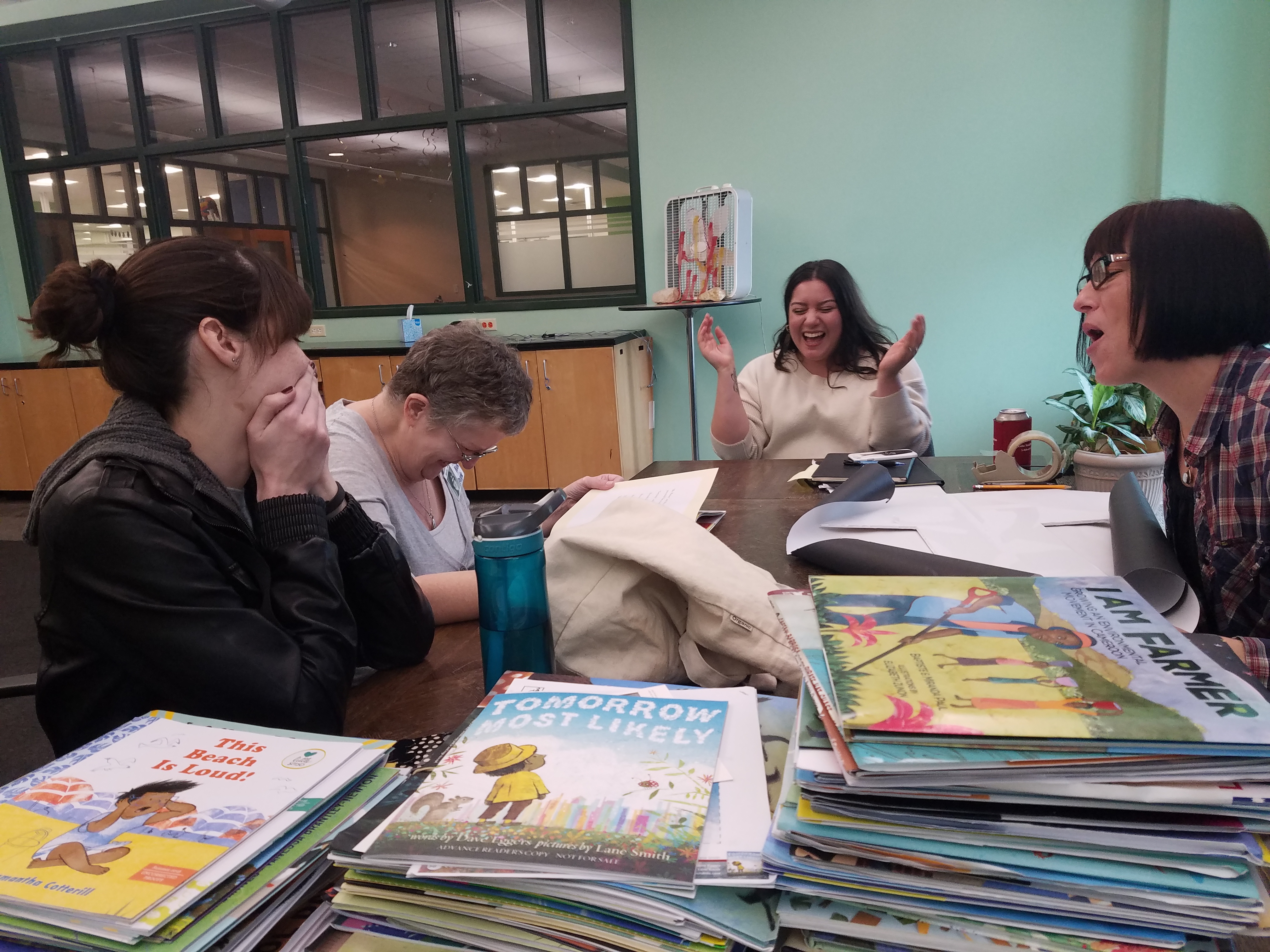 When we do these, I tend to hang back a bit and listen as the booksellers discover their own favorites. I will be reading all of these again on my own (often multiple times) and discussing them with my reps before placing my orders and choosing our in-store features. But these meetings let me glimpse the books through other readers' eyes, enjoy impromptu read-alouds, and see how people respond in real time.
When I walked in the room, Merrilee was regaling the crowd with a reading of A Piglet Named Mercy while Eugenia made appropriately timed oinking and burping sounds. After cheering for the triple-chinned baby porcine wonder, we all debated the correct pronunciation of "porcine" for a few minutes before the internet informed us we were all correct. Then everyone split up the piles to see what they could find.
Probably the most enthusiastic reception was for Another, Christian Robinson's debut as an author-illustrator. The reviews came in swiftly: "It's perfect!" "A+++!" "Now THIS is a wordless book I can get behind!" And there were many other greetings for new gems from old friends. The King of Kindergarten, illustrated by staff favorite Vanessa Brantley-Newton, got raves for sheer personality; You Are Home, Evan Turk's majestic ode to the national parks, was passed from hand to hand ("the buffalo are amazing!"); and Christopher Myers's collaboration with Timbaland and Kaa Illustration was deemed a stunner. Staci also found Mac Barnett's profile of Margaret Wise Brown unexpectedly riveting, sharing tidbits with the group as she read.

Beyond the familiar faces it's always the most fun to find new voices or unexpected pairings. Natasha pulled out
Truman
, from Jean Reidy and Lucy Ruth Cummins, and we were all instantly enamored of the perfectly paced tale of a tortoise on the town. She also fell for the silly charms of 
This Is MY Room (No Tigers Allowed)
. And an oddball celebration of
Skulls
(like a car seat for your brain!) from Blair Thornburgh and Scott Campbell was a quirky, crowd-pleasing hoot.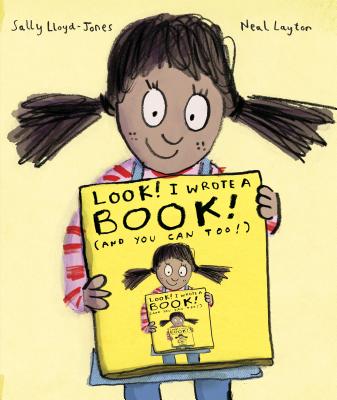 The biggest hit had to be the drop dead hilarious
Look! I Wrote a Book (And You Can Too!)
by Sally Lloyd-Jones, illustrated by Neal Layton
,
which spawned two back-to-back performances from two different booksellers and was instantly bookmarked for use in our summer writing workshops. It actually offers a lot of real nuts and bolts info about plotting and style and writing for your intended audience. Writing for your grandma? You'd better forget dump trucks and stick to "The Olden Days." There are some great tips for budding entrepreneurs—and even bold booksellers—as well. If you want people to buy the book you've created, there are many things you can do to convince them (try being friendly!). But if all else fails, just tie them to their chair. "And then you just go back to being a normal person."
Now this pile by no means represented the full slate of books releasing this summer, but it was a fun pile to go through. Which books stuck most with me, personally? Stay tuned for part 2!