What do booksellers do on vacation? Browse in other bookstores, of course. We swear, it's an addiction. We were on the tip of the Cape this week, and wandered into the nearby joints on Commercial Street in P-Town: Now, Voyager and the Provincetown Bookshop.

We love indies best for what they carry that no one else does — the quirky little gems, the regional treasures, the staff picks. And we like to see what's in the window. (Sorry these photos aren't the best. Both bookstores are WONDERFUL.)
After a bracing walk on a windy beach, we were determined to find a bookstore-and-restaurant combo we'd happened upon a couple of years ago. It turned out to be in Wellfleet.
We found the  used bookstore around back, which today was staffed by a congenial woman named Denise, who showed us a photo of the man who opened the bookstore back in 1934.
What first caught my eye inside this store were the bins of old comic books—hundreds, if not thousands, of them.
They have everything from my childhood favorites like Casper and Little Lotta and Hot Stuff and Scrooge McDuck and Archie to hordes of superheros, Ripley's Believe It or Not, Dark Shadows, scores of horror comics, and even comic books based on TV nature shows. I found a great
Mandrake the Magician
for my magician father's birthday next month.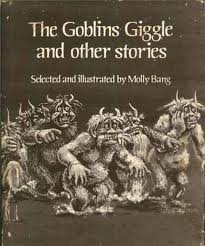 It was my good fortune also to find an early Molly Bang book,
The Goblins Giggle and Other Stories
, on
whose flap copy she is described as "a talented young artist." I love that! It's fun to see a Caldecott artist's book from before she was well-known, and to know what success her future would hold.
The bookstore/restaurant is situated right by a beautiful harbor. What a stunning place to go to work every day!
And what are we reading on vacation? Well, truth be told, on vacation we like to read (and do) things that are not necessarily our everyday fare. So below is a photo of Josie with a new serial killer book by one of her favorite genre authors, Chelsea Cain. And what did I decide to bring to the beach that day? A
New York Times
acrostic puzzle book. I never get to do those at home, and there's something very soothing about acrostics.