I'm a little embarrassed to admit this publicly, especially since I've been selling audio books for the last few years through my bookstore's website, but until recently I'd never actually read an entire book that way. I'd downloaded some with the best of intentions but never quite followed through, mostly due to some assumptions about my inability to focus on long-form audio.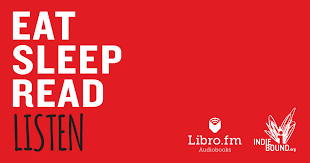 In fact, I intended to try it and write about it earlier this year during ShelfTalker's week-long Reading Without Walls challenge. And then I didn't. When I finally took the plunge a couple of weeks ago I picked a book that may have been a bit too challenging for an audio newbie like me: Bridge of Clay, the new book from Markus Zusak.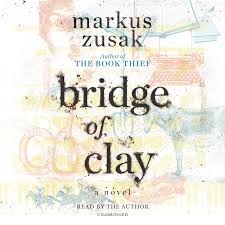 The positives:
It's narrated by the author, which is wonderful, especially since his Australian accent kept me rooted in the setting of the story, an added dimension I wouldn't get from reading a physical book. (Sometimes I try to imagine an appropriate accent when reading, but even my interior monologue does a lousy Australian.)
I was able to stay just as focused on the audio book as I do with physical books. Most people I know who are ardent audio readers tell me about things they do while listening to a book — painting, drawing, cleaning. Based on my experience listening to talk radio and podcasts while doing other things, I assumed I would end up missing large chunks of the story and be frustrated. I'm happy to say that didn't happen, although I mostly listened to Bridge of Clay while driving or in bed.
I read aloud to kids pretty often and consistently try to promote reading aloud when talking to parents, but it had been many years (too many years) since I'd been read aloud to myself. I didn't realize how much I missed it! And Zusak's prose is so evocative and his narration so rich that this book was a real treat.
The challenges:
The narrative of this particular novel jumps back and forth in time quite a bit, with small breaks in the text of the physical book often helping to denote those shifts, but in audio format it was sometimes difficult to follow.
I often wanted to be able to flip back to an earlier page to remind myself of something–like which brother was which in the large family at the center of the story.
All in all, I won't judge whether audio books are for me just from my first experience. I have a few more queued up to listen to, including books that I've read on paper multiple times already, like A Wrinkle in Time. I'm curious how listening to a book I know so well may enhance my experience of it. And for my next new read on audio, perhaps I'll try something a little shorter, with a slightly more straightforward narrative structure. Does anyone have a suggestion?
As for Bridge of Clay, I'm definitely planning to read it again with the physical book in hand so I can flip to my heart's delight and be sure I don't miss anything.