The upside of yesterday's migraine is that, because I was in no state to write a blog post, I looked at posts from years ago to see if there were any favorite topics to revisit and had a fun trip down the halls of ShelfTalker Past. The following is a post I wrote in 2009 about audiobooks so good you'd listen twice. I'm still an audiobook fan, and still always on the hunt for the best of the best.

– – – – – – – – – – – – – – – – – – – – – – – – – – – – – – – – – – – – – – – – – – – – – – – – – – – – – – – – – – – – – – – – – – – – – – – –
For anyone who works in the book world, re-visiting books one has already read (or listened to) is a luxury rarely afforded. There are piles of new titles to be ordered, as well as that stack of last year's darlings you meant to get around to, not to mention classics you can't believe you haven't read yet — and so on. Deciding to dive back into a favorite book feels like an act of secret rebellion; it's extremely pleasurable, if only because it cannot be tied to work. The re-read is a tiny party of pure decadence.
The same is true for audiobooks, and more so. Because a narrator delivers the story at the pace of human speech, it takes much longer to experience a book aurally than to read it. Therefore, to listen to an audiobook twice means that book must be supernally good. (In my world, audiobooks exist always and only in the unabridged version; I'd rather skip one than listen to pieces of it, no matter how well sewn together it claims to be.)
There are only a few audiobooks I've succumbed to more than once. These are titles I read and loved in book form first, so in effect I've experienced these books fully at least three times. (O fabulous sin!) My guilty pleasures?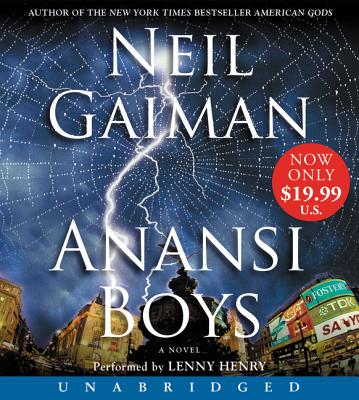 Anansi Boys by Neil Gaiman. This is a nonstop ride of an adult book, funny and wild and fantastic. A middle-management schmo, inaccurately nicknamed Fat Charlie by his dynamic father, has been slogging through his boring work life and tepid romance (complete with virgin fiancée). Adventure comes knocking, literally, as a brother Charlie never knew existed pays a visit and drags him on a life-changing journey. The father they share, a ladies' man who lives to have a good time, is none other than Anansi, the spider god, a trickster of the first degree. This feels more like a comic novel than a fantasy, though, appealing even to readers who prefer realism in their fiction. Lenny Henry, the actor narrator, does a beautiful job bringing the characters to life in all their variety, and with several authoritative dialects/accents. This is our bestselling audiobook at the store. Older teens love it, too.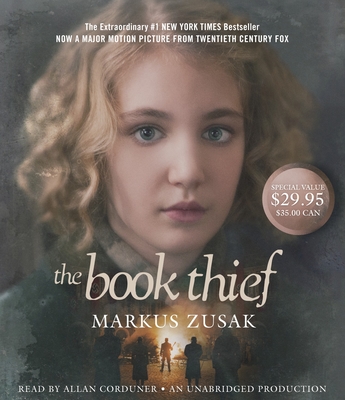 The Book Thief by Markus Zusak. How does anyone narrate a book this exquisite, funny, and heartbreaking — and told, no less, from the point of view of Death itself? I don't know, but narrator Allan Corduner pulls it off gloriously. A resonant (but never ponderous or pompous) British accent helps, as does a narrator who immerses himself so fully in the story that he seems to become the story, if that makes sense. His emotional range — wisdom, humor, anger, surprise, etc. — is as broad and deep as the wide human world of the book, but also manages to embody the sorrowful omniscience and necessary distance of Zusak's storyteller, Death. A magnificent book, beautifully read. Truth be told? I'd listen to it again.
Midnight in the Garden of Good and Evil by John Berendt; narrated by Jeff Woodman. I can't remember when or where I first listened to this riveting real-life suspense story/Savannah moodpiece, but I enjoyed it so much that first time that I chose it again years later to be my car-ride companion at a difficult time, driving back and forth between one small town in Indiana and a hospital 45 minutes away in another. Something appealed to me about the oppressive heat in the book, the snobbish socialite parties and late-night impromptu honkytonks, the gorgeous antiques and misfit dangerous young men, summer Georgia nights spent in cemeteries, the author's brief foray into voodoo, the flirtatious, outrageous drag queen he befriends, the cafe characters and restless beauties he comes upon in his southern sojourn. Berendt is a little like the main character in Styron's Sophie's Choice: always an outsider, grateful to be included, an observant and literary satellite recounting tales of tawdry glamor and ruined lives. Good stuff.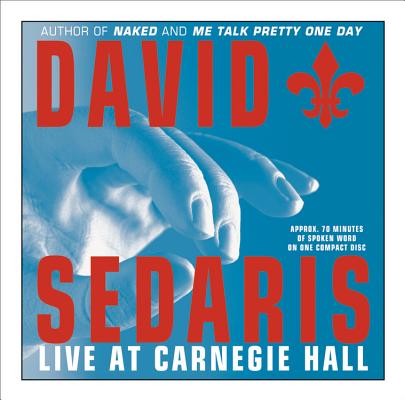 David Sedaris's Live at Carnegie Hall. This last is short enough that it may not officially count as an indulgence, but I can make an argument for it — and will, since I've listened to the entire CD at least 10 times, usually when I walk the dogs. Sure, my neighbors think I'm a little odd, weeping with laughter in the farmer's field while I march along and my dogs run around sniffing cow dung, but I don't care; "Stadium Pal" alone is worth the reputation of eccentricity.
Audiobooks I've heard once and would love to hear again? Both Because of Winn-Dixie (narrator: the inimitable Cherry Jones) and The Tale of Despereaux (narrator: the marvelous Graeme Malcolm) by Kate DiCamillo; The Poisonwood Bible by Barbara Kingsolver, narrated by Dean Robertson; The Shipping News by E. Annie Proulx (the unabridged version narrated by Kimberly Schraf is now OP, sadly — it's a pity, because this was a book I kept trying and failing to like, until I turned to the audio in desperation because of its near-universal accolades. I was so glad I did).
What do these books have in common, aside from marvelous writing and gifted narrators? What makes them worth experiencing, over many long hours, more than once? Anything hinging on surprise won't cut it; most whodunits are a one-time read. I suppose it has something to do with the human truths at the hearts of the stories, and the language that reveals, and revels, in them, that make me want to live in those worlds again.
Are there audiobooks you've listened to more than once? And any you've heard once that are beckoning to you for a second audience?