The BookPeople holiday catalog is a big production. Every year, booksellers compete to have their essays featured along with themed photo shoots to accompany the buyers' curated holiday gift guide. It's not exactly a strict best of the year overview, though there's certainly a lot of crossover with our end of year lists. It's more designed to express our personality as a store as we offer our own gift picks for every type of reader, across age, style, and genre. The catalog really drives sales for us in November and December, so it's worth putting in the time to make it as good as we can. It's a fun but slightly overwhelming task.
I never quite get to every book I'd like to read (does anyone ever?), but the curation process can certainly start to feel all-consuming—like a puzzle my brain can't quit until the final copy's out the door. With about 40 total slots, breaking down to 12-14 books per age range (ages 0-8, 7-12, 12+), I always go through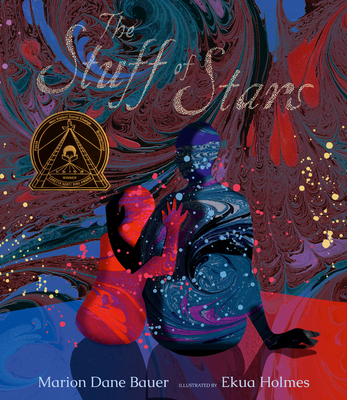 dozens of options for each spread. And there were a lot of great books this year: books with aching truths at their heart, books filled with mind-blowing math and mad science, books that reinvented stories we thought we knew, books that took us on thrilling journeys to the stars, and books that just made us laugh. And as the competing narratives and characters swirl around in my brain, I find they start popping up unexpectedly at odd times and places before getting tucked back down again into place—almost like a (nowhere near as profound) bookseller version of Ekua Holmes's nebular celestial collages from The Stuff of Stars.
I can't be the only bookseller sitting in a meeting these days to suddenly imagine the woman in black from Hurricane Child standing in the corner. No? Or to spend my commute pondering whether Merci Suárez and Lucy from The Miscalculations of Lightning Girl would be friends if they transferred to the same school. I'll admit that Merci probably isn't as good at math as Lucy, but she definitely knows what it feels like to be an outsider. And what if you threw Suzy from The Train to Impossible Places into the mix? She totally loves physics and might be able to hang through some advanced mathematical reasoning.
And during a torrential rainstorm (like we've been getting this week), how can you not yearn to curl up in front of a fire with Charlie, Sweep's lovably sooty golem, preferably with the purring three-headed cat from Sanity & Tallulah nearby and the smell of stewed chicken and bacalao from Zuri's Mama's kitchen in Pride wafting in the air. Of course, cozy scenes tend to go right out the window when Charlie Hernández swings through on the run from mythological mayhem, all feathered limbs and wise cracks.
This is getting out of hand. Perhaps returning to the gentle forest of Bear and Wolf for a soothing walk would calm the mental chaos. Carmela would make a particularly excellent walking companion, her birthday bracelets jangling satisfyingly along the way. Actually, can you hear the sound of waves drifting from over the treetops? On second thought, maybe we should just stay away from the water and out of the woods and have a good laugh, courtesy of the folks at Wee Society. By the way, have you heard how lions like their cheeseburgers? (Medium rawr!)
This moment of literary chaos is brought to you by my overly book-full brain. But that's how it should feel right now in the first week of September. That's how I know summer's really over. How does this time of year feel to you?