Schools are letting out, releasing kids into the glorious summer months. For many, summertime means camp, and for some that means leaving home for wee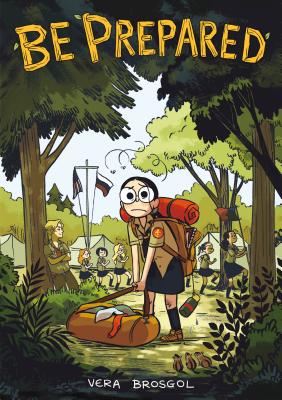 ks at a time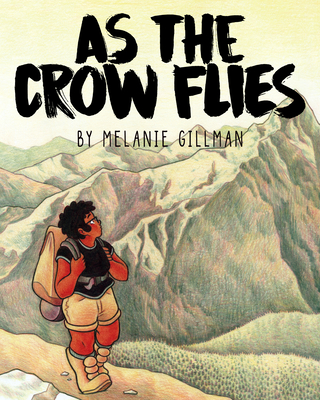 and heading into an uncertain future in the great outdoors. Sleepaway summer camp offers kids the opportunity to head off the beaten path, experience new things, and explore who they are on their own. Plunged into a completely foreign environment and routine, campers navigate a complex social world where personal identities are unknown and relationships must be negotiated from scratch. For some, camp offers exhilarating freedoms. For others, it offers deeply disconcerting new terrain. Either way, the experience is usually one to remember—a premise explored in two new graphic novels that explore the singular mix of excitement and adventure, anxiety and discomfort that can define the summer camp experience.
Be Prepared by Vera Brosgol brilliantly delves into the classic summer camp social dynamic through the eyes of a fictionalized young Vera. An outsider at home, Vera desperately turns to a summer camp designed for Russian kids like her. Convinced she will finally fit in perfectly, she arrives to find herself assigned as the third wheel in a cabin with two best friends named Sasha, both five years her senior. At home she was always "too poor," "too Russian," "too different." But here she's instantly too new, too young, too unworldly. Only when she's forced to stay past her initial registration is she able to shake the oppressive rule of the Sashas, forge a real friendship (without worrying about her new friend's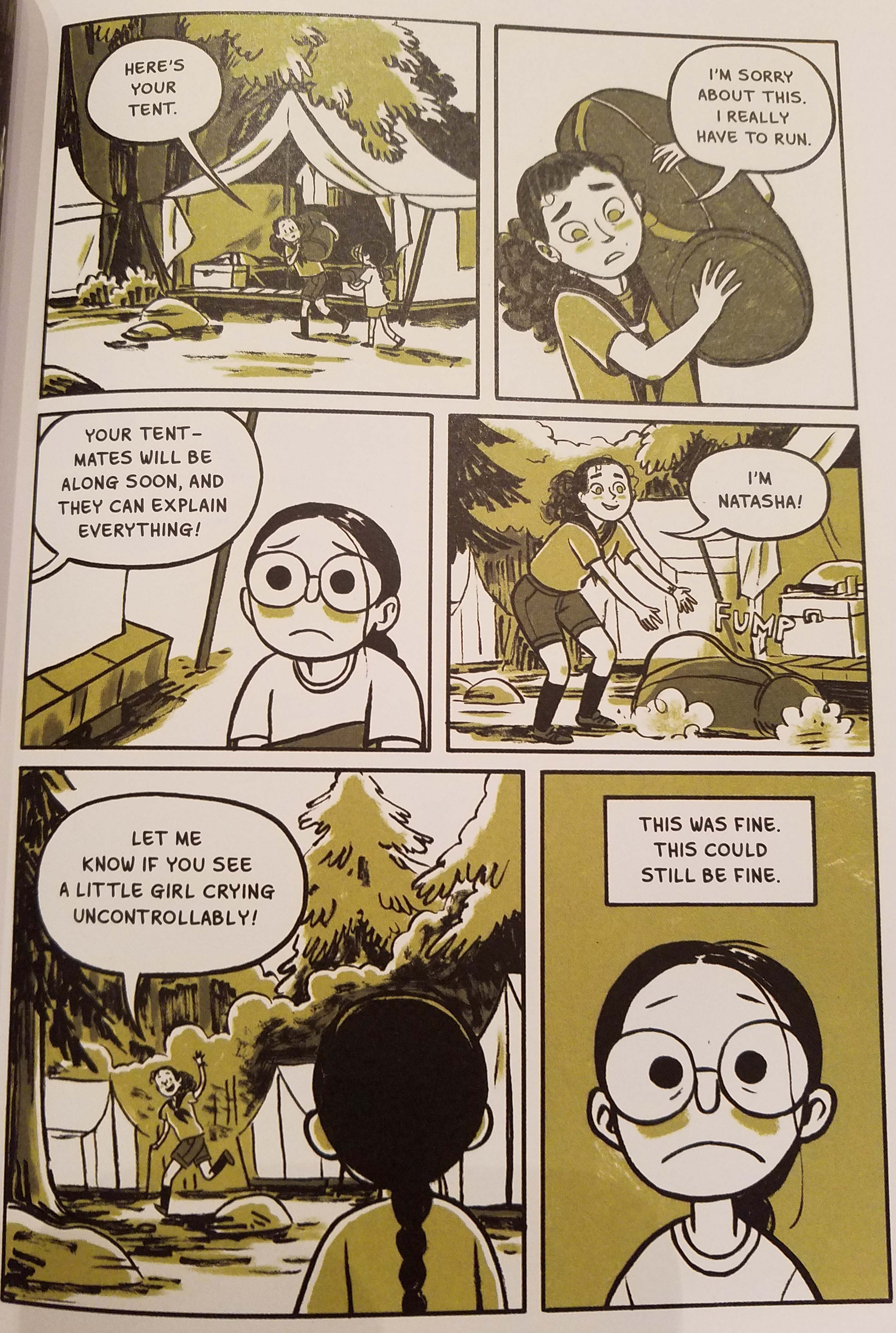 nonexistent cool factor), and hatch a bold plan to reclaim her dignity, finally capture the flag, and establish a new camp identity.
Both visually and structurally, Vera Brosgol's graphic novel evokes the imagery of iconic camp settings, with a desperate plea for a parental pick-up ominously leading into the book from the front endpapers; lines of khaki clad, knee sock wearing kids marching in sync; primitive bathroom facilities that inspire terror and elaborate avoidance plans; and cutthroat capture-the-flag shenanigans. Vera Brosgol also infuses the book with a dry sense of humor that amplifies young Vera's plight—from the expensive and slyly named historical doll named "Complicity" that Vera can't afford, to the explanatory aside about the delicious Russian "carbonated beverage made from Rye bread" that she offers to her horrified friends at home, to the camp counselor who greets Vera on her first day with a cheerful wave and exhortation to "Let me know if you see a little girl crying uncontrollably!" As someone who spent many years as a camper and then a counselor, this is both a hilarious and completely recognizable introduction to a world run mostly by slightly older teenagers.
Written for an older audience, with a much more introspective tone, As the Crow Flies by Melanie Gillman explores a similar fish out of water experience through the eyes of Charlie Lamonte, a queer, black 13-year-old looking to immerse herself in the natural world and renew her connection to God through a Christian backpacking camp for feminist girls.
As in Vera's story, Charlie expects to find a group of kindred spirits, only to immediately feel isolated among an all-white group of campers. Although her mother offers more support than your stereotypical "you'll be fine" platitudes, Charlie decides to stick it out. As she navigates the group dynamics, though, she hesitates to reveal too much of herself as she faces questions she doesn't feel comfortable answering. Plus, her insensitive counselor, while trying to inspire the group, can't help
but speak from a white woman's point of view. Charlie's voice is noticeably absent from these interactions for a long time, her inner voice speaking the words she can't bring herself to utter aloud.
Melanie Gillman punctuates Charlie's dispirited trek with truly magnificent vistas easily worthy of inspiring the types of spiritual moments often found in the wild. But as Charlie struggles to find a personal connection to her peers, that deeper link remains elusive. Along the way, though, Charlie discovers she is not, in fact, alone. She soon finds an ally where she was not expecting it in a trans camper who feels similarly isolated in the group. Through the bond of friendship and the freedom to be themselves when they are together, the girls make this journey their own. Even if they don't see themselves represented in the stories told around the campfire, they are a part of this one together, and that means something—a moving, open-ended revelation that helps Charlie start to find exactly what she was looking for all along.