The Mother's Day displays are down in our little shop, replaced with Indy 500 themed books and graduation titles. The weather has turned from winter directly to summer temps, and the sneezing and sniffles of my poor allergy-ridden staff indicates that the pollen count has achieved May-in-Indianapolis levels. Mothers of school-aged children look haggard and over scheduled, and newborn-ish babies are making appearances, toes revealed, in brand new expensive strollers, and most days there's a teenager or two dropping by after school asking about summer employment….. it's time, indeed, for our summer reading program sign-ups.

For the most part, school is finished here by Memorial Day. We have some districts that follow "balanced calendars" that will be off only for 4 weeks in July, but most of our kids are free to swim, attend camps and read by Race Weekend (that's Memorial Day to the rest of you non-Hoosiers). We begin our summer reading program registration on May 1st each year, but most of the returning crowd (just shy of 1400 participants last year) will sign up in the last 10 days of the month.  We keep a clipboard at the register, answer emails and phone calls to take names and ages, and begin clearing space on the walls and doors for the artwork to come.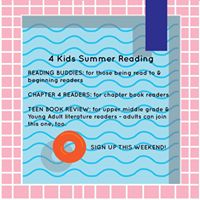 Our summer reading program has developed over the years to include everyone from toddlers to adults, with 4 different programs all tied into one big celebration of long summer days and lake weekends made for reading that's just for fun. While we offer prizes for participation (a bit more on this later) there's no counting of pages or chapters, and everyone gets the same level of reward each week that they choose to participate and share with us what they're reading. Signup is short, and basically free – we require each participant purchase one book from us to enroll, and that's it.  Here's how it works:
Our youngest participants are signed up for Reading Buddies, a program for kids who are learning to read or pre-readers. For every book they read or listen to (bedtime stories included) they can choose to draw a picture, make a model, or dictate a short book review. They may produce as many of these as they like – we have had clay creations, Lego structures, leaf collages and paper bag puppets, and hundreds and hundreds of crayon drawings. We try to display everything on the walls of the shop – sometimes we take pictures of the more fragile creations, and tape those up for our customers to enjoy. Book reviews start out as shelf talkers, but our Elephant and Piggie shelf has limits, so we usually resort to a binder in the picture book section by mid-June to show all of those contributions.
Chapter 4 Kids is designed for kids enjoying books from the early chapter section through middle grade and young adult. Again, for each book completed, the readers are invited to fill out one of our book reviews OR draw, paint, make a model, a video…. any imaginative way of telling us about the book. We make no requirements about quantity or content here – just ask them to produce a physical product to share. One of my all-time favorite reviews was delivered by a young man (age 8) who shared an original song about Captain Underpants, accompanied by his dad. Each of the Reading Buddies and Chapter 4 Kids participants are also automatically included in our July Where's Waldo program, which is a fun way to reinvigorate their participation halfway through the summer.
Our Teen Book Review is the "slam dunk" of our program, and is available to anyone who likes to read YA, including adults. Members are allowed to peruse our ARC shelves in the stock room, check out a copy at each visit, and return them WITH A WRITTEN REVIEW CARD in order to select another. We forward these reviews, as appropriate, to sales reps and publishers (and sometimes the authors themselves) and use them the following season as shelf talkers. We were a bit concerned, at first, that letting our customers read ARCs would damage sales as titles are published. In fact, our young adult sales have increased steadily each season as we keep these avid readers loyal to our store, especially those at ages when shopping at a "kids" bookstore might no longer be cool. I can count most of my younger employees as former teen book reviewers, and I love to watch them handsell with the confidence that comes from an unfettered access to a wealth of titles.
Great Reads 4 Grown Ups was added just last year, as we had parents signing up for our young adult review program, and we also added a small selection of literary fiction to the front of our store. Adults have the option of reviewing ARCs or simply reviewing titles they are reading – if we stock it, we put up the shelf talker. If not, we put the reviews in a binder and use them in an email newsletter as "ideas for beach reading" from our own customers. We attracted about 100 adults last year, and expect to double that amount this month. We are adding a weekly book club discussion night to cover the titles in The Great American Read, so I'll keep you posted on how that goes.
We offer the same rewards for every participant in our program, and they are available for pickup in the store only on Wednesdays. Each year I solicit area businesses to participate, and offer them the opportunity to be the reading reward for one week – the ice cream store offers a free cone, our pizza place gives a coupon for a free slice, the bowling alley gives away a free game… all the prizes are from area businesses who use the program for  marketing to families looking for summer fun. We don't hold prizes for participants – either you stop by this Wednesday or you don't – but it greatly increases store traffic on our slowest day of the week, and doesn't require any complicated tracking. Wednesdays during the summer also feel like a "new release" day, as kids are running in from the car all day long with stacks of pictures drawn with markers and colored pencils, dropping off their art and carefully printed reviews in exchange for their reward, and the staff gets to enjoy all of these literary masterpieces ("is that Dog Man? NO! It's the BAD GUYS!") before they strategize the best wall space for displaying them.
We culminate the program in August, and usually host a Back-to-School bash over a weekend, with one additional reward for families to pick up on a Saturday. As we carefully untape pictures from the walls and book reviews from the shelf, we sort them by school, so that I can send a quick email to principals and media specialists, acknowledging the students who participated. Some area schools read these names on the morning announcements, and it's a lovely way to start school outreach every year (and for those businesses whose rewards don't expire, I send them to the teachers lounges for distribution during prep week – which is a win for everyone).
I'd love to hear about your store's program, and use this space to share our best ideas. Happy Summer Reading (and I'll save you an ice cream cone coupon – stop by!).