Today's post is about pretty much the *opposite* of horror, but I must begin by sending thanks to all of the people who answered last week's post, "
Oh, the Horror!
," with recommendations of favorite recent spooky-to-terrifying books (and memories of some long-ago favorites, as well). So many great titles! Thank you.
And now I will be quick because I'm at the New England Booksellers Association trade show in Providence, Rhode Island, it's already 11 pm, and tomorrow starts early! But what I wanted to say is that a regional bookselling trade show is just about the most book-loving environment you can imagine for grown-ups. Filled with booksellers, publishers, editors, sales reps, publicists, authors, illustrators, and many other bookish folks, every single room you find yourself in radiates a passion for books.
It might be a keynote address, like the conversation on Monday between legendary former bookseller Linda Ramsdell, and award-winning environmental activist-author Bill McKibben, whose new, very funny novel,
Radio Free Vermont: A Fable of Resistance
(Nov. 7, Blue Rider Press), took even him by surprise. (Cannot WAIT to read this!!! Update 9/22: Devoured it in two gulps, cackling and chuckling throughout. This is be my top pick for handselling to adults this fall!!)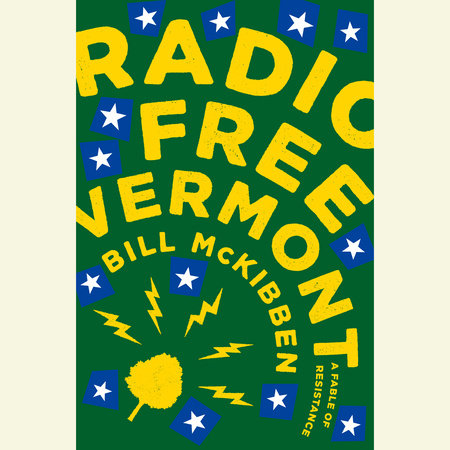 Or the room might be a workshop on some aspect of bookselling that brings out the book love. One author, new to the regional trade shows, asked about our educational sessions. "What kinds of things do you learn about?" he asked. "Oh, you know," I answered breezily, "maximizing backlist sales, looking line by line at financial statements, all the fun stuff." He laughed, but he could tell that we booksellers actually do enjoy nerding out about our jobs and gathering great ideas from each other.
The passion for books is definitely felt at the author reception, where booksellers get in touch with their inner fangirls and fanboys and get books autographed:
And the overwhelming book love is definitely in evidence at publisher dinners. I had the pleasure of dining with Scholastic on Monday evening and hearing about beautiful new books from a host of fabulous seasoned and debut authors: Salina Alko, Kheryn Callender, Billy Merrell, Sarah Moon, Sean Qualls, Peter Sís, and Francisco X. Stork. It was an evening of passion for books and the life-saving qualities of stories and bookstores.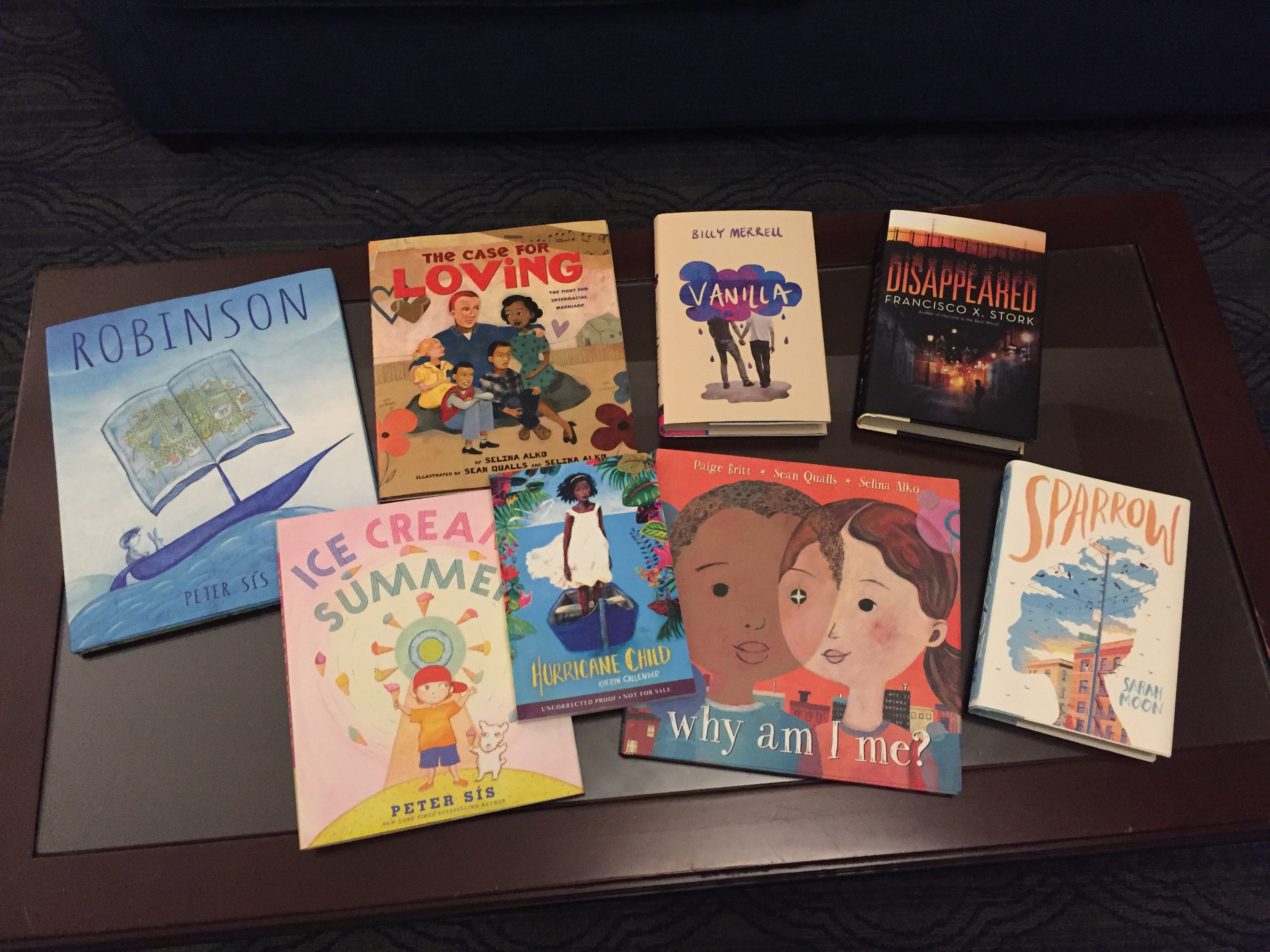 I couldn't get good photos of the authors and artists at dinner, since the venue was dinner-dark and flash photos would have been distracting, so I will instead provide snippets of each of the featured new titles to whet your appetites.
Salina Alko & Sean Qualls' WHY AM I ME?, written by Britt Paige, is a lyrical, lovely picture book that raises a question many children have (or will be inspired to ponder!):
Why am I me …
… and not you?
Why are you, you …
… and not me?
Why is everyone who they are …
…and not someone else entirely?
The vibrant, beautifully populated city subway and park settings are perfect places to think about what it means to be in the skin we're in, and the result is one of my favorite picture books of the year. It's a lovely, lovely book that celebrates people and communities, perfect for homes and great for classrooms.(Extra bonus brownie points for the endpapers prominently featuring a community bookstore!) Sean Qualls and Salina Alko create the brightest, most inviting, personality-filled artwork together—I want to know what that process looks like! Co-illustrating is fascinating, and I'm sure is different for every team, so I'm hoping Scholastic will do a video podcast with these two and have them show us a little bit of how it works in their studio. Hint hint.
WHY AM I ME? is already out, so if you don't already have it on your shelves, zip on out and take a look! And maybe pick up an extra for your child's school while you're at it.
**


Kheryn Callender's gorgeous HURRICANE CHILD (March 2018) is a book I'm so excited to read! Publisher David Levithan called Kheryn [pronoun 'they'] an author to watch, likening their abilities with language and versatile storytelling to Jacqueline Woodson—high praise indeed. With that kind of introduction, and after hearing Kheryn speak, I couldn't resist dipping into the book while walking home from dinner. The first paragraph hooked me immediately (quoted from the ARC, not the finished book):
My ma's voice is rough and low. When she speaks to strangers on the telephone, they call her "sir." I guess it must be surprising to some people, the way her voice sounds, because she's so beautiful—just about the prettiest woman you've ever seen—but I think it suits her just fine. I love the way her rough voice vibrates through the air like a beat on a drum. She sings around the house. Under her breath, since people say her voice is so ugly all the time.
Why you wanna fly, Blackbird?
That's the song that's stuck in my head now.
You ain't ever gonna fly
[Back to me, Elizabeth.] Bet you're hooked now, too, yes?
**
Billy Merrell described VANILLA as the story of what we do to sustain love when we have it. Most often, he said, books explore how couples meet, but it's what comes after that he wanted to write about. The story is one that his young gay self would have loved to read, a verse novel about two boys who have been dating since middle school, but now they're teens and sex might start to enter the picture for them, and navigating a long-term relationship can be tricky. Here's the opening page:
WHAT IT'S LIKE WITH HUNTER
He calls me Vanilla
and presses his warm nose to my neck.
I don't know what to do but laugh
and let him.
He sniffs and smiles and tells me
I smell like myself.
Says it like an inside joke
until it becomes one.
I feel him there, his touch
settling against my skin.
His gentle arms
circling my shoulders.
It's as if a part of me has come loose,
but instead of spinning off into space
it turns back and stares at me
so sweetly.
"Vanilla," he says, and I press my smile to his.
He could say anything after,
and it would seem a compliment.
Like a backward sigh,
he draws me in. Holds his breath.
[Back to me, Elizabeth.] I asked Billy to sign my copy for the questioning kid in me that would have loved to read this book as a teenager, too.
**
It turns out that Scholastic has an Emerging Leaders group of around 80 younger folks from all areas of the company, and for every publishing season, they're invited to choose a book from the season's list that they absolutely love, and they make a huge presentation about the book to the whole rest of the company—and this season, Sarah Moon's SPARROW was that book.
Sarah divulged to us that she wrote the novel in response to her then-girlfriend, now wife, who had asked why Sarah hadn't written a poem about her, as she had for former girlfriends. Sarah realized that her girlfriend couldn't be contained in a poem, and she set out to write her first novel. (Awwww! Love that!!) Here's the opening of SPARROW:
White room. White walls. White ceiling. White sheets. White gown. Clear tube dripping who knows what into my arm. Whatever it is, it's making me stupid. I feel like I've been asleep for a week. Maybe I have been. In the hall, a white doctor in a white coat is talking to Mom in a hushed, cold voice.
"Do you have any idea what might have caused the attempt. Ms. Cooke?"
"It wasn't an attempt," I croak. It barely comes out as a whisper. My mouth tastes like cotton and sandpaper. It's just as well. It's not like I could explain what I was attempting to do.
[Back to me, Elizabeth.] Found on the edge of the roof at school, everyone assumes Sparrow meant to jump. But it's a lot more complicated than that. There's a rave review blurb on the back of the (gorgeous!) book cover from Alaya Dawn Johnson (The Summer Prince): "Sparrow is a gift, although I didn't know I needed her. For fellow black girl nerds, future rock stars, writers, readers with big dreams and family problems and social anxiety who want to force the world to hear us—just take it, read it, and feel that almost terrifying recognition of at last glimpsing yourself in a mirror."
**
Oh, that Peter Sís! His books range from deceptively simple (like Ship Ahoy) to incredibly complex (Tree of Life, The Wall, and many others). This book is in between, visually speaking, and it was touching to hear that the story comes from an incident in Peter's childhood where he was cruelly teased by schoolmates for having a homemade costume (Robinson Crusoe) instead of a glossy, store-bought pirate costume like the ones they wore. Peter caught some kind of cold on his way home that gave him fever-filled dreams of being, like Crusoe, alone on an island. (And if that isn't a metaphor for shame, what is?!) Once there, he builds a home for himself with the company of some animals he befriends. He is happy on his dream island, but then some pirates come to visit. Is he in danger, or is there a way to safely and happily (re)connect with the pirates? I suspect you can guess the answer.
The book is perfectly Sís—unique and engrossing. His books draw you deeply into the pictures, and here in Robinson are magical worlds of adventure. Kids will spend HOURS in some of these spreads. You know how there are books that haunt you in a good way from childhood, books you couldn't get enough of, books whose images stay with you so strongly for a lifetime? This will be a book like that for many, many children.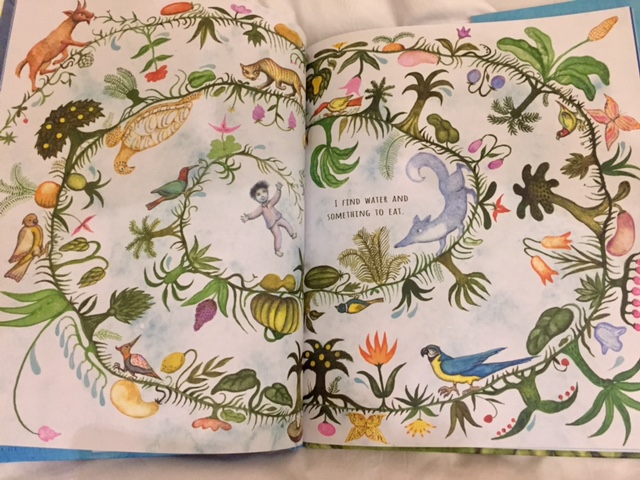 ROBINSON begins:
My friends and I love adventure.
We play pirates all the time. Together, we rule the high seas!
So when the school costume party is announced, of course we know we will go as pirates.
My mom has a different idea. "Peter, if you love adventure, why don't you go as Robinson Crusoe?"
[Back to me, Elizabeth.] Oh, those moms with their well-intentioned gaffes that get us in trouble!
**
And finally, alphabetically speaking, last—but most definitely not least—is the new book from one of my heart-favorite authors, Francisco X. Stork (Marcelo in the Real World, Last Summer of the Death Warriors, etc.). His new novel was sparked by two things: the painful feeling of anti-Mexican sentiment from our current administration, and a memory Francisco carried for years: stories of women and girls who disappeared from Juàrez, Mexico, victims of sex trafficking and violence from criminals. His new novel, DISAPPEARED, is the story of a girl in search of her best friend, missing for months, and her brother, enamored with a wealthy girl whose family tries to draw him in to their dangerous life. It's a story of a desperate journey toward the United States, fleeing everything they know and love. It sounds (and reads, from my stolen bits of peeking) like a thriller and a family story, both. Here's the opening:
     On the morning of November 14, the day she was kidnapped, Linda Fuentes opened the door to my hours and walked into the kitchen, where my family was having breakfast. As usual, I wasn't ready. Linda and I had an ongoing argument: She said I was always late, and I said she got to my house early to bask in the adoration of my younger brother, Emiliano. But we had been best friends for fourteen years, so we could forgive each other anything. I heard her laughing and chatting with my mother and Emiliano until I was ready to go.
[…]
Linda always waited with me until my bus arrived. We stayed together as much as possible, partly because most abductions of women in Juàrez occur downtown, and partly as protection against the comments of men driving or walking by. Every time a man said something offensive, Linda and I would whisper "puchi" to each other and laugh. I found an empty bus seat that morning—a small miracle—and when I looked out the window, I saw Linda jump up and down in excitement over my good luck. As the bus pulled away, she stuck her tongue out at me.
That was the last time I saw my best friend.
[Back to me, Elizabeth.] After just a few paragraphs, I'm already invested in their friendship and worried about Linda. Although I'm pessimistic about her fate, I want to read this book, and I trust the great Francisco X. Stork to take me on a worthwhile, soul-enlarging journey.
And that's what book love is all about.
What books are you passionate about this fall?
P.S. I know I said I would be quick. Apparently, I lied. But—you got some great book suggestions out of it, so I don't feel too terrible about going on so long.