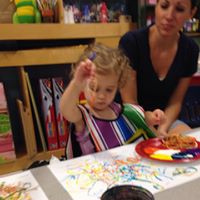 The regular event calendar for our store is consistent year round. We host a preschool and caregiver event every weekday morning at 10:30, and then keep our event space free for birthday parties on the weekends (for more on that sprinkle-filled festival, see Happy Birthday Party Blues). Mondays are for Paint-a-Story (described in The Messier the Better); Tuesdays bring Stories & Snacks, a more traditional 4–5 stories on a theme followed by muffins and conversation; on Wednesdays we host MOPS (mothers of preschoolers) and playgroups, and on Thursday we celebrate Silly Songs & Stories, a half hour of shorter tales and rhythm instruments, dancing, singing, and on my braver weeks, my ukulele or guitar.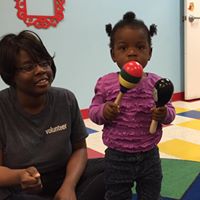 We established this routine years ago, and often laugh when customers ask if "that messy book and art thing" or the "books and bongos" class will happen next week—of course it will. Other than holidays for which we close (Thanksgiving, Christmas, Mother's Day and Easter) we ALWAYS keep our regular events in place. Even in December, when our party room is rimmed with tables for gift wrapping and an embarrassing amount of unreceived books (the elves work nights, thank goodness), we just push everything back and host our weekly silliness. Partly, we do that to maintain a sense of destination about our store, and keep our regular customers engaged. Surely, we use events as gentle ways to bring in new people, meet their children, and try to charm our way into their hearts (and maybe budgets.) Relationships take time, and we want to offer as many opportunities as we can to become friends. Being part of a parent's weekly routine, and seeing children frequently allows us to ask about progress with potty training and phonics and wiggly teeth, and share momentous occasions like first words and wobbly steps.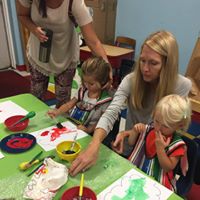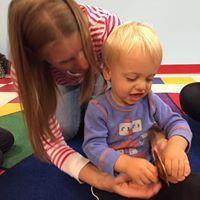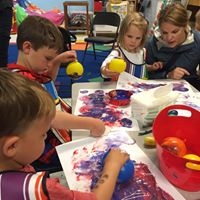 Lately, though, we've heard from customers that our schedule is a bit inconvenient. We offer no options for working parents, unless they work weekends or nights, and also don't provide programs for a lot of dads. It's more than just the fact that many fathers work during the day—even those that are home during the week feel a little ostracized. Our events are mom-centric. We offer (without thinking) schedules to moms at the cash register, and tuck them inside diaper bags and purses. We advertise with flyers at MOPS groups and in mommy listservs on Facebook. As a result, we get great attendance… from moms. Most of them are moms who are staying at home, working part time, or generally available during the day.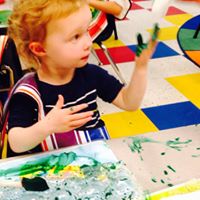 That's a great group, but it's only a part of our community, a few of our customers, and certainly not all the kids that we want to include. So with a little creative juggling of the staff, we are shaking things up, and moving some of our maracas where our mouths are.
Three weeks ago, we launched a Thursday night PJ Storytime, and with the generosity of our pizza place in the shopping center, offered "stories and supper" for those in jammies, and those who wished they were. We planned a half hour story time, a brief craft to complete here or to take home, and coupons for pizza (which could be ordered ahead for carryout or just served at the restaurant). Our first crowd was a respectable 35 kids and 28 adults. Some kids came in pajamas, some brought stuffed animals or loveys, and a few hardy carfuls dashed in still wearing their soccer shinguards and shorts. Flush (and sleepy) with our success, we repeated the event the following week with similar numbers, and added it to the print calendar. The parents attending so far are equally split between moms and dads, but their afterwork outfits—open shirts with ties askew, dresses with corporate lanyards for name tags and very nice handbags— indicate that we're reaching a new crowd.
Looking carefully at the rest of our fall, we've reserved one Saturday afternoon each month for family events, and removed the party room from the birthday celebration schedule on those days. Our plan is to create a series of events similar to the Ramadan Party we held in June in collaboration with the Indiana Muslim Alliance. By complete luck and happenstance, one of our regular (mom) customers asked for some Muslim-themed books for her group; we offered a story time that grew into an event hosting several hundred kids and parents for stories, crafts, and more date cookies than I can count.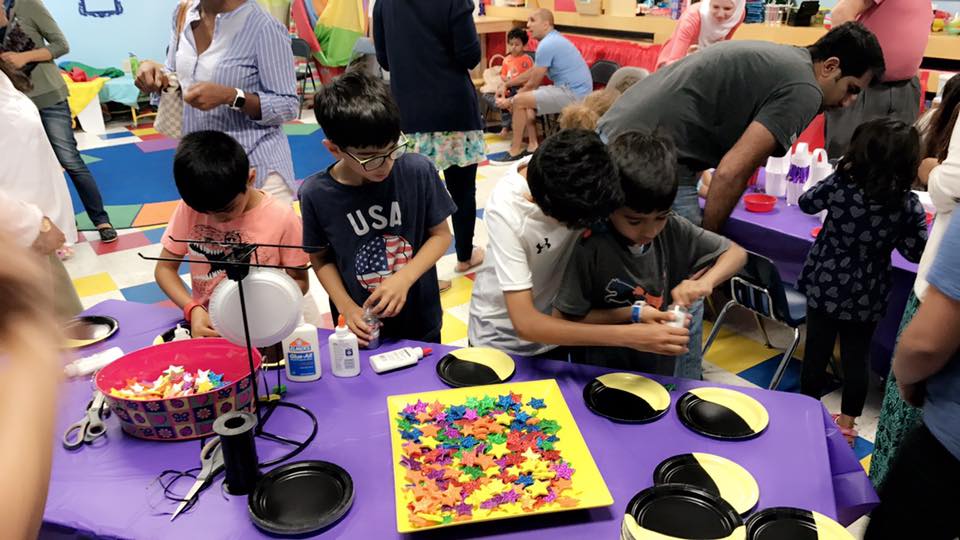 The party drew families, with moms and dads and grandparents and cousins, all from within our city, but few from within our regular customer database. So many friends that we hadn't met—so many kids who love books, so many parents who want a bookstore, but so many people that we had neglected to include because of our set schedule. So we're going to change that. We're going to think about times and events that work for working parents, and ways to include extended families. We're going to try to keep our focus and energy on being a destination and a place of celebration and fun, while inviting more people to the party. We're using books, of course, the gate that opens equally to everyone in their own time and around their own schedule as our inspiration. We tell our customers frequently that the single best thing they can do with their kids is to read with them. We want to follow that advice, too, and read alongside them in the times they can visit us, and make our events part of their family story.