As the school year begins, so do the myriad of events hosted by PTAs, sports teams, service clubs and groups. Customers (and people claiming to be regular customers) approach the counter daily with a single typed sheet on letterhead extended before them like a foam play sword, requesting donations for auctions, raffles, back-to-school nights and festivals. We are happy to be included, of course, in their planning, but sometimes the sheer volume of requests is difficult to accommodate. While the soliciting volunteer often asks for "just anything, really" to fill their basket, we are torn between wanting to empty our "slightly damaged" shelf in the stock room and the potential marketing opportunity of an event — it IS our reputation we're sending with our brochure and donation, and shabby or shopworn merchandise is just not quite the impression we were hoping to achieve.

Several years ago, we began offering an "experience" rather than an item or basket, and the popularity of this donation has now achieved coup status among the army of mom volunteers dispatched by their schools. Rather than a basket of books, or a gift card, 4 Kids now offers a "Guest Bookseller" pass, good for one or two hours on a Saturday. We base the length of the pass on the age of the group: preschools and early elementary grades generally get a one hour certificate, and chapter book readers of the upper elementary, middle school and high school groups opt for two. We prepare a certificate for the winner, which also outlines just what the parents are bidding on, and what fun their bookish child will enjoy on this special day.
We typically schedule our Guest Booksellers on a Saturday, to allow all the family and friends of the winner to drop by during their shift. When the winner arrives, they are presented with a staff apron and nametag, and offered the chance to dress the store giraffe and post their name on the sign outside. Each winner has been interviewed via phone ahead of time, so we know their two or three favorite books or series, and we have plenty on hand in a face out display. We take a short video of the child book talking their favorite titles on the floor, and offer them blank shelf talkers to post for as many titles as they like. We let them handsell (family and friends often appear to buy from their kid) and then walk them through the ringing up process on the store point of sale system (a task often more quickly mastered by a fourth grader than much older new hires, by the way). After their stint on the sales floor, they join me or a staffer for a slice of pizza (staff lunch) and take pictures to post on the wall behind the counter. If we have several such guests during a weekend, we overlap the staff lunch to include several kids, or someone (usually me) makes the caloric sacrifice (?) and eats twice. (The buck, and the pepperoni stops here.)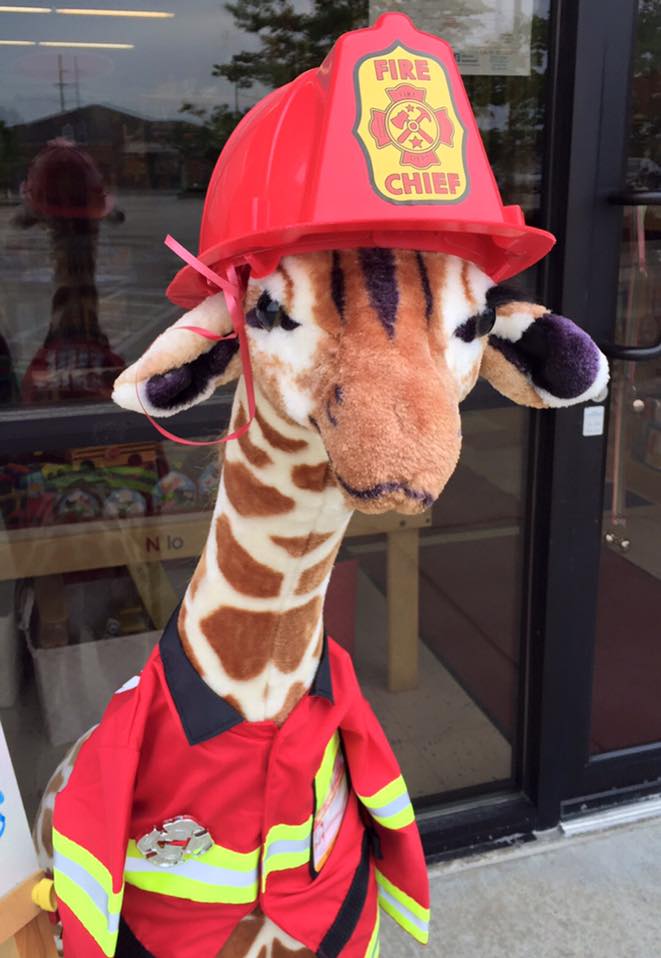 If there's an event at the store that day, we make sure that the guest bookseller plays a role in that, too. Jacket flapping for a visiting author or welcoming a birthday child to their party are not only fun and special tasks, but great picture-taking opportunities for Mom and Dad. We have had guest booksellers serve as assistants to costumed characters, give out swag bags on educator weekends, and one lucky winner was a guest elf for a Santa visit. Sometimes I engage the temporary staffer in a little wishful retail therapy, as I pull out toy catalogs or product samples for their input, and there's always a bag of ARCs ready for the guests to take home. The apron stays behind for the next new hire, but the nametag and some great memories leave with our new team member.
Not only do we love the ease and low investment of this donation, and its popularity among local schools, but the experience builds community in so many other ways. Once they are one of our "4 Kids," even for an afternoon, those customers feel part of our team for a long time. They will comfortably slip behind the counter for a hug or a high five during a store visit, confidently pick up stray books and shelve them while hanging out, and jump right in to help at events. Their families, too, feel a little bit of the "behind the scenes" ownership of the business, and become regular customers and referrals, if they were new to us before. Our Saturday crowd usually enjoys the experience, too, and kindly go out of their way to greet the new temporary employee and make a fuss. We are reminded of the fun of what we do, and customers are gently educated a bit on the energy it takes to make shopping here special.