My bookstore, due to a series of events both unfortunate and fortunate, has relocated a few times over the past 12 years. Lately I've been struck by how quickly and thoroughly the store and its staff have become knit into the fabric of our current neighborhood. We just moved in about 16 months ago, but already it feels like we're part of the family.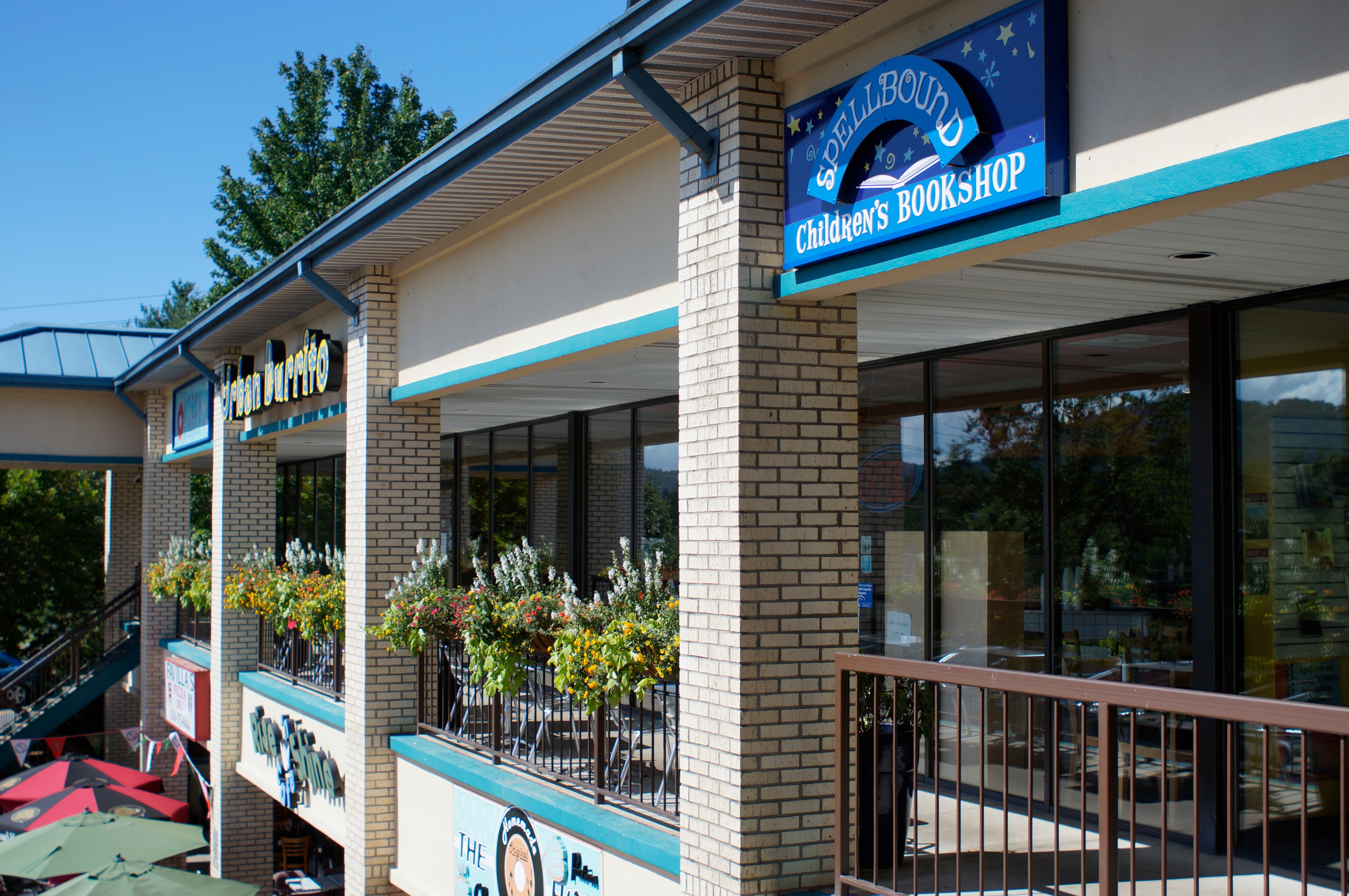 Spellbound has been in a stand-alone building, a row of downtown storefronts, and even tucked inside an art gallery for a while. Right now, in what I hope will well and truly be its forever home, the bookstore is in a two-story shopping center on one of the city's main thoroughfares. One of the owners of the building kindly approached me a couple of years ago about moving my bookstore into his building because, he said, he thought that we'd be good for his other tenants and vice versa. After some good and decidedly not-so good landlord experiences, I was impressed and heartened by this building owner who actually cared so much about the success of his tenants.
And he was right. Several of my new neighbors have told me they appreciate the new regulars we've brought with us, and Spellbound has definitely benefited from the great family foot traffic here. With one notable exception (a "vape store"), all the businesses in this little shopping center are very kid friendly — we even have an ice cream shop and a popcorn shop! Many of the shop owners have kids of their own who get dropped off here by the school bus and wait for their parents to wrap up for the day. Needless to say, these families were happy to see a children's store open up, and not only have they been steady customers, but we've become like extended family, helping keep an eye on the kids after school. Mostly this is lots of fun, but we have had to make some (oft-repeated) rules. You can hang out and read without buying as long as you like in the used section, but the new books need to stay looking new. And no, you can't build forts day after day with the same boxed puzzles because the packages have started looking shopworn and that makes it harder to sell them, but you can play with the unboxed samples as long as you're gentle with them.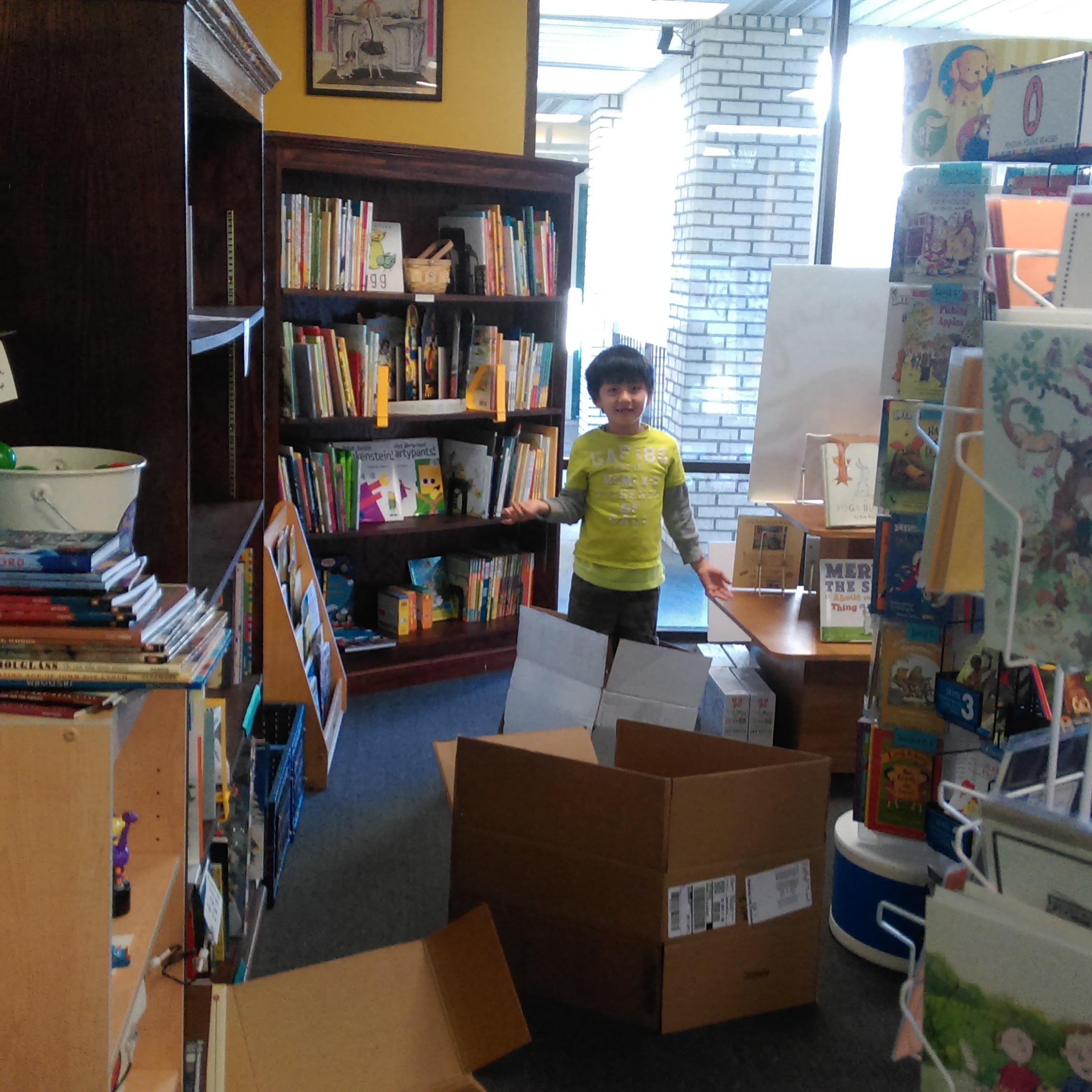 One of our most frequent after-school visitors is Aiden. His mom owns the restaurant next door. He's six years old and very curious. When he first started stopping by, he was super shy and barely spoke a word to any of us. Now he waltzes in like he owns the place, lets himself into the office to look for the tape measure (he just really loves to measure things), and talks our ears off. It's great! Usually. Kalee says that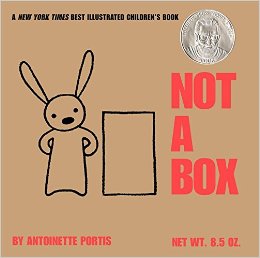 sometimes when Aiden comes in and sees her, he asks where "the other one" is. Apparently, I let him get away with more than she does! One of Aiden's favorite things to do is go through our recycling to find especially good boxes to build things with. He really feels like he's hit pay dirt when he finds a poster tube that he can use for a ramp or tunnel for one of his little cars. (Antoinette Portis would be proud.) He's also become comfortable enough at the bookstore to add to our decor. Just a few days ago, he came in and asked for some paper and an orange crayon because he needed to make some fire. It was almost closing time, so I was busy wrapping things up at the register and didn't pay much attention to what he was doing. The next morning I noticed this little scene at the base of our I Can Read Spinner: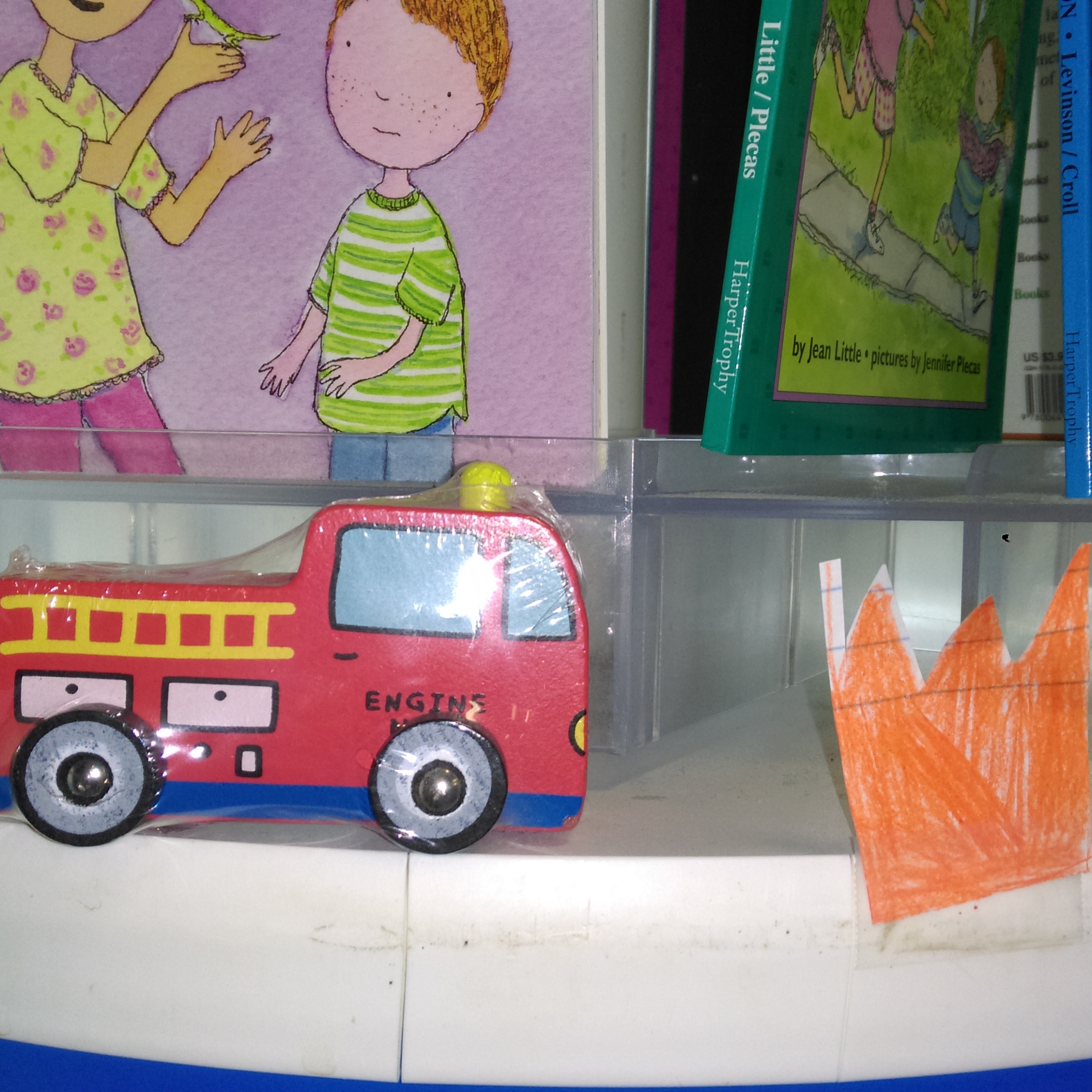 Aiden has spent so much time here and, not uncoincidentally, heard the same rules of behavior repeated to him so many times that he now sometimes ticks off a list of rules to other kids who come in the store.
One of my favorite Aiden moments so far happened when he was giving a new kid the Spellbound tour. They stopped at the office door, where there's a big sign with a picture of Hugo, who is my dog and also the official bookshop dog. (It's the age of nepotism run wild, I know.)
Aiden pointed at the picture of Hugo and looked at the new kid and said very solemnly, "This is the library dog. He will lick you." Truer words were never spoken, and now thanks to our little neighbor I'm considering making that part of our marketing slogan.