Most bookstores have some sort of tradition in place regarding staff photos, and DDG is no different in that regard. Actually, hold on a moment. Knowledge is a funny thing. I don't really know that, I'm  just assuming that it must be true. William of Ockham is sitting up in his grave totally aghast, horrified that he ever loaned me his razor. All right then, we'll return to that idea at the end of the post, looking for a proof of concept, but for now let's start again at the top.
DDG staff photos have long been marked by traditions. For the last decade these traditions have related to my assistant managers. From 2007-2012 my pal and old assistant manager Karen West took the staff photo because she hated to be photographed. What Karen never realized was that someone always held a big mirror in the center of the photo so that you could see Karen taking the photo in the middle. Remarkably she never cottoned on to this ploy. The other two continuity points were the participation of the store giraffe, Clarence, and the holding of our favorite books of the year.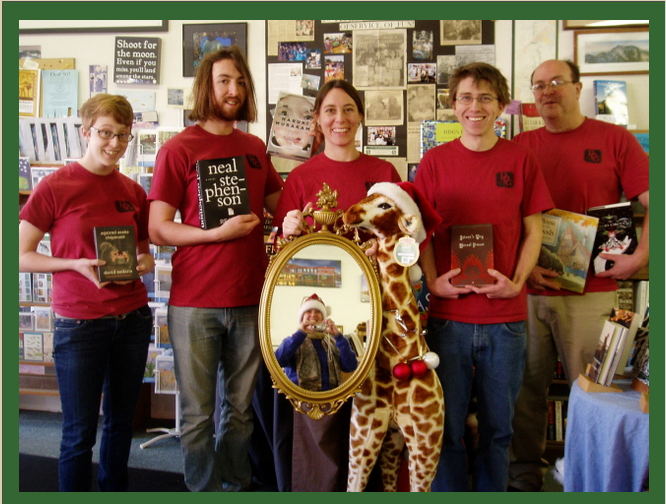 My current assistant manager, the fabulous Karin Schott, is very partial to sheep. She owns sheep, is a professional grade knitter, and has seen to it that the store sheep appear in every photo, as seen here in this 2014 deeply sheep imbued staff photo.

This year when I came in on Saturday and announced that it was staff photo day and that we needed to come up with a brilliant conceptual angle, I was told that that was handled, and that the theme was a secret known to everyone but me. Also, it wasn't ready yet. The props would be ready on Tuesday. As I write this Tuesday morning you might think I am filled with trepidation, but appearing in goofy photos is an occupational hazard at DDG, and no one can accuse me of foisting an appearance in them only on the staff. I am only mildly concerned. I'll post the photo here after we take it.
Aha! It's all in the ribbons. All right then, returning to our initial epistemological quandary. Does your bookstore have a staff photo tradition? If so send me your photo with a bit of tradition info and we'll do a post with some of them. Have a great holiday, everyone!