I've written about holiday preparation many times. It's vital to the success of the retail season and really cannot be overestimated. One thing that many of our customers enjoy are our tote bags. They're made from recycled cotton, printed with a soy-based ink by a company in New Hampshire that's run by women. The previous sentence makes me very happy, as everyone can feel good about our totes. Every bookstore should have some sort of fancy bag they give away as a a premium, because customers love them. I suspect that love comes from our pig right on the center of the bag, cute as can be, in purple ink, with our address info. 
There is something exciting about the holiday shopping season drawing near and having a fresh stock of tote bags. The totes bags are automatically given to any customer who spends $100 or more in one purchase. The rush of growing excitement as stacks of books on the counter gets larger, always has me wondering if the customer will qualify for a tote. Our customers know about the totes because for 20 years they've been acquiring them. Frequent customers come in with their totes, ready to be filled, every season. Longtime customers come in with the tote bags from our Charlotte store which we moved from 10 years ago. To see an old tote in the store makes me nostalgic in many ways.
When we first got the tote bags, when first opened, we had little idea how popular they would be.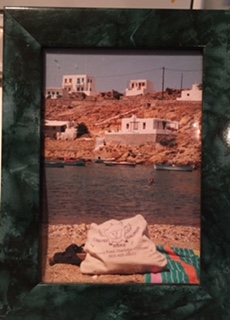 Their straps are long enough to swing over your shoulder very comfortably. Elizabeth was very smart when she choose this style, as the totes easily double as grocery bags. Throughout the years, customers have told us they use our bags for everything: children's school work, shopping, their own work, etc. But what I love are the customers who take their bags with them on vacation and then send us the photos of their totes bags on holiday. This photo is one of my favorites that I have in my house. It was given to us, framed by the family. I love how they propped up the bag against the Grecian vista. It's like the tote was enjoying the holiday as much as they were. I've also seen pictures of our bags in Russia, Florida, and all over Europe.
I can always tell who my good customers are because they are often the people who refuse a tote. Many husbands in town have figured out that when their wife comes home with a tote bag from us, they've spent a lot on books, and we've had countless women say no to totes for that reason. I always chuckle at that. Other customers say no because they confess that they have more totes than they know what to do with.
So, as we get ready for yet another holiday season, being armed with fresh tote bags fills me with joy. Knowing that these totes will be full of gifts and books will be shared by families, is a very good thing. And, it's really easy to know what kind of retail day we've had by how many bags we've given away.