If anyone has the brain capacity to read this blog post on Election Day 2016, I doff my cap to you! On this most volatile, most important of election days, the children of our nation will be privy to all of the anxieties and hopes (and fears and stress and overeating) of the grownups around them. They deserve a window into this world of American citizens' often hard-won, and sometimes denied, right to vote.
Here are some new and recent books for younger children that offer entertaining, informative, inspiring and powerful stories of what voting is and why it matters.
Oh, and have you voted yet? If not, this post will self-destruct in five seconds. Please stop reading immediately and go exercise your right and responsibility to help shape our nation's future. Thank you! 
BOOKS WITH AN OVERVIEW OF THE ELECTION PROCESS
One Vote, Two Votes, I Vote, You Vote (Cat in the Hat's Learning Library) by Bonnie Worth, illustrated by Aristides Ruiz and Joe Mathieu (Random House, 2016)
Publisher info: In simple rhyme, the Cat in the Hat introduces early readers to the concept and practice of voting with a focus on the American presidency. Learn the basic principles of democracy, how political parties are formed, why Election Day is held in early November, and much, much more.
Monster Needs Your Vote by Paul Czajak, illustrated by Wendy Grieb (Mighty Media Kids, 2015)
School Library Journal review quote: "Election season is here, and Monster is ready to vote! But why cast a ballot when he can run for president instead? With speeches, debates, and a soapbox or two, Monster's newest tale encourages kids to take a stand and fight for what they believe in. […] The extra bonus is that after a couple of missteps, Monster hits his stride by campaigning to save libraries. VERDICT A good introduction to what happens on a campaign, how voting for a president works, and the dynamics of civic engagement."
Vote! by Eileen Christelow (Clarion, 2008)
Publisher info: Using a town's mayoral election as a model, this lively introduction to voting covers every step in the process, from the start of the campaign all the way to the voting booth.
Booklist starred review quote: "It's hard to imagine a more accessible introduction to voting….whimsical and creative…Vote aye on this one."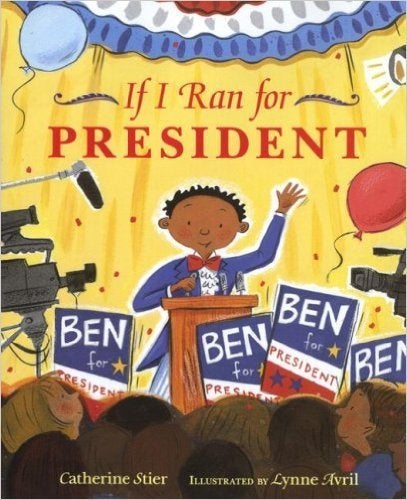 If I Ran for President by Catherine Stier, illustrated by Lynne Avril (Albert Whitman, 2007)
School Library Journal review quote: "This title is a step above the usual election books, both in content and entertainment value. Six children take turns explaining the election process as if they were running for president. They discuss their decision to run, campaigning, primaries and conventions, debating, being interviewed, meeting the public, voting, and being sworn in on Inauguration Day. Stier does a good job of explaining election details, both in an introductory note about electoral votes and in the text itself…. "
BOOKS ABOUT VOTING RIGHTS
Lillian's Right to Vote: A Celebration of the Voting Rights Act of 1965
by Jonah Winter, illustrated by Shane W. Evans (Schwartz & Wade, 2015)
Publisher info: As an elderly woman, Lillian recalls that her great-great-grandparents were sold as slaves in front of a courthouse where only rich white men were allowed to vote, then the long fight that led to her right–and determination–to cast her ballot since the Voting Rights Act gave every American the right to vote.
Kirkus starred review quote: "A much-needed picture book that will enlighten a new generation about battles won and a timely call to uphold these victories in the present."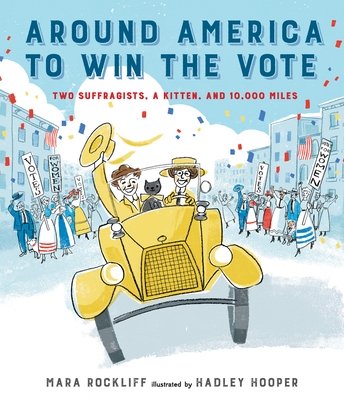 Around America to Win the Vote: Two Suffragists, a Kitten, and 10,000 Miles by Mara Rockliff, illustrated by Hadley Hooper (Candlewick, 2016)
Publisher info: In April 1916, Nell Richardson and Alice Burke set out from New York City in a little yellow car, embarking on a bumpy, muddy, unmapped journey ten thousand miles long. They took with them a teeny typewriter, a tiny sewing machine, a wee black kitten, and a message for Americans all across the country: Votes for Women! […] Braving blizzards, deserts, and naysayers not to mention a whole lot of tires stuck in the mud the two courageous friends made their way through the cities and towns of America to further their cause.
School Library Journal review quote: "VERDICT Prepare for the arrival of the 'little yellow car' into the hearts of readers; this charming and vibrant account of two lesser-known figures will bolster historical collections"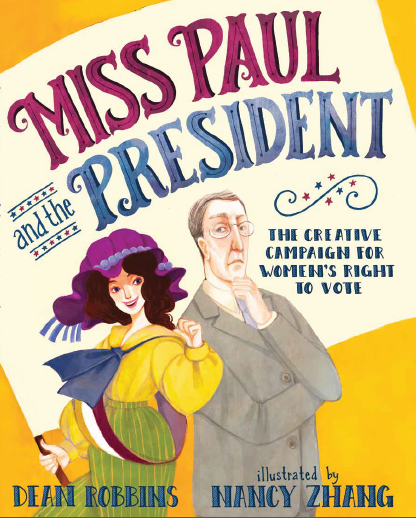 Miss Paul and the President: The Creative Campaign for Women's Right to Vote by Dean Robbins, illustrated by Nancy Zhang (Alfred A. Knopf, 2016)
Bulletin of the Center for Children's Books review quote: Although women's rights advocates are well represented within the picture-book collection, suffragist Alice Paul can't claim as high a page count as the better-known Elizabeth Cady Stanton or Amelia Bloomer. This narrowly focused account explores Paul's targeted confrontations with President Woodrow Wilson, from the time she upstages his 1914 arrival in Washington (who wouldn't rather watch a protest parade than a train arrival?) until 1918, when Wilson, with some serious nudging by his daughter Margaret, agrees to put the weight of his office behind women's right to vote. […] Librarians and educators seeking accessible materials to draw pre-primary children into election year topics will want to consider this.
Elizabeth Leads the Way: Elizabeth Cady Stanton and the Right to Vote
by Tanya Lee Stone, illustrated by Rebecca Gibbon (Square Fish, 2010)
Booklist starred review quote: "Most young people will be unfamiliar with Elizabeth Cady Stanton and what she accomplished. Stone goes a long way toward correcting that, wisely beginning with a pithy introduction that links the life of women in the early nineteenth century with that of readers today: 'What would you do if someone told you you can't be what you want to be because you are a girl? . . . your voice doesn't matter? Would you fight for your rights? Elizabeth did.' What follows is a short, incisive biography covering some of the high points of Stanton's life […]. In short text bites, Stone explains how Stanton met her abolitionist husband (and refused to give up her name), the origins of the women's rights movement, and the effect of the Women's Rights Conference in Seneca Falls, New York. […] A must for library shelves."
***
And for you, dear Readers, two things:
One is a children's authors/illustrators hashtag to share stress-soothing efforts of the baked variety: #electionstressbaking. If goodies like chocolate-chip brownies and pear galettes are your favorite vision of stress reduction, by all means, drool over these and share yours.
The other is a link to free downloads of the songs that This American Life commissioned in its lead-up to the election. The one I can't stop listening to, which is so brilliantly written and gorgeously performed, is Sara Bareilles' "Seriously," sung by Leslie Odom, Jr., of "Hamilton" fame. (The free download is available on the This American Life website until December 3.)

Voting? I hope we all take it seriously. See you on the other side!