Bookstore events are not without tension, drama, despairing lows and fabulous highs. Wednesday night we hosted James Rebanks, author of the wildly popular The Shepherd's Life and his newest book, The Shepherd's View. The story of how an English shepherd and bestselling author came to Shelburne, Vt., is a story that is more than a year in the making and culminated in a standing-room-only event at Shelburne Farms with more than 225 people in attendance. Sandy is responsible for making this happen. She adored James's first book, The Shepherd's LIfe when it came out in May 2015. Her love of this book created one of our best handselling successes. The book was featured prominently in our holiday newsletter last year and we sold heaps of the book. Vermont is full of farmers, people who know farmers, and people who love reading about farmers. It never really occurred to anyone that there would even be a possibility of James leaving England to come to Vermont. But that changed with one conversation.
Sandy was chatting with a customer early on when the book came out. She told Jennifer how much she loved this book and handed her a copy of The Shepherd's Life.  It turns out that Jennifer's son is an editor at Flatiron Books, the publisher of James's books. Jennifer didn't say anything at the time, but nine months later she called the store and asked if we'd like James to come to the bookstore. I'm fairly certain there was some leaping for joy after that call.
Elizabeth and Sandy then went about creating a partnership with Shelburne Farms, a 1,400 acre working farm literally down the road from our store. Shelburne Farms is all about sustainability, animal husbandry, and collaboration. They were thrilled to be approached for this event. Their event coordinator, Tre, was as excited as we were to have this event in the Coach Barn.  Tickets went on sale and started selling fast, really fast. We don't normally charge for events, but Shelburne Farms is not without expenses. They were providing food and bar service and charged $15 a person with $5 of that being applied to the purchase of a hardcover book. No one balked at this very reasonable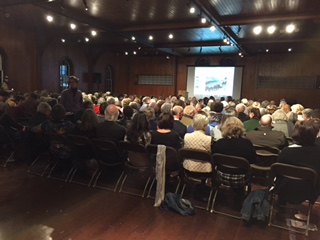 pricing, and tickets sold out a week and a half before the event.
The day we found out that there were more than 225 people coming to the event, we placed a supplemental order for books. I did the order electronically then emailed and called my rep to ensure the timely delivery of the books. Everyone did everything right, except we never got the books. The day before the event was the expected delivery date (which begs the larger question of why Macmillan ships so much more slowly than any other publisher) our late afternoon deliveries from UPS and Fed Ex passed with no James Rebanks books. We did not have anywhere near enough books. We panicked a tiny bit then kicked into high gear. Of course by this time it's 4:30 and we were running out of time.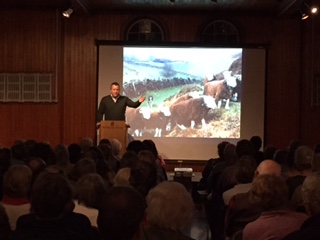 I was told that it was too late to get books overnighted from the warehouse, so I started calling all the local bookstores. Everyone had a smattering of copies and were offering to sell us the books at 40% discount. After calling all indies, I called our local Barnes and Noble, which had 25 copies of James's books. I knew I had to get them. I asked about a courtesy bookseller discount and was asked by the manager, "Are you a member of our book club?" I started laughing. "If you were a member, I could offer you 10% off." I laughed even harder and said to him, "I own a bookstore, why would I be a member of your book club?" He didn't get it and then went on to extoll the virtues of B&N's club, "It's only $25 a year." By this point my laughter had turned to anger at their complete lack of decency helping out another bookstore.
Elizabeth had a genius idea of calling James's publicist, Amelia, in NYC to see if they had any copies they could overnight. They did! We were saved. Three cartons were expected to arrive the morning of the event, and arrive they did, at 10:15. I got a text from Sandy letting me know all was well. But when I got to work at 11:30 I couldn't find the books. I called Sandy who had James in the car from the airport. I was on speakerphone when I asked, "Where the f*ck are the books? I can't find them!" She came in the store with James on their way to lunch. I explained a little to James what was going on. Darrilyn and I had looked high and low for the books. Sandy pointed to where the books had been. We were all scratching our heads, until it dawned me that somehow our UPS man, Bart, had taken those boxes so gloriously full of James's books thinking they were outgoing returns.
We were sharing this saga with James when I looked up and saw a brown truck out the window stopped at the light right outside the bookstore. I'm not sure I've ever run so fast, ever. I stood on the store porch shouting to get Bart's attention. Finally, he rolled down the window, "Did you take three boxes of books today?" He said yes. "We need them, please come back." In five minutes he walked in with the three boxes. Our relief was palpably giddy. James had seen the whole thing, from our utter despair at the missing books to exultation that we had them back. "It's like a complete drama: from the lowest low to great heights. I feel like we're family now that we've shared this." James said. We all hugged and James did some shopping while talking about the village that is an independent bookstore. It was an amazing moment that I've never had with an author before. Usually, authors don't see the angst that goes into an event, especially when books don't arrive. But there was something lovely about sharing this with James.
The event went off without a hitch. The SRO crowd fell in love with James, who began his talk by recounting the events of the afternoon with great dramatic flair and a call to action to continue to support the Flying Pig and all indies. "I felt like family by the time I left the shop."
And by the end of the event, we all felt like family.