I woke up Sunday morning in a funk. I have been battling a cold that isn't bad enough to make me miss work, but irritating enough that I wish I could. The weather has been decidedly grey and rainy in Vermont and has started to weigh on me. The long walk I had planned at Shelburne Farms with my dog Allie was curtailed by being told dogs won't be allowed until Tuesday. Poor Allie didn't understand why she was going back in the car so quickly, and my explanation was lost on her. I was cranky when I got to work. 
Then my Sunday staffer texted that she was battling a sore throat, swollen glands and a fever. She said she'd try to rally for her two o'clock shift. I suggested she just take the day to get better. Faced with an unplanned Sunday alone, I realized I didn't have good food for lunch. I was beginning to feel like the day was going from bad to worse. I opened the store at 11:30 and hoped for the best. The front door opened immediately, almost before I had settled in, and I was delighted to see David, our wonderful staffer, home for the weekend from college.
David is essentially a ray of joy when he comes in. He's happy, cheery and also sarcastic, which I find to be a lovely combination. We were happily getting caught up when a difficult customer walked in. David, bless his heart, practically vaulted over the counter to help her. It's not that I couldn't have helped her, I just wasn't in work mode yet and David was. He rang her up and then helped another customer. After he left, I thought again about lunch. Faced with a now cold toasted bagel with cream cheese, I was about to forage for food in our slightly scary fridge in the back room to see what could pass for lunch, when Luiza walked in.
Luiza works next door at Green Pasture Meats and is a chef. She was carrying a shiny tray with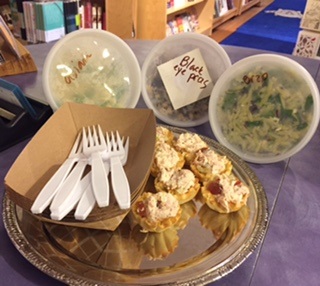 little pastry shells and three containers. She literally dropped them on the counter and said, "Chicken salad cups, and three kinds of pasta salad," and left. Now, I have never been a fan of chicken salad, until Sunday. It was perfect. I don't know if it was the little pastry cups, or just Luiza's amazing cooking, but my goodness, they were good. Secretly now, I was glad to be alone in the store, lest I feel guilty about not sharing.
So, in under an hour, my day totally turned around because of simple and unexpected kindness. A very good Sunday, indeed.